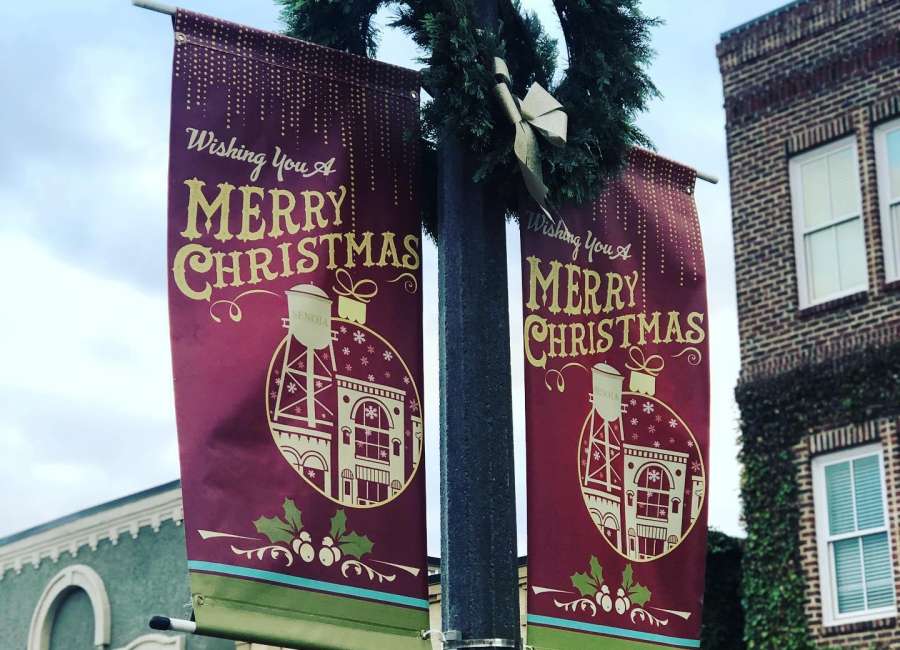 Senoia's annual Christmas parade has been canceled because of COVID-19, but organizations are working to still bring some Christmas fun to the children of the city.
The annual Light Up Senoia event includes a parade, the lighting of the tree by Santa and entertainment.
The tree will still be lit on the first Saturday in December. And Santa's sleigh will be there too – but without Santa. The sleigh, which sits by the tree during the Christmas season, is popular for photos, said Suzanne Helfman, chairman of the Senoia Downtown Development Authority, which puts on the annual event. The DDA has ordered some new decorations for the tree.
The DDA is working on a plan to bring Santa to town and have him ride through neighborhoods in a convertible, likely escorted by the Senoia Police Department. Those plans can't be finalized until Santa, who typically has an engagement in Alpharetta earlier that Saturday, figures out his schedule.
The Senoia Optimist Club also wants to host a festive Christmas activity.
Brian Orme of the Optimist Club appeared before the Senoia City Council Monday night to ask about Christmas plans.
Any event held on Main Street would need to meet special events permit requirements if it wasn't done through the DDA, according to Mayor Dub Pearman.
Orme said they had some thoughts of a way to bring an exciting, socially distanced event that could be held at the ball fields, but they are still working on putting together the details. He also suggested having Santa go through the neighborhoods on a fire truck.
Councilwoman Tracy Brady mentioned that the DDA was already working on the drive-by Santa plan, and suggested that the Optimist Club coordinate with the DDA.
"The kids are really missing out on a lot because of COVID," Orme said. "We've got to find a way to make it special."