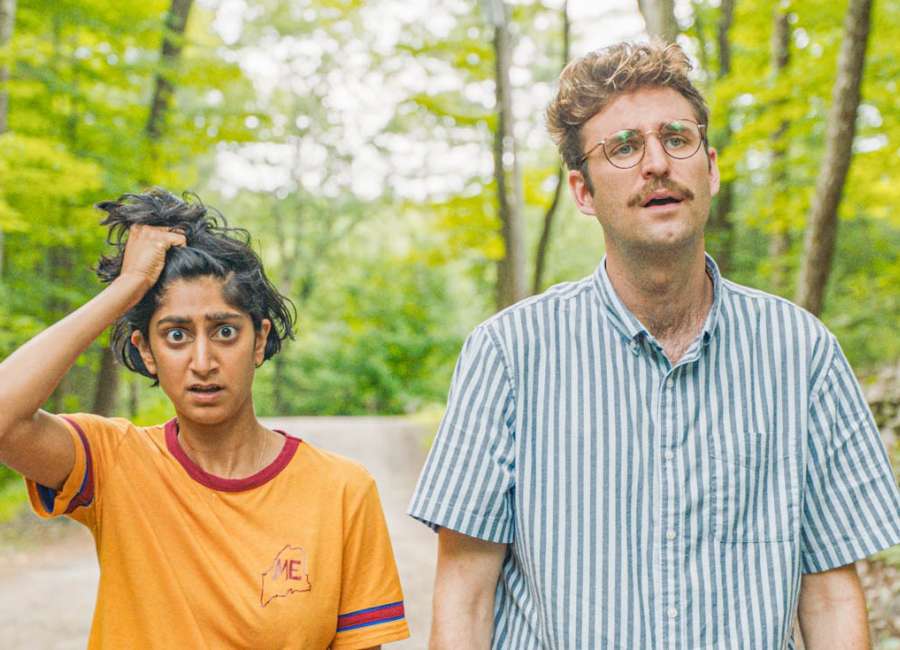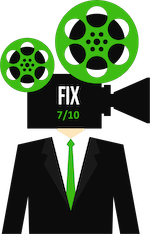 Review by Jonathan W. Hickman

"Save Yourselves!" is a wacky, meta science-fiction, Generation Y fantasy.
It's a small film elevated by two attractive, likable leads and quirky production values. It's a movie that comments ruefully on generational impairment.
Jack ("Search Party's" John Reynolds) and Su (Sunita Mani, see "GLOW" and "Mr. Robot") are a hipster New Yorkers hit with a blow of self-aware malaise. The third wheel in their relationship is technology—smartphones, and computers omnipresent in their daily routines. After meeting the upwardly mobile and enlightened Ralph (Ben Sinclair) at a party, they decide to vacation at his remote cabin and unplug for a week.
"Unplugging" isn't easy. When Su asks for a week off, her employer promptly fires her with the cold simplicity of a precise email. Feeling liberated, Su commits to putting away the devices and spending a week chilling with Jack. But after a few days, the techno cravings are hard to resist. And in the meantime, Earth is invaded by colorful, fluffy, deadly, little creatures.
The best parts of "Save Yourselves!" come early as we are introduced to the early 30-something big city lifestyle, and it's stifling attributes. Even without the science fiction elements that are to come, these are two characters at home in a traditional relationship drama. The concept of millennials "unplugging" could have been enough to support an observational comedy.
But once the action moves to the cabin in the woods, and Jack and Su start to experience unplugged withdrawal symptoms, it is easy to see how that story alone would have become annoying quickly. Then, thankfully, the otherworldly creatures arrive.
Reminiscent of the vicious aliens from 1986's sci-fi/horror/comedy "Critters," but without clear faces or visible teeth, the invaders here are an entertaining creation. The enigma of their arrival and nefarious goals is never revealed, and Jack and Su are comically clueless.
It's our hapless heroes' clumsy, bumbling manner that proves to be a kind of Columbo-like asset. A recurring theme is that their technology-dependent generation has lost basic survival skills. Early in the film, Jack muses that his older brothers learned how to fish and shoot from their father, but Jack eschewed such training. He laments that he doesn't know how to be a man. Jack gets his chance when the world goes upside down.
In addition to the offbeat story, "Save Yourselves!" is an excellent showcase for Mani and Reynolds. These two actors make the perfect whiny, modern couple. They naturally deliver quirky lines of dialogue like they speak that way every day. At one point, while preparing to make a break for it, Jack says that he thinks they should have packed less perishable foods. They've stocked the fridge with stuff from gourmet shops in the city, instead of staples that would guard against an alien invasion. He reels off the list of items like they eat that rich stuff regularly. And you know, they probably do.
Later, Jack devises a plan involving the clever application of wine bottles that could only be developed by someone with his unique set of anti-skills. The low-key comic tone of "Save Yourselves!" is hard to resist.
By the time the film shifts to the chase, run and hide narrative associated with garden-variety alien invasion flicks, we've come to understand Jack and Su's dysfunction.
Generation Y might be the well-informed sophisticates, but they too can't see that their habits contribute to the end of things. Living in a techno bubble is just another telling symptom.
A RottenTomatoes.com Tomatometer-approved critic, Jonathan W. Hickman is also an entertainment lawyer, college professor, novelist, and filmmaker. He's a member of the Atlanta Film Critics Circle, The Southeastern Film Critics Association, and the Georgia Film Critics Association. For more information about Jonathan visit: FilmProductionLaw.com or DailyFIlmFix.com