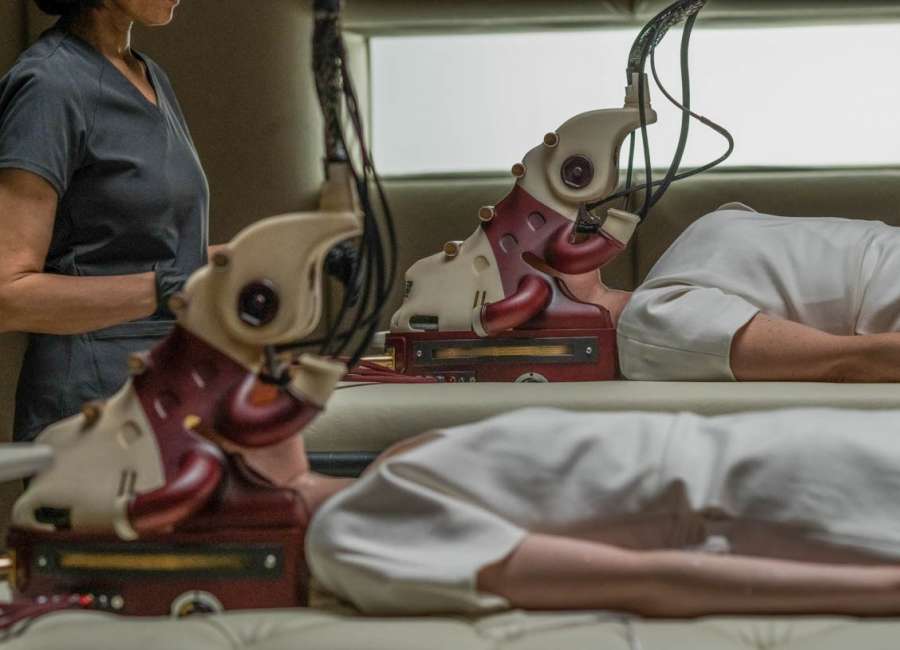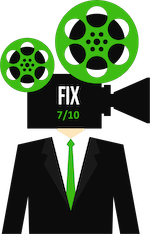 Review by Jonathan W. Hickman

Writer/director Brandon Cronenberg continues his father's penchant for body horror with the intentionally repulsive, but skillfully intellectual, assassination thriller "Possessor."
The film is appearing in theaters this weekend, carrying the additional designation "Uncut."

What confounds me about "Possessor" is why on its initial theatrical run, it's released as an "uncut" version? I'm uncertain about what cut I watched, but I suspect that it is the one opening in theaters this weekend, given the graphic nudity and ultra-violence on display.
The movie is playing in Atlanta, bearing an "R" rating. But theaters like the Plaza have decided to keep the movie safely indoors instead of in the drive-in format.
"Possessor" is the kind of film that David Cronenberg made starting back in the late 1970s. Brandon, his talented son, builds on the family patriarch's legacy with a movie that is similar to the classic "Scanners" from 1981. That one, a thriller combined with bloody horror, spawned a number of exploitative sequels that are not directed by Cronenberg. Watch only the original.
In "Possessor," Andrea Riseborough (see "Birdman" and "Mandy") plays Tasya Vos, a secret assassin for a mercurial corporate entity. Her handler, Girder (Jennifer Jason Leigh), assists Tasya in infiltrating another person's mind to induce that host to kill. The homicidal rage that erupts through Tasya's mental linking to her unwitting accomplice ends in messy insanity. It's the perfect way to take someone out from the inside. And through an enigmatic machine, Tasya can dig deep into her host's subconscious and create the needed chaos to obscure any trace that may link the crime to her employers.
But there are loose ends. With each assignment, Tasya edges closer to losing control. Her internal battle with the host and herself is beginning to present a business inconvenience.
So too has Tasya's job taken its toll on her home life. She's estranged from her husband and child, both of which want her back.
The process through which Tasya enters the mind of another is utterly Cronenbergian. Viewers familiar with "Scanners" will remember how a scanner, a person possessing psychic abilities, was able to project his or her thoughts into the brain of another with head-exploding results.
Even if you've never seen "Scanners," it's likely that you'd recognize the scene in which a man's head explodes in a lecture hall. That often played effect, a practical one achieved using a mannequin and a shotgun, is one of the most enduring images in all of horror cinema. And despite the advances in effects, there's no substitution for the use of tangible raw materials.
While paying visual homage to the films of the past, Brandon Cronenberg, who also wrote the script, weaves a convincing timeless narrative that's arguably tighter than his father's early work. "Possessor" explores the mental effects on Tasya and her problematic host Colin (Christopher Abbott) in ways that might remind viewers of another trippy Cronenberg classic "Videodrome."
The intersection of flesh and technology works as a theme here as well. And it bears mention that Jennifer Jason Leigh was the star of David Cronenberg's underrated 1999 science fiction film "eXistenZ."
Since David Cronenberg hasn't made a film since 2014, it's possible that at 77 years old, he's decided to hand over his unique brand to his son. And like Brandon Cronenberg's grisly 2012 feature "Antiviral," the son has the father's handle on intellectual, seemingly abhorrent material. It's a proprietary brand of horror that needs to live on.
A RottenTomatoes.com Tomatometer-approved critic, Jonathan W. Hickman is also an entertainment lawyer, college professor, novelist, and filmmaker. He's a member of the Atlanta Film Critics Circle, The Southeastern Film Critics Association, and the Georgia Film Critics Association. For more information about Jonathan visit: FilmProductionLaw.com or DailyFIlmFix.com