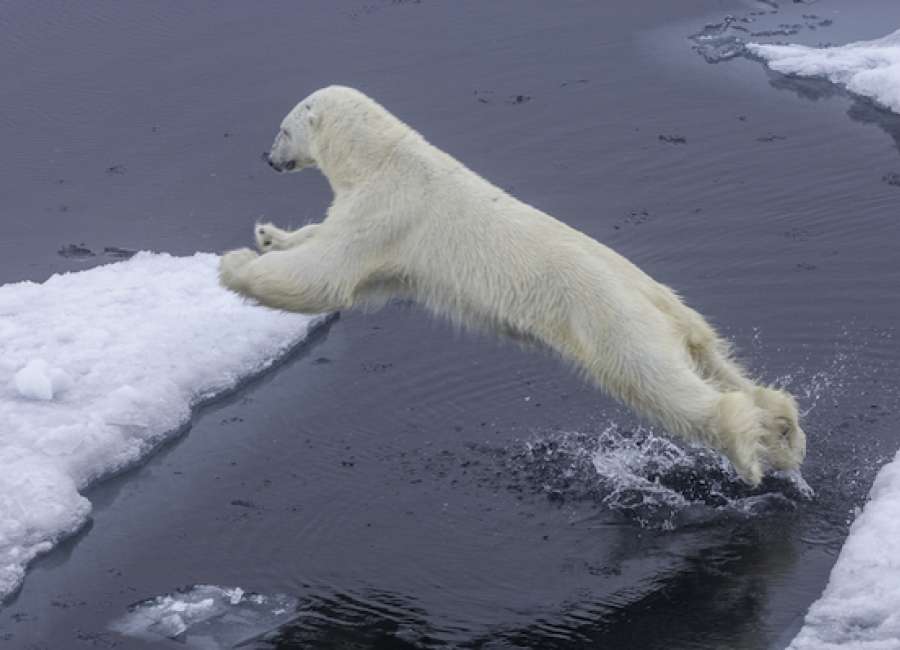 By GORDON KILGORE, Special to the NTH

In June of 2006, I went with a group of photographers to Spitsbergen, where we spent a couple of weeks photographing birds and animals.
Spitsbergen borders the Arctic Ocean, the Norwegian Sea and the Greenland Sea. It is owned by Norway, and Spitsbergen is the largest and only permanently populated island of the Svalbard archipelago.
We had a very successful trip and saw about 62 polar bears, which was some sort of record for seeing polar bears. I went back two years later and only saw seven polar bears.
On both trips, I gained a lot of experience photographing the bears but never did get a good picture of a bear jumping. It seemed that I was always a little late, not focused or did not frame the shot properly.
It was later that same year when I made two trips sailing from Murmansk, Russia to the North Pole on the Russian nuclear icebreaker Yamal. Drawing on my experience in Spitsbergen, I had learned enough about the mannerisms of polar bears to anticipate what they would do next.
I was photographing a bear hunting on broken ice when I noticed the open lead in the pack ice, and realized that the bear would have to make a choice. He would enter the water and swim away or jump to the next piece of ice and continue his hunt.
His mannerisms told me that he was going to jump. I quickly refocused and got ready. As soon as his back muscles tightened I began firing a sequence of continuous shots. Finally, success was achieved. I got several more jumping bears on that trip, but none better than this one.
Technical data:
Polar bear on sea ice in the Arctic above Franz Joseph Land at 83.3.40°N, 45°35.
Aug. 4, 2006, 5:01 PM
Nikon D2x 1/250 sec., f/7.1, Nikon 200-400 mm f/4 lens at 200 mm, ISO 400
(What I would do differently would be to use an ISO of 1600 and 1/1000 sec. exposure.)