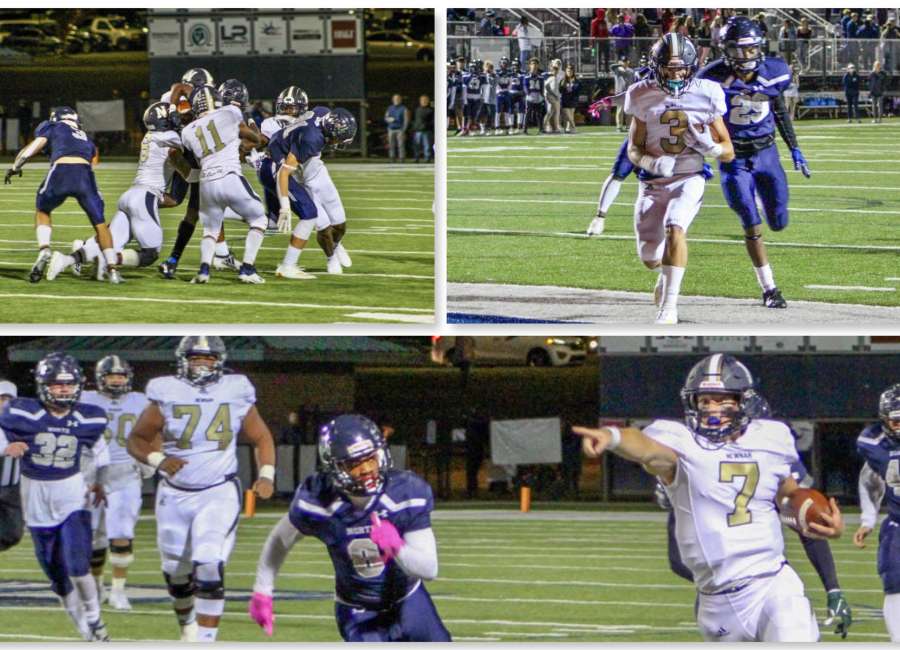 By Rob Grubbs
The Newnan Cougars went on the road Friday night for their final non-region tune-up against the North Paulding Wolfpack.

The Cougars scored on their first drive of the night and had another clutch drive to answer a Wolfpack score to pull away for a 42-23 win. The win sends the Cougars into their region slate with a perfect 6-0 record.
On their first play from scrimmage, quarterback Michael Maginnis and wideout Joshua Harris just missed on a big play over the middle. They did not miss on the second play. Harris caught the pass in stride and raced 75 yards to the North Paulding 5-yard line. Bryson Moss did the final lifting when he scored on the next play to put Newnan up 7-0.
Moss ended up the game with three touchdowns to give him eight for the season. The Maginnis to Harris connection had another big play later in the game when they struck for an 86-yard touchdown pass.
Newnan scored their second touchdown of the night on a touchdown pass from Maginnis to Reid Brass. North Paulding attempted a 51-yard field goal on the last play of the first half but missed, and the Cougars went to the locker room up 14-3.
The Wolfpack got the second-half kickoff and had their best drive of the night, as quarterback Kyle Bird and the offense took almost seven minutes to score and bring them to within 14-10. The Cougars had an answer.
On the next drive, they immediately faced a third-and-11. A punt here would give the ball and the momentum back to North Paulding.
Instead, a cool and calm Maginnins found Quanard Arnold for an 11-yard pass, and the Newnan offense was on their way. Moss closed out the drive with his third touchdown of the night.
The Cougars added two more touchdowns, the long pass to Harris and a tough run by Nick Owens late.
Head Coach Chip Walker said afterward, "We just made too many mistakes. We have to clean up those mistakes we make before it comes to region time. That is something we have to work on starting Monday. We play so hard; we do all the things we want to do — play hard, play physical, play fast. We do all those things; we just have to quit making mistakes."
The Cougars earned a well-deserved week off before opening their 2020 region schedule hosting the McEachern Indians on Oct. 30 at Drake Stadium.
All photos by Kristy Rodgers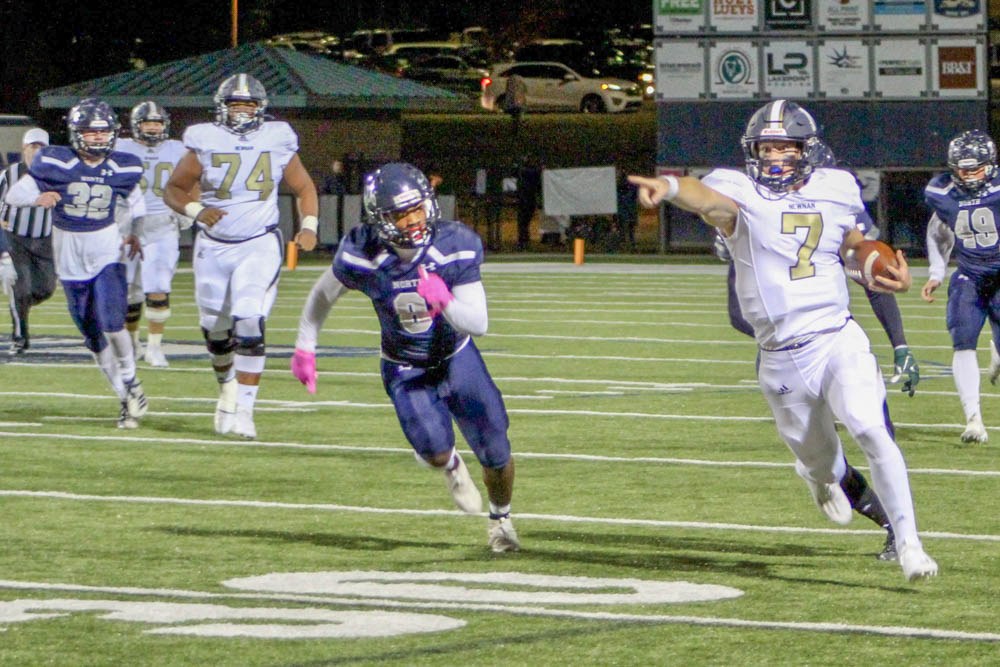 Quarterback Michael Maginnis directing traffic. The Samford commit had two touchdown passes.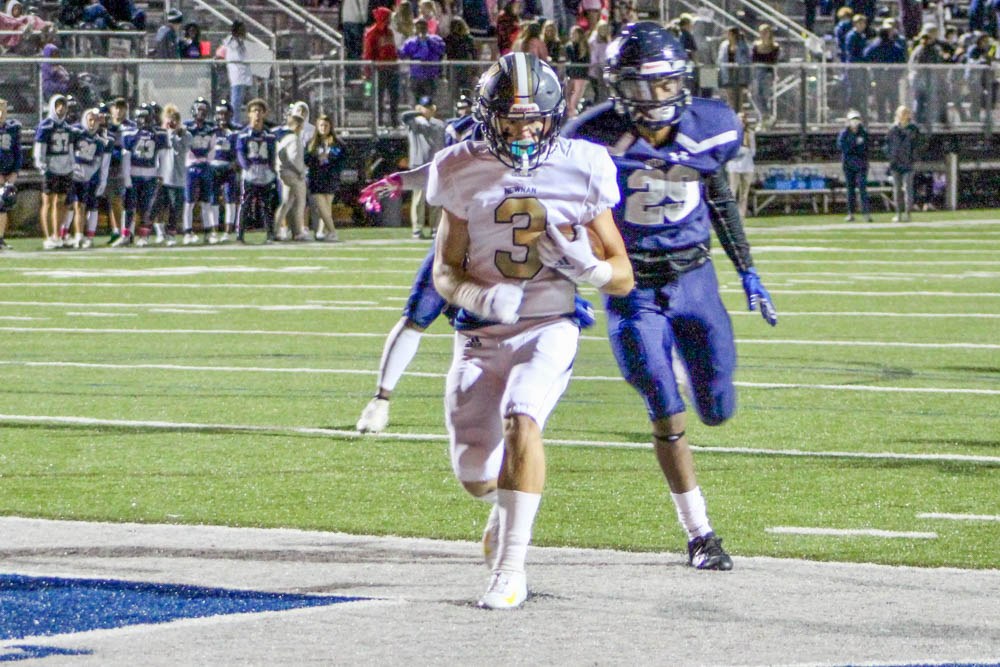 Reid Brass scores a second-quarter touchdown, his sixth touchdown of the season.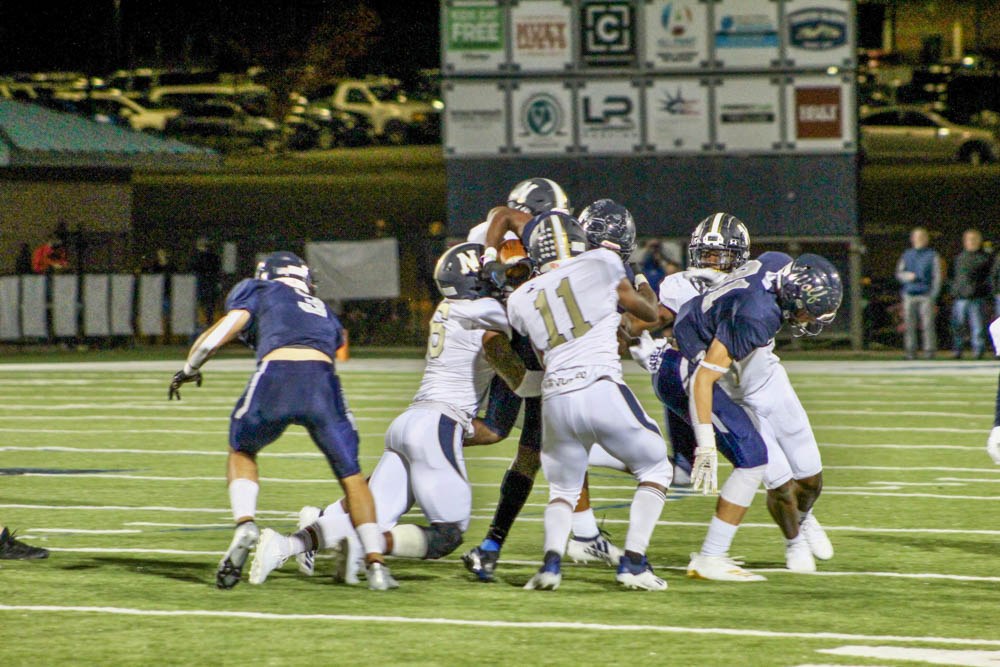 The Cougar defense swarmed all night, getting a lot of hats on the ball.