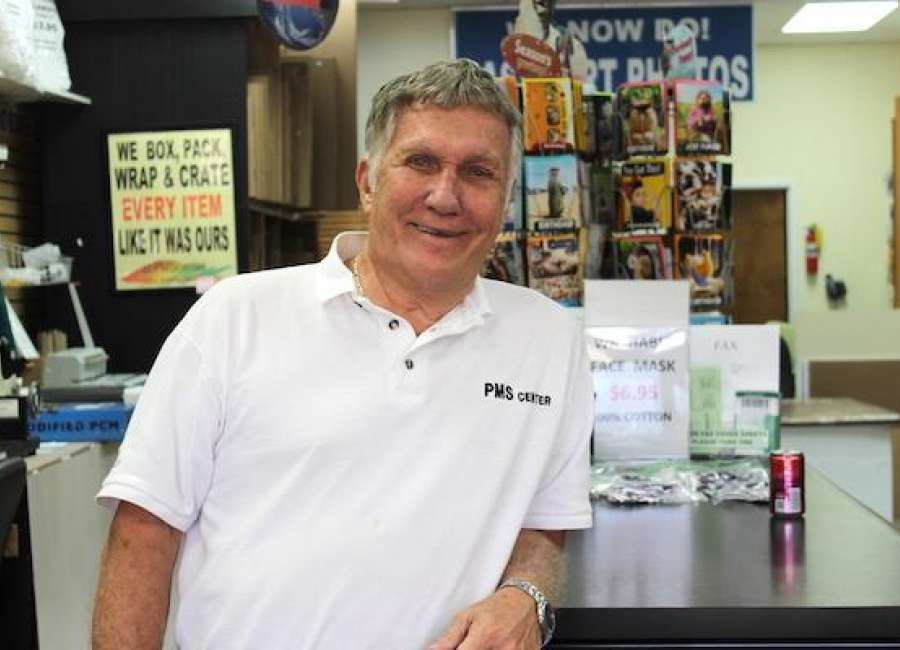 Allen Smith, owner of the PMS Center in Newnan, is featured in the new Borat film that was released on Amazon Prime Video Friday.

"Borat Subsequent Moviefilm: Delivery of Prodigious Bribe to American Regime for Make Benefit Once Glorious Nation of Kazakhstan" is a mockumentary comedy film written by and starring Sacha Baron Cohen as Kazakhstani television personality, Borat Sagdiyev.
Smith said he was contacted last fall to see if he would be interested in his store being part of a documentary. He told them he couldn't close down the store, which specializes in packing, mailing and shipping, during the Christmas rush, but to get back to him in January.
He said they reached back out to him, and they worked out a deal for filming. Smith said producers tested him by showing him pictures, some of which were Baron Cohen, and asked Smith if he recognized any of the people. Smith said he didn't.
"I didn't know anyone, and so they wanted me," Smith said.
Smith said producers told him the film was a documentary about someone from Russia learning about American life. He said the "Russian" man, who was Baron Cohen, would learn how to use a fax machine and a computer.
He said he had to fax messages to Russia for Baron Cohen during filming. Smith said Baron Cohen would tell him what to write down and Smith would fax it, then someone would reply and Baron Cohen would ask Smith to read it to him.
Smith said Baron Cohen's daughter, Maria Bakalova, was also part of the filming in the store. He said filming took place during a couple of days in February, and Smith recorded additional voiceovers.
He was told the documentary would be shown on public TV in Florida, Georgia and Russia. Smith said he learned the "documentary" was the Borat sequel when a friend told him that he was in the trailer for the movie.
"I was shocked when I found out," Smith said.
In February, Baron Cohen interrupted the Conservative Political Action Conference dressed as Donald Trump. He also filmed in Macon , tricking attendees of a fake cotillion.
After hearing how others were portrayed in the film, "I got off kind of easy," Smith said.
He said he's planning on watching the film when it's released. "It's my minute of fame," Smith said. "I'm proud for it."