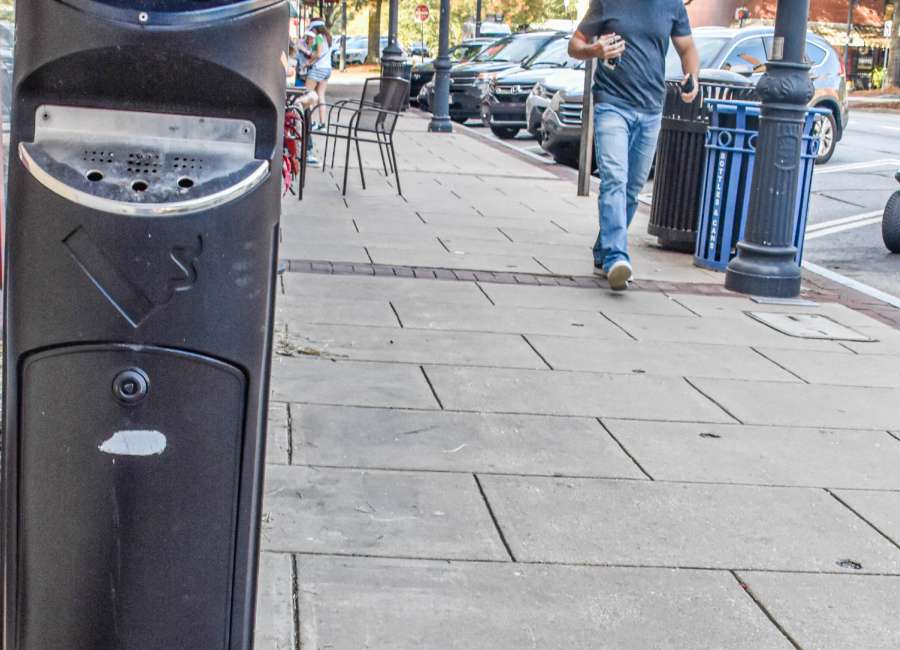 City officials say they have received complaints about panhandlers in downtown Newnan, and they are taking steps to address the issue.

"We're aware of the situation, and we've asked the police to monitor the situation," said City Manager Cleatus Phillips.
Phillips said city employees, including officers from the Newnan Police Department, have been encouraged to try and make their interactions with panhandlers positive. That includes identifying their needs and connecting them with resources.
"We try to engage them, talk to them to see what their needs are and get them help or point them in other directions for help," Phillips said.
Newnan Police say several "regulars" recently have been showing up on the Court Square every morning, around lunchtime and in the evenings – prime shopping and dining time.
"We've identified three individuals," said Deputy Chief Mark Cooper. "Two of them have pretty much moved on, but we have one that will not leave the Court Square."
Cooper said the man frequently sleeps near the West Washington/Madison Street area, or at the post office in inclement weather.
"Every day, we attempt to locate him, make sure his health is OK and make sure he's not a disturbance," Cooper said.
Officers are there to help, not arrest, panhandlers or the homeless, Cooper said.
"We see if there's something we can do to assist them," he said. "If they're in need, we refer them to Bridging the Gap or other community outreach programs."
Because of the recent complaints, NPD has increased foot and bike patrols during the day.
"If they become belligerent, we move them off the Court Square area," Cooper said. "So far, we have not had to arrest anybody for disturbance or anything else."
While panhandling may be an annoyance, it's not a crime. In fact, the American Civil Liberties Union has long argued that anti-panhandling laws violate constitutional rights.
The courts appear to agree, citing First Amendment rights to free speech in frequently striking down municipalities' attempts to regulate panhandling by criminalizing asking for money in public, sleeping, sitting or begging in public spaces.
A 2015 Supreme Court decision upholding churches' right to free speech – Reed v. Town of Gilbert, Arizona, – unexpectedly set a legal precedent for striking down anti-panhandling laws. In the Reed case, the court ruled that any government regulation curtailing free speech must not only be as narrow as possible but also must fulfill a "compelling government interest."
That decision applies to any local ordinances that limit certain types of speech, and in the years following the Reed ruling, federal courts have struck down all or part of a number of municipal bans on panhandling.
Earlier this year, a federal judge issued an injunction to prevent the enactment of legislation that would have banned most forms of panhandling in Indiana, and civil liberties groups publicly urged lawmakers to focus on solutions to poverty instead of criminalizing the poor.
"Criminalizing poverty is never a solution," Jane Henegar, executive director at the ACLU of Indiana, told Fox 59 News at the time. "The Indiana legislature should be trying to remedy the reasons driving homelessness and joblessness."
However, there's a difference between panhandling and aggressive panhandling, and laws already exist to protect people from harm, including coercive panhandling with actual or implied threats, menacing actions or physical force.
"Don't engage in any arguments or violence," Cooper said.
The best way to solve a panhandling problem is for people to hold on to their cash, he said, because it can discourage panhandlers from turning to the resources they need – or even aggravate the situation.
"We don't want to encourage panhandling by giving them an endless supply of money," he said. "If the public continues to supply them with donations, then they don't want to accept our resources. If they're used to getting money, they get agitated when people refuse to give them money."
That situation could lead to an arrest, which is something police say they want to avoid. Anyone who encounters an aggressive panhandler should contact the NPD.
"Reach out to us, and we'll be happy to help," Cooper said.