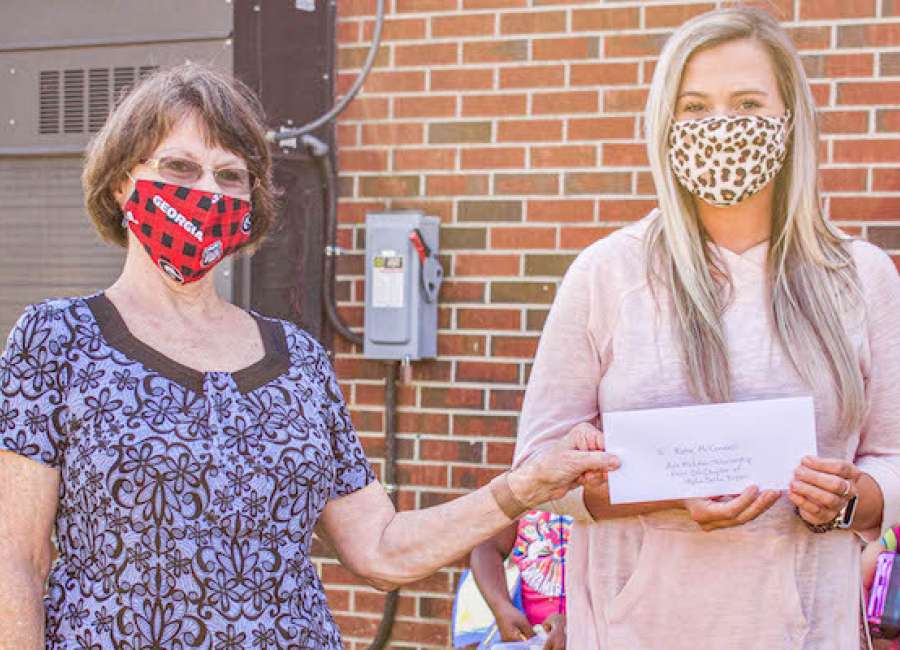 In third grade, Katie McConnell decided she wanted to be a teacher.

As a student at Newnan High School, she was part of the Teacher Pipeline Program and worked in the Coweta County School System's After School Program. But after graduation, she had to change plans to attend college, but she said she never gave up on her dream of becoming a teacher.
McConnell continued working with children at a recreation department summer day camp and as a nanny. She became a permanent substitute at Brooks Elementary School, then a paraprofessional for pre-K and kindergarten classes. And she went back to school, too, taking core classes at West Georgia Technical College.
On Tuesday, McConnell – now a paraprofessional at Elm Street Elementary School – got a boost toward her future career in the form of the Ann McLean Scholarship from Coweta County Chi Chapter of the International Alpha Delta Kappa teacher sorority.
McLean was a 30-year educator and 25-year member of Alpha Delta Kappa who passed away in an accident. A $1,000 scholarship is awarded in McLean's name annually by Chi Chapter to a nontraditional student. The presentation is in October of each year, which is recognized as ADK Month.
McConnell credits Cheryl McChargue, who taught second grade at Brooks and is now the principal of Western Elementary School, with inspiring her to continue working toward her dream. McChargue also pursued an advanced degree while teaching full time, and McConnell said she learned techniques on organization, making learning fun and creating a cozy classroom from McChargue.
McConnell is now enrolled at the University of West Georgia Newnan Center, continuing her journey by majoring in elementary education with dual certification in special education-general curriculum. She currently is completing prerequisites for a program – unique to UWG Newnan – that allows paraprofessionals to continue working as they complete their teaching degrees.
Since 1975, Chi Chapter has awarded $104,500 in scholarships to 104 recipients, including McConnell.