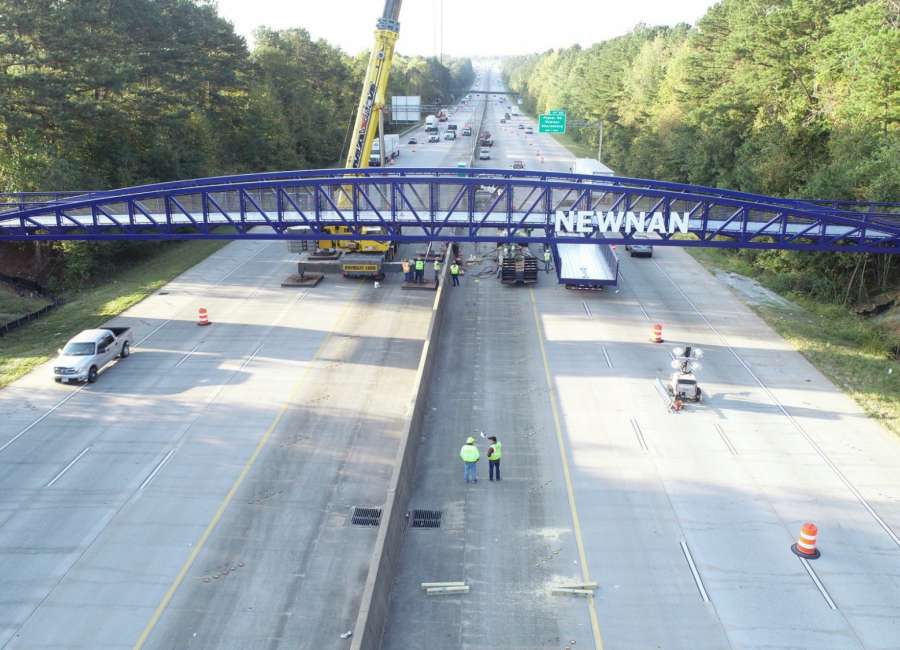 The installation of the LINC greenway bridge over Interstate 85 is officially complete.
However, there is still more work to do, and the newest section of the LINC is set to open in December.
Completion of the bridge is a tremendous step for the LINC project – creating the "linc" between downtown and the eastern area of the city.
The first section of the LINC opened in early 2019 with 1.4 miles of trail.
The second section of the LINC will run from the current terminus at Newnan Crossing Boulevard and Summerlin Boulevard to a section of McIntosh Parkway near One Life Fitness.
Most of the work on the second section is complete already, said Newnan Assistant City Manager Hasco Craver, but work near each end of the bridge can't be finished until the bridge is in place. Additionally, concrete will be poured on the bridge surface.
The next section will go all the way into downtown Newnan, where it will stop at the Historic Train Depot. This will complete 3.4 new miles, creating a nearly 5-mile-long trunkline of path running from the SummerGrove Subdivision area to downtown. But until the second section is complete, sidewalks will connect downtown and the LINC.
Getting the bridge into place is an exciting moment. "The staff is excited, everyone that is involved is excited," Craver said.
From the very first planning meetings for the greenway, "we had this concept of – how do we move people from one side of town to the other – that is how we came up with the name LINC," Craver said, because the greenway links the two sides of town. "It really all came together with this iconic bridge."
Information about parking, maps, and future plans can be found at www.friendsoflinc.org .
Photos courtesy City of Newnan / Bike Coweta