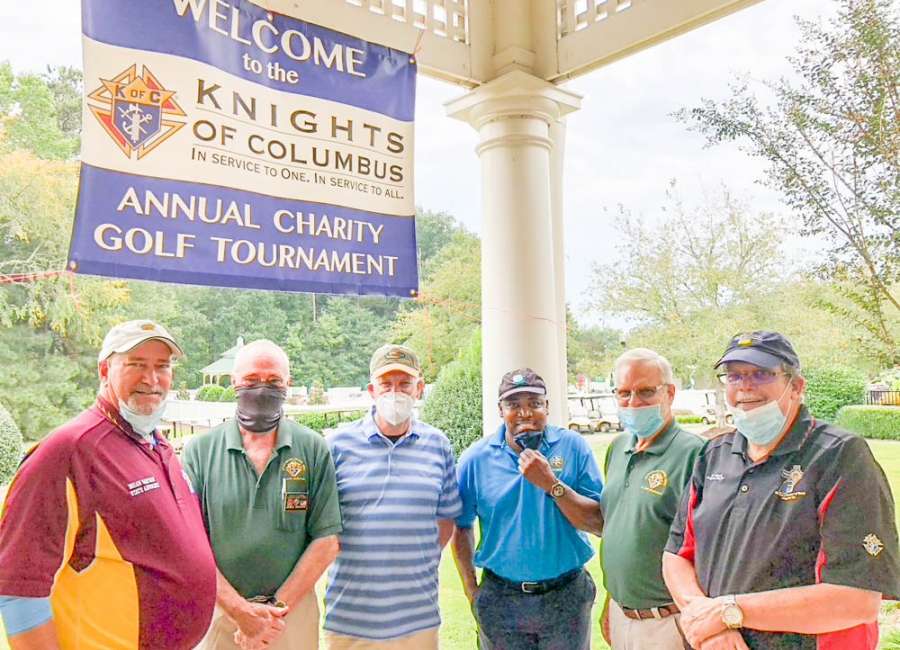 In an effort to raise money for local charities, the Knights of Columbus from Saint Mary Magdalene hosted their annual charity golf tournament at Summer Grove Golf Club in Newnan.

This is the 14th year the Knights have hosted the tournament, which gives its proceeds to local charities that help serve local communities.
This year, over 100 local businesses and organizations sponsored the tournament; covering the costs of the tournament, providing prizes to the top three teams, providing items for door prizes and giving thousands of dollars to this great cause, according to David Benson, public affairs officer for the group.
Added to this, Toyota of Newnan sponsored a hole-in-one prize of one new car.
"According to the Atlanta Community Food Bank, child food insecurity in Coweta County is expected to grow to 22.9 percent in 2020. Fayette County is not much better, with projections of child food insecurity reaching 18.4 percent," Benson said. "Think about that. This means that in the local area one of every five children you see doesn't receive enough food to sustain an active, healthy life."
Sponsors also provided the entry fee for eight of Newnan's finest first responders, allowing them to participate for free and providing a small gesture of thanks for their service and sacrifice.
Also participating was Bishop Ned Shlesinger III, the Auxiliary Bishop of Atlanta, who gave a benediction to start the tournament. His connections helped keep the heavy rain away until after the golfing was complete, Benson said.
There were also several state officers from the Georgia Knights of Columbus who came out to support the event, as well as Father Terry Crone, the pastor at St. Mary Magdalene Catholic Church.
According to Benson, in the 13 years the council has hosted this tournament, it has helped raise over $117,000 for local and statewide charities such as Abby's Angels, Coweta and Fayette County Meals on Wheels, Bridging the Gap, One Roof, Coweta Pregnancy Service, Special Olympics, St. Vincent DePaul, Midwest Food Bank, Keris Kares Inc., Coweta Samaritan Clinic and more.
With almost 100 golfers participating this year, the council expects to provide well over $10,000 again to local organizations.
"Hopefully, this money will bring some much-needed food to many tables and smiles to many children's faces for Thanksgiving and Christmas, as our local citizens help fight the growing need in our area," Benson said.