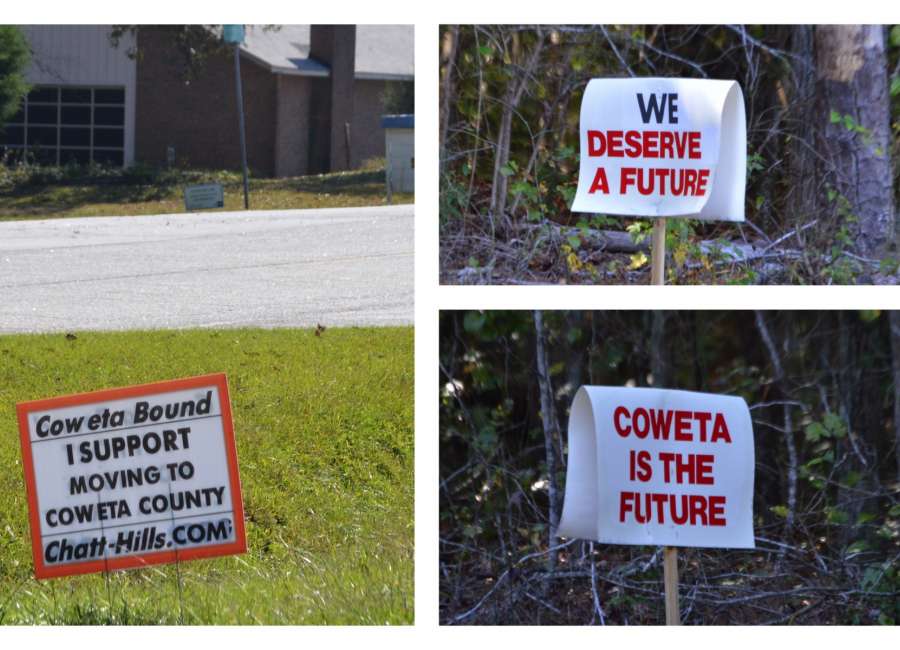 A variety of signs have been up around Chattahoochee Hills for the past several weeks supporting having the rural city in Fulton County become a part of Coweta.
A coalition has been formed to pursue the process of having the county line moved – a process that has been tried in Georgia but never yet succeeded.
Under Georgia law, moving land from one county to the other requires a 2/3 vote from a grand jury in each county, and then a vote by each county commission.
If the process moves forward, it will be at least the third attempt by those in the area to become part of Coweta County.
In 2000, before Chattahoochee Hills became an incorporated town, annexation of part of the future city, which includes the communities of Goodes and Rico, went through the grand jury process and came before the Coweta County Board of Commissioners.
That annexation move was for 17,000 acres. The current city of Chattahoochee Hills is approximately 33,000 acres.
The Coweta commissioners rejected that request.
A year after incorporation, there was another unsuccessful attempt.
There was an even earlier attempt in the early 1990s, said Rebekah Michaels, an original organizer of the current drive.
A citizen-led initiative
Under state law, any moving of county boundaries is a citizen-led initiative, not one led by the government, said Chattahoochee Hills Mayor Tom Reed.
The move to Coweta "is something that seems to have pretty broad support from the community," he said. "As the mayor, I'm supportive of the things my citizens are supportive of."
There have been informal meetings with Coweta and Fulton officials, he said.
Though there have been attempts to move into Coweta before, and some other areas have attempted something similar, Reed said to his understanding, none of those attempts have ever been successful.
"Every time, it has run up against political pushback. It's one of those things where, if you can make it happen without blowing up the world, then you might make it happen."
The pushback has already happened with this attempt, as the coalition that formed to promote it has fractured.
Michaels moved to Chattahoochee Hills several years ago and ran for city council in 2017. In talking to her neighbors during the campaign, "one of the things that I kept running across was everyone wanting to get into Coweta County," she said.
It's something that has been talked about for a while, and last year, a group of Chattahoochee Hills residents and government representatives went and met with Coweta County officials to talk about the possibility of annexation and what it would mean.
In the meeting, there were discussions about provisions for taxes, schools and emergency services.
It seemed like it might be time to try annexation again, Michaels said.
To get the process started, citizens must petition the grand jury in each county to make the move.
"So we need to basically build a legal case to petition a grand jury in Fulton and in Coweta as to the reasons why we would like to have the county border moved," Michaels said.
The Chatt Hills Coalition was formed, and a website was put together. "We started planning out how to approach the grand jury, how to start putting all of this information together – then COVID hit. And then everything else hit, and we went on hiatus for a number of months," she said.
Before COVID-19 came to town, there were plans for town hall meetings, and going door to door to talk to neighbors. After COVID-19, "we sort of sat down and said – how are we going to go about this?" she said. Some members of the committee wanted to put some signs out, put together some petitions and see how people respond.
Michaels said that, though that wouldn't really impact a grand jury decision, it was decided to move forward with the signs.
A wedge issue?
Michaels said that the group didn't communicate properly with enough people in the community before the signs went up, and it's now become a wedge issue in the city – particularly with everything else going on in the world.
She said she spoke to some people with Fulton County who suggested the group needed to try working with Fulton County before trying to move out.
"We need to do our due diligence with Fulton County before any of this would occur," she said. "My goal for this group was to be something that united people, not to create a wedge.
So Michaels has stepped back and is now working with Fulton County "to see how the city and the community of Chattahoochee Hills can work with Fulton County," she said.
"Let's engage Fulton County in ways that may not have been done previously to see if we can alleviate some of the issues and concerns that the citizens think moving to Coweta will mitigate," Michaels said.
But other members of the coalition are moving forward. The coalition's name is the same, but the website is new – instead of www.Chatt-Hills.org , it's now www.Chatt-Hills.com .
Visitors to the new website are told it's not associated with www.Chatt-Hills.org . Michaels said she's currently in the process of redoing her website.
"We have the same committee, it is just that there are a couple of people who are no longer participating on the committee," said Helen Prater of the Chattahoochee Hills Coalition. "We just agreed to part ways and move on."
Schools, services and rural character
There are several reasons why Chattahoochee Hills residents want to be "Coweta Bound."
The major ones include access to government services, better schools, rural character and enhanced economic growth.
Residents would much rather drive to Newnan than to downtown Atlanta for things such as jury duty and taking care of government business. There is a Fulton County government service center in College Park, but the services there are limited, said Prater.
Schools in Coweta get significantly higher ratings than the schools in south Fulton, and many families in Chattahoochee Hills home-school or put their children in private school, said Mayor Reed. But not everyone can do that.
Reed said that some families have left Chattahoochee Hills and moved to Coweta because of the schools.
The Chattahoochee Hills Charter School, which serves kindergarten through seventh grade, has grown from a small startup to a school with nearly 600 students and a waiting list. Many of the school's students don't live within the city limits.
Michaels said that when the signs started going up, some people thought that the charter school was being singled out, and that wasn't the intent at all.
Michaels said she wants to work with Fulton County Schools to make the schools better.
"People complain, but at the end of the day, there is a difference between complaining and actually trying to do something," she said.
Those who visit Chatt-Hills.com are asked to fill out a form that includes questions about school-aged children.
"We're trying to identify how many school-aged children people who live in Chattahoochee Hills have, what level they are and how many are in private school or home-schooled," Prater said.
The school issue also feeds into the desire for more economic development.
Prater said many members of the coalition have spoken to people "who come to this area and they like what they see – they liked the ruralness, the feel. They think it's beautiful here. They'd love to come and live here. But because of the schools, they feel like they cannot come here," she said.
Because there is a small population – approximately 3,400 people in 55 square miles – it's hard to get access to things like high-speed internet, Prater said.
Chattahoochee Hills was created with unique zoning – development is concentrated in villages and hamlets, with other land being preserved through the transfer of development rights. That won't change if the city becomes part of Coweta, Reed said. As a city, it will continue to control its own zoning and provide city services, such as parks, fire and police.
So the area's rural character is protected no matter which county it is a part of.
However, Prater said the coalition's members feel the character of Coweta is more in keeping with the rural character of Chattahoochee Hills than the character of Fulton County.
"It's about protecting our rural character and aligning with another county that we think is more like-minded," she said.
There are other issues the coalition is looking into, like lower taxes in Coweta, differences in services such as senior citizen services, and even insurance rates. Car insurance is significantly more expensive for Fulton residents versus those who live in Coweta, said Danean Crawford of the coalition.
Prater said they consider what's taken place so far to be a "soft launch," with signs and word of mouth.
And so far, the response has been very positive.
"There are people saying, 'Why haven't you done this sooner? Why aren't you moving faster?'" Prather said.
Crawford said she hasn't heard a single negative comment or concern.
"Everybody has asked, 'When is it going to happen? How soon is it going to happen?'" she said. "And what can I do to help?"