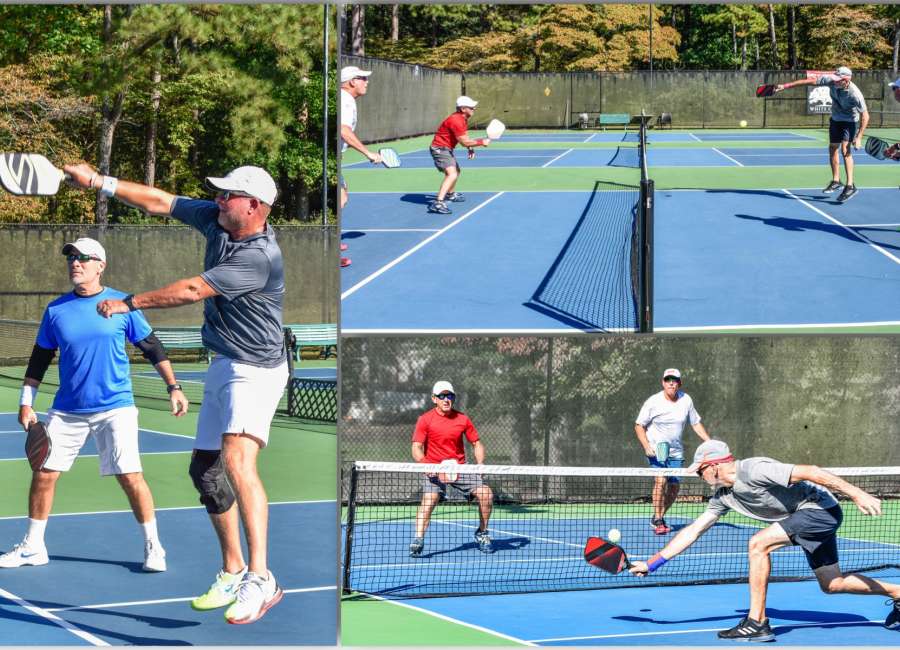 This weekend, several local pickleball players will be heading to Griffin for the 2020 Doc Holliday Shootout Pickleball Tournament.

Now celebrating its 55th anniversary, pickleball is America's fastest growing sport, and Coweta County is no exception.
Even though pickleball began in 1965, the sport has grown dramatically in the past 5-10 years. Many players attest the rising popularity of the sport is due to a very engaged community of players.
According to the Sports Fitness Industry Association, there are now a total of 3.3 million Pickleball players with about 20 percent of the participants being 65 or older.
Bill Perkins, a Coweta resident and USA Pickleball Association Local Ambassador, estimates around 300 players are currently playing the sport in the community.
Like many others, Perkins was initially a tennis player but became a convert after a few matches of pickleball.
"My friend (former Newnan High principal) Mark Cunningham was a former tennis guy, and someone talked him into playing and then told my wife about it," Perkins recalled. "I was nursing a tennis injury at the time and thought it was something I could do until I was healed up."
Perkins was instantly hooked, and he never looked back.
"Since then, I've probably played one match of tennis," he said with a laugh.
It's a familiar refrain from many players. John Huddleston is among those in a large group who play the sport at the White Oak Country Club, where two tennis courts have been converted into six pickleball courts.
Three years ago, Huddleston's wife heard about the sport and visited a game in Peachtree City.
"She got back and kept telling me how great it was," he recalled. "But it's the truth. Tennis is a game of checkers, but pickleball is a chess match."
The origins of pickleball in Coweta go back several years, when groups played at Bethlehem Baptist Church and indoors at the Coweta County Recreation Department.
Many communities like Summergrove, White Oak and Lake Redwine have converted tennis courts to pickleball courts. The only option open to the public is at the Coweta County Recreation Department.
Currently, six courts are available for play at Temple Avenue Complex. Two are outdoors and recently resurfaced, and four are indoor – two at the Temple Avenue Gym and two at the Johnny Brown Building.
Currently, groups play from as early as 8 a.m. up until 1 p.m. on weekdays. The county currently has pickleball lines for two courts in the newly renovated Madras Gym, but they have not activated that as an available site yet.
With the first major public pickleball facility set to be built across the street from the Newnan Police Department on Joseph Hannah Boulevard, Perkins said he believes it will be fully utilized immediately.
"It's like the old 'if you build it, they will come' theory," he said.
Five years ago, Perkins started the Coweta Pickleball Club, but now he's planning on changing the name to the Newnan-Coweta Pickleball Club, in recognition of how the city has chosen to embrace the game and provide a public facility.
City officials say they expect the Newnan courts to be ready by May 2021.
While the facility will no doubt boost the numbers of players, Perkins said he believes downtown Newnan will also feel the economic benefits too.
While popular pickleball courts in Spalding County and Opelika, Alabama are seeing great numbers of visitors, neither facility is close to downtown and that's some missed economic opportunity, Perkins said.
"In Newnan, you won't have to drive 10 miles to get to a restaurant," Perkins said. "It's going to be a shot in the arm for our downtown businesses."
But where pickleball provides the greatest impact is through the social networking it creates among its devotees. When Perkins calls pickleball "a life-changing sport," he means it.
As an ambassador for the game, he's attended numerous meetings where testimonials are shared about the benefits of the sport. One former drug and alcohol addict Perkins met at a meeting credited the social aspect as saving her life.
"That's dramatic to hear from someone," he said. "But this sport provides people with a social outlet, exercise and something they can look forward to every day. You can't underestimate the impact that has."
Perkins estimates he and his wife have made over 100 new friends since he began playing several years ago.
"Close friends, too," he said. "In playing tennis for 20 years, I would estimate we met 15 or 20 people. It doesn't have the same social aspect as pickleball."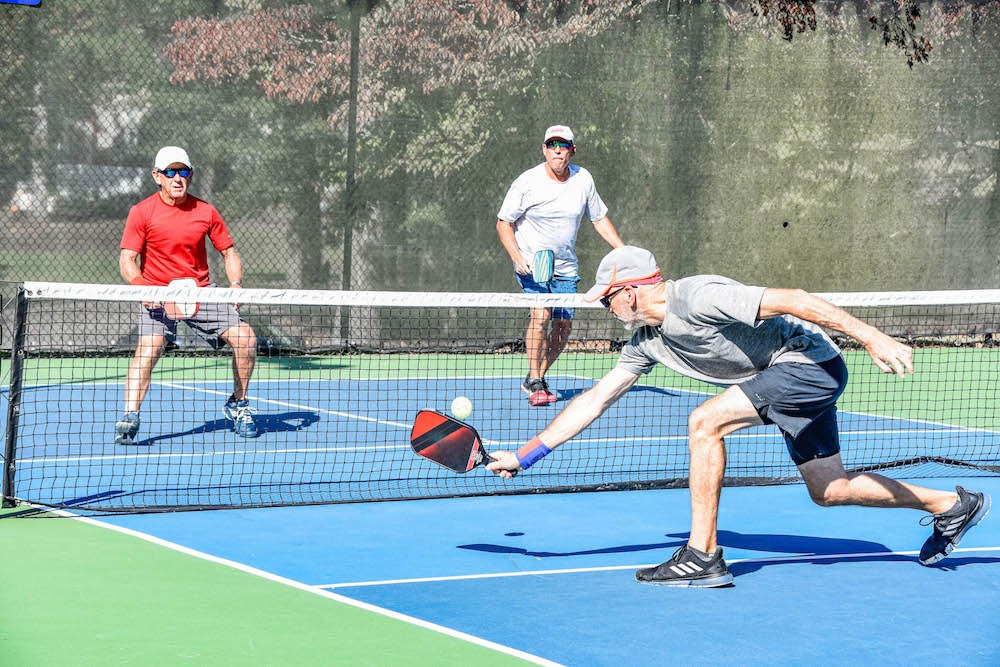 Billy Perkins and teammate Dan Bishop watch as Tom Murty returns a shot from "the kitchen."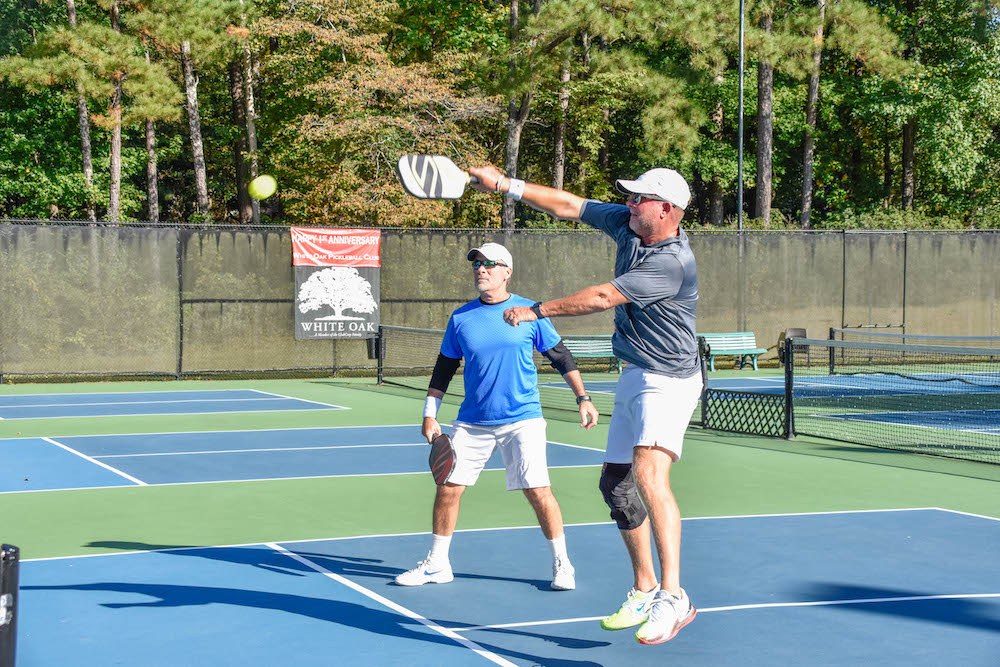 Jim Rogers watches as teammate Ryan Thomas returns a shot. Both men will be competing in the 2020 Doc Holliday Shootout Pickleball Tournament in Griffin this weekend.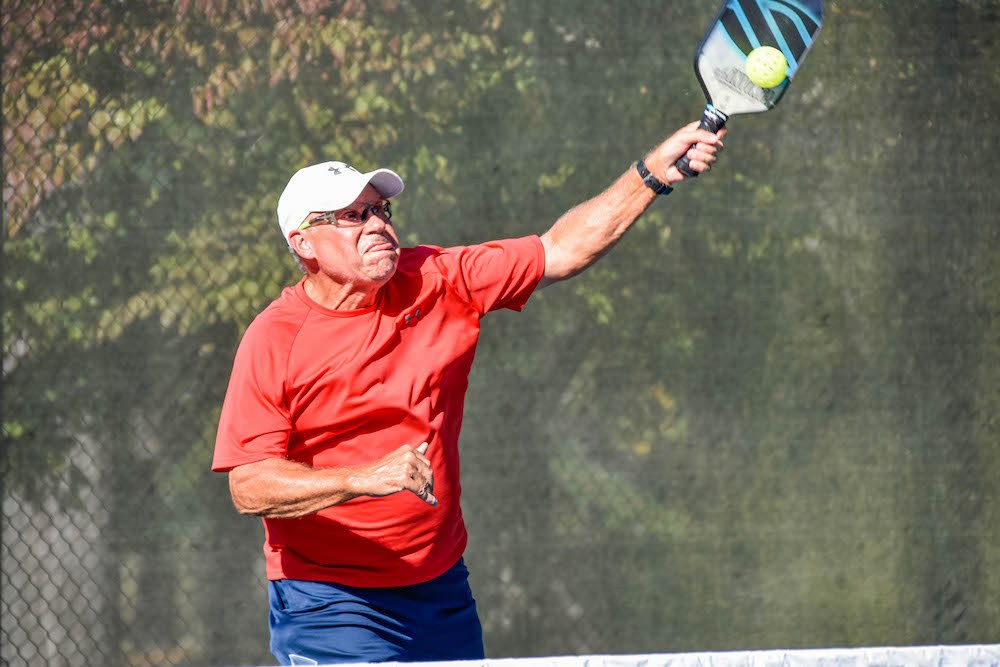 Like many players, John Huddleston was a former tennis player who was instantly converted after playing a match of pickleball three years ago.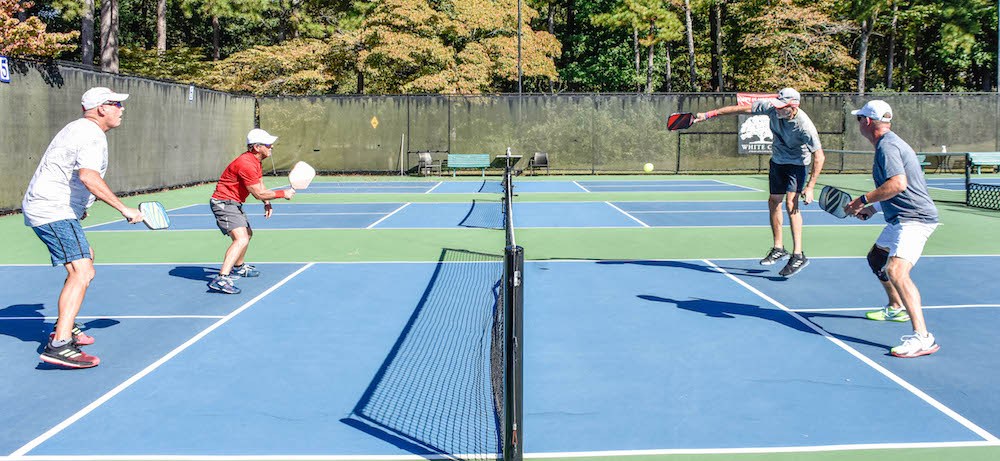 Many players attest the rising popularity of Pickleball is due to a very engaged community of players. From left are Dan Bishop, Bill Perkins, Tom Murty, and Ryan Thomas.