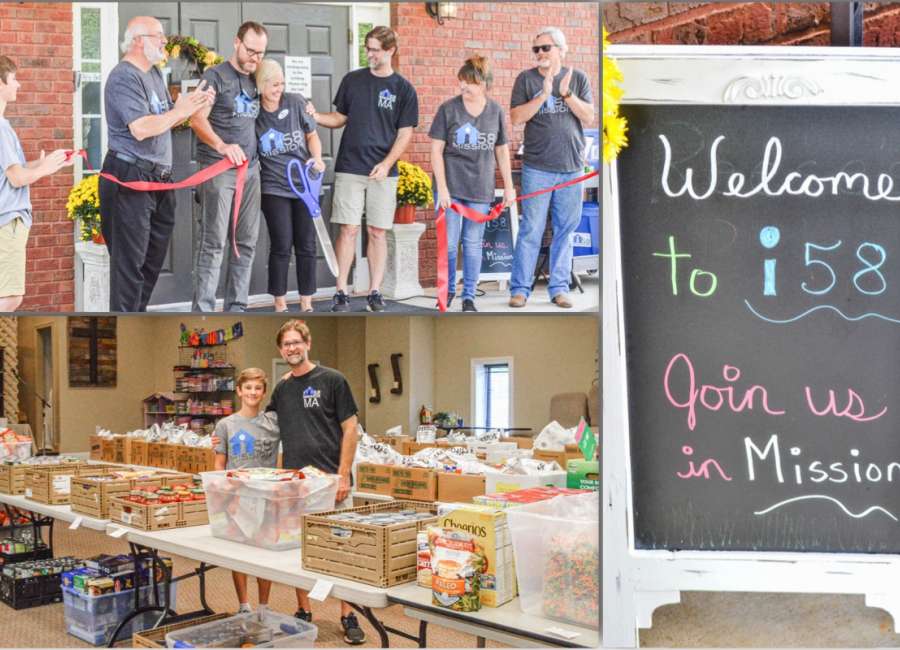 After Jesus had preached to the 5,000 and healed their sick, his disciples told Jesus to send the people away, so they could go into town and get food for themselves.

In response, Jesus said, "You give them something to eat."
"Everybody wants Jesus to do everything. Jesus says, 'I'm waiting on you to do something,'" said Pastor T.J. Boyd. "Somebody's got to hear that call; somebody's got to say yes – to giving them something to eat."
Sometimes, "church folks act like we're too busy to help folks, right? The I-58 Mission doesn't do that."
Boyd, of Change Church in Grantville, was speaking at the ribbon-cutting ceremony for The I-58 Mission's building in Senoia.
If the disciples had sent the multitude home, that would have been OK. "But Jesus' heart is this – they don't just need to go get something to eat. They don't need what the world has to eat. They need what God has for them to eat.
"When God's blessing is on it, there's always enough to go around."
Food is a big part of what the I-58 Mission does, but it's not everything. There are also clothing and household items. But it's still more than that – it's the ministry and the mentoring.
"It's genuine relationships that are the platform for change – through the gospel," said Jonathan Johnson, I-58 board chairman.
Operations Director Karhma Novak said people sometimes ask her why she doesn't seek government grants or partner with corporations.
"Because the body needs to do what the body's been told to do," Novak said. They want to partner with the body of Christ, not with corporations. Though, of course, she's happy for corporate donations.
If the body of Christ did what we are supposed to do, "there wouldn't be hungry folks," she said. "So let's do what we are doing. Let's love well, let's feed them the good stuff, let's save the great clothes – for them."
The I-58 Mission has been at its location at 2450 Highway 85 in Senoia since its beginning, but it had always been a guest. Now, the organization owns the facility, which includes the 10,000-square-foot main building and a warehouse on 15 acres.
"I just read the most incredible thing."
Johnson recalled the day in 2009 he was inspired by Isaiah 58. He was sitting at the Senoia Coffee shop, and was reading the Bible through that year. He was in Isaiah and was amazed by what he was reading.
"I couldn't put it down," he said. Starting at verse 6, it reads: "Is this not the fast that I choose: to loose the bonds of wickedness, to undo the straps of the yoke, to let the oppressed go free, and to break every yoke? Is it not to share your bread with the hungry and bring the homeless poor into your house; when you see the naked, to cover him, and not to hide yourself from your own flesh?"
Johnson said he looked up and saw his pastor and another church member at another table, and he went to them. "I said 'I just read the most incredible thing. I think it's a complete ministry plan for the body of Christ."
They started talking and started meeting with other local pastors. Brent and April Anderson of Vineyard Church offered use of their building. The ministry was going to be called the I-58 Connector, but Vineyard Church already had a program called "Sow Good," so it became the Sow Good Center.
Fast forward four years, and the program was serving 40 to 50 families a week. God was doing a mighty work, Johnson said, but people were getting burned out. And Vineyard Church needed to sell the property.
"We're losing volunteers and we're about to lose our property. So we start praying, very strategically, for two things," Johnson said – a full-time operations director and the property.
Two organizations with the same inspiration
They had no idea what this would look like, Johnson said, but then they started hearing about Karhma and Anthony Novak, who had started their own Senoia ministry patterned after Isaiah 58, Project 586. The Novaks, both school teachers, were operating the fledgling ministry out of their garage.
The two groups met and knew they shared the same vision. Though there wasn't really any money for full-time staff, they moved forward. The organization was told it could use the building until someone bought it.
Eventually, Senoia First Baptist Church purchased the property, with plans to eventually use it. Until then, I-58 could stay and rent it.
Over the years, they looked for other sites. But Karhma would always say they weren't going to move. "She had such clarity; she was just putting her foot down," Johnson said.
Last summer, First Baptist asked I-58 if the group wanted to buy the property. Over the course of the year, without any major fundraising, I-58 raised $330,000 as a down payment, with seven years to pay the remaining $175,000, interest-free.
A launch, not a landing
The building and the land offer a lot of possibilities.
"God did not make that provision be for us to settle," Johnson said. "We're not here to land, we're here to launch."
Karhma Novak said there are a lot of ideas the organization is considering. But anytime they think they know what God is going to do, he surprises them.
"That passage is the ministry plan," Johnson said of Isaiah 58. "And we're so far from really fulfilling every aspect of it. So we trust him for the provision and the resources, and we'll take the steps as he gives us peace and provision for it," he said. "We're trying to abide, not strive."
At the ribbon-cutting ceremony, volunteers, staff and board members were invited to talk about what the I-58 Mission means to them.
A divine appointment
Susie Matthews, I-58's administrative assistant, told a story of a woman who came in one day. She had a scarf covering her head and a tiny Bible, and she kept her head down. The woman was legally blind and struggled to read her Bible.
Matthews' mother had recently passed away, and Matthews had kept only some of the most sentimental things from her mother. She never keeps things in her car, but her mother's large-print Bible was there.
"I didn't know then, but I know now. It was a divine appointment," she said. So she went out and got it for the woman. "She screamed – I can see it, I can see it," Matthews said.
She had also kept her mother's wig. "I had no idea why I kept this wig on the closet shelf that I would never wear. Until God told me why it was there," Matthews said. She gave it to the woman, who went to the bathroom and put it on.
"There was no more looking down. She had her head up, and she was just on fire for the Lord after that," she said.
"I had to share that because, if you've got something that you don't know what it's there for, don't try to outguess God. Pray over it. Because it might be a divine appointment."
For more information about the I-58 Mission, visit thei58mission.org or call 770-301-0870.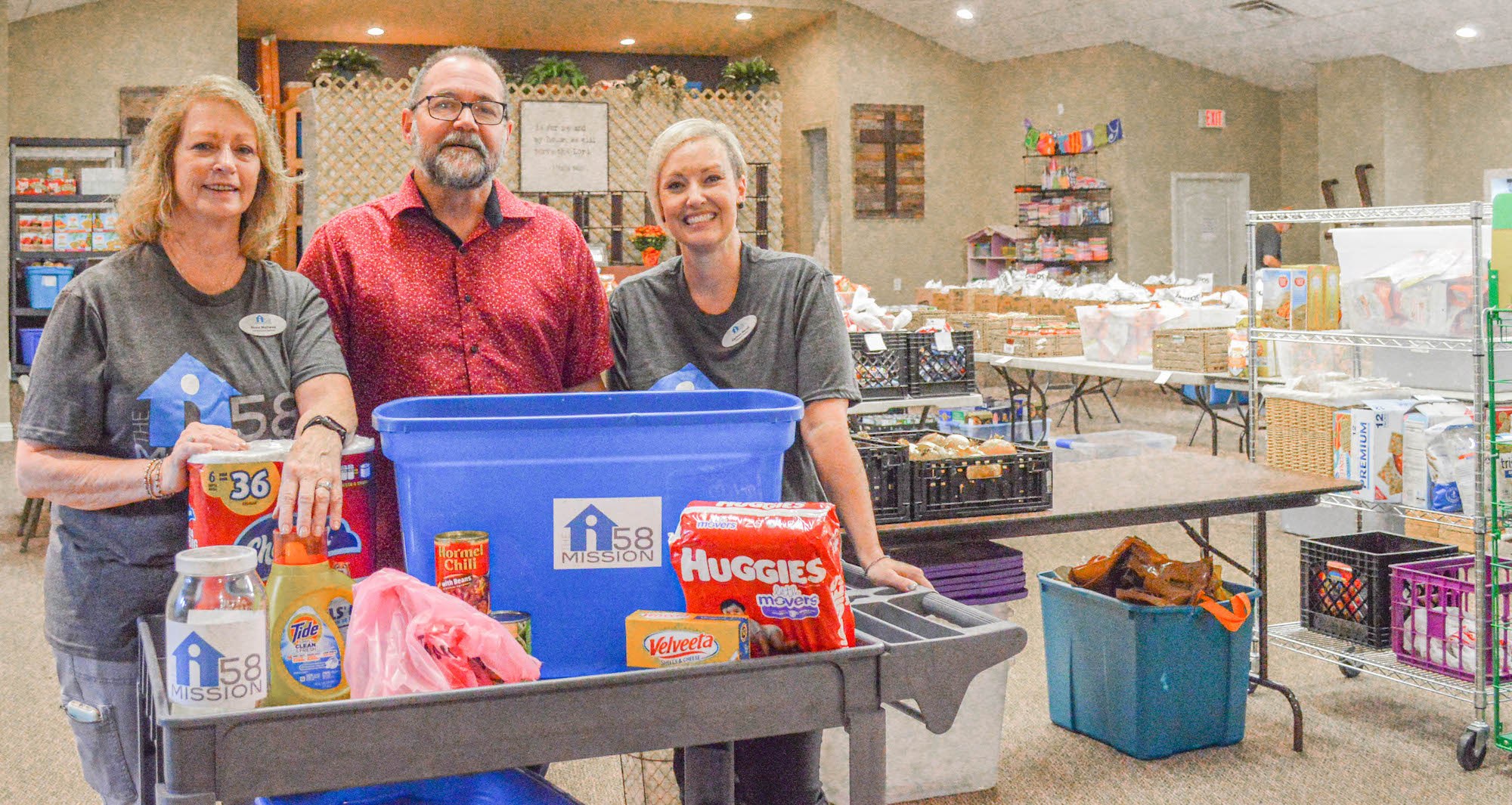 Inside the I-58 Mission after the ribbon cutting are Susie Matthews, Michael Lauden and Karhma Novak.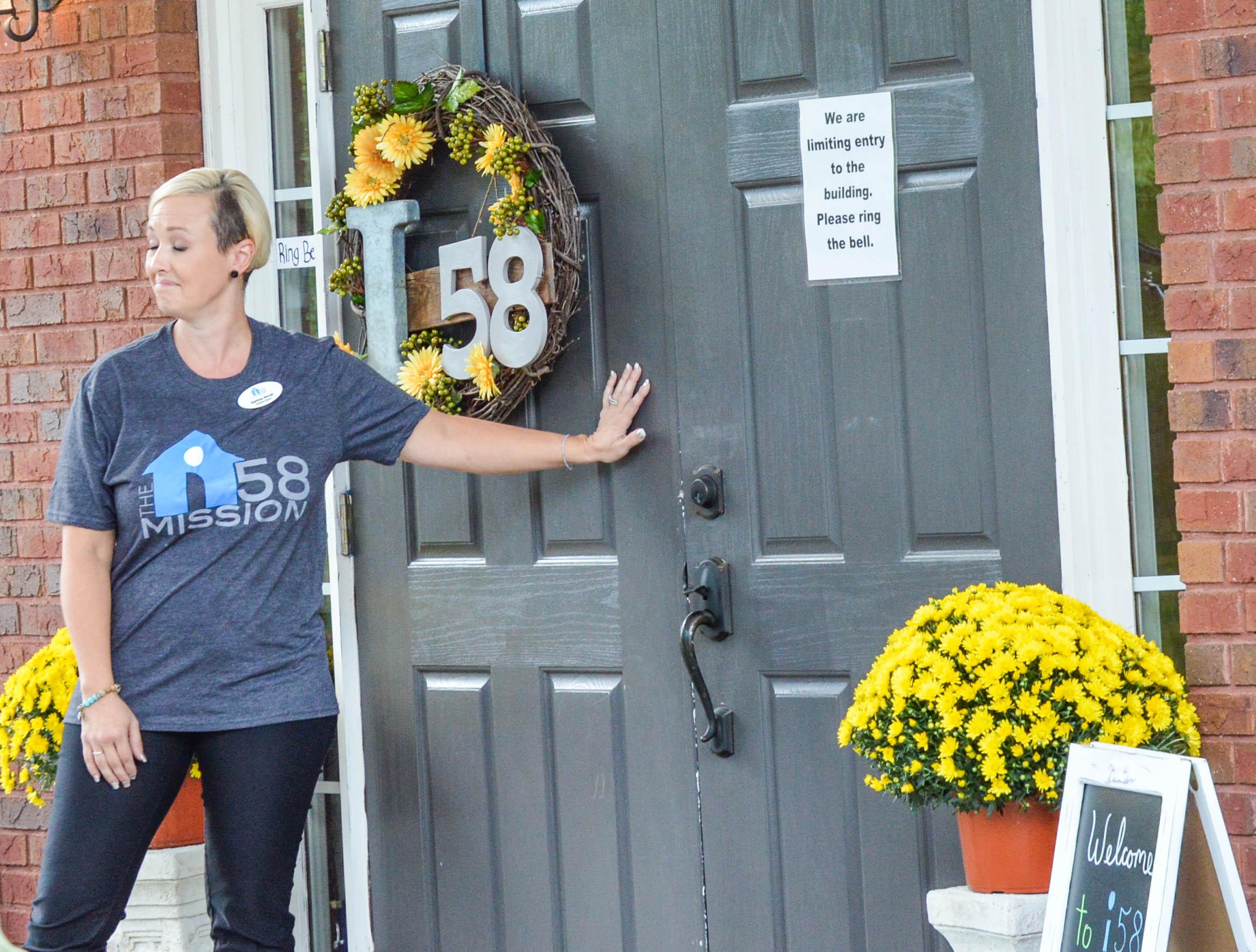 Operations Director Karhma Novak always believed that the site on Highway 85 would remain I-58's home.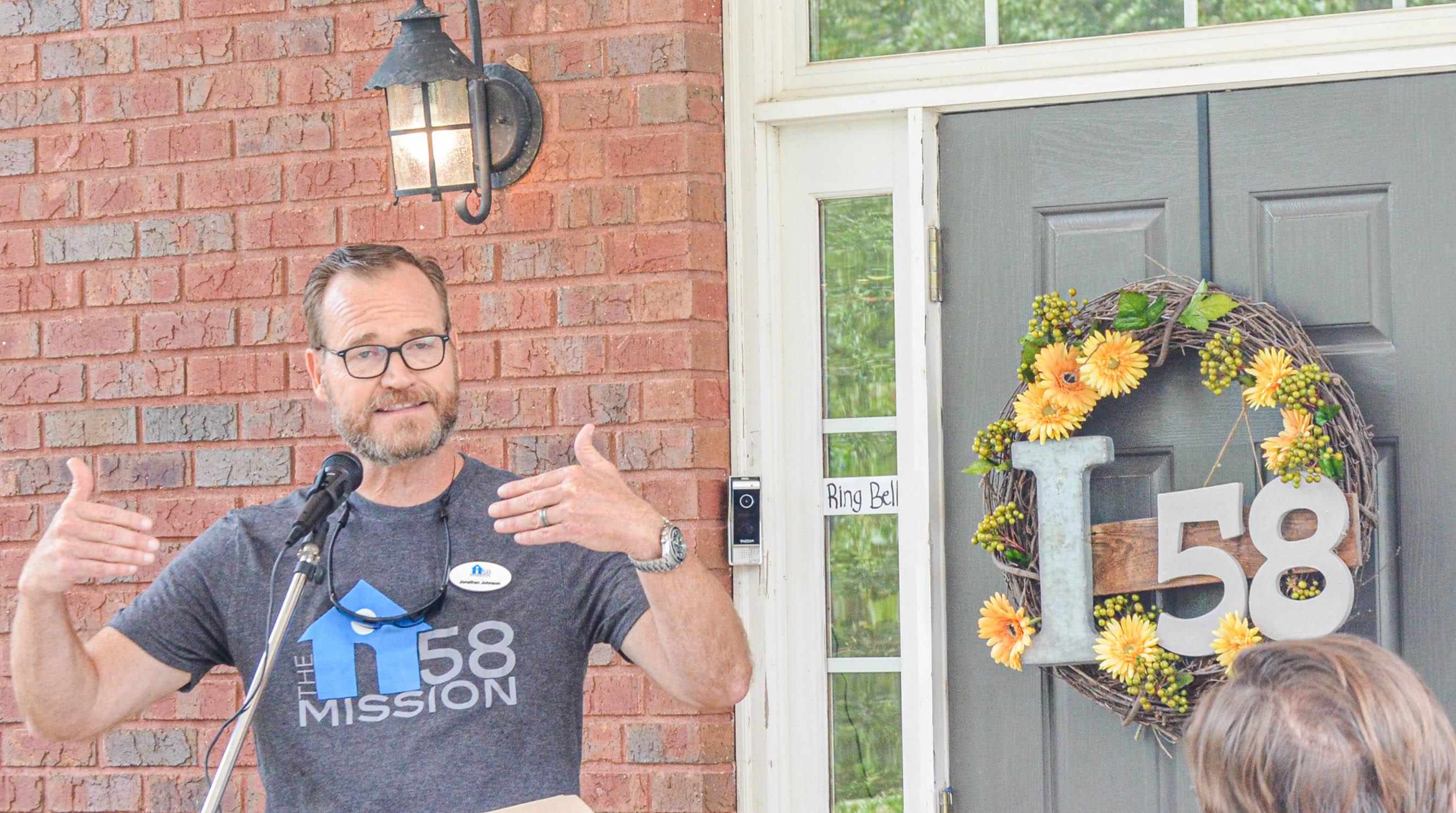 Jonathan Johnson, chairman of the I-58 Mission board, talks about the founding of the organization.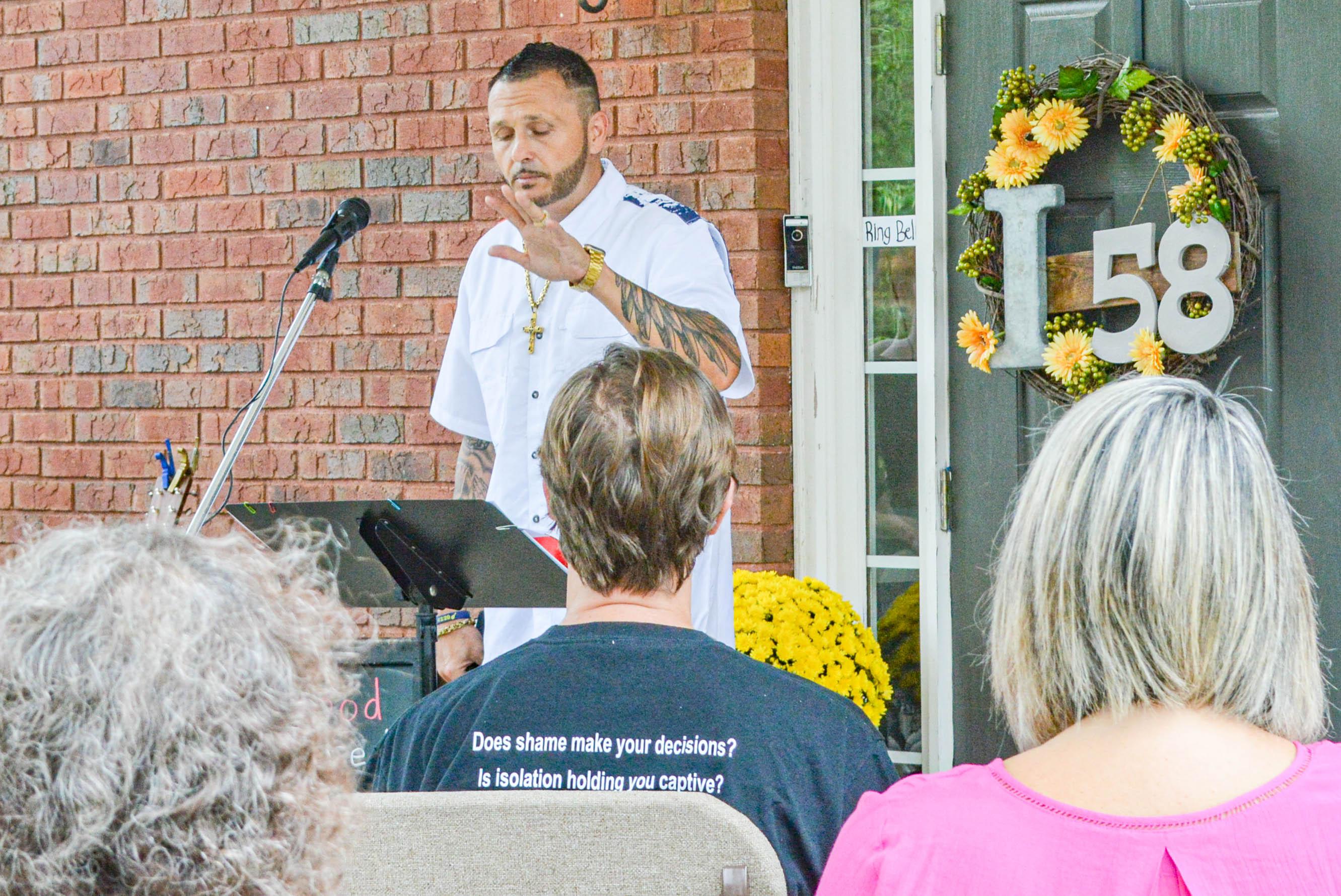 "Everybody wants Jesus to do everything. Jesus says, 'I'm waiting on you to do something,'" said Pastor T.J. Boyd at the I-58 Mission ribbon cutting.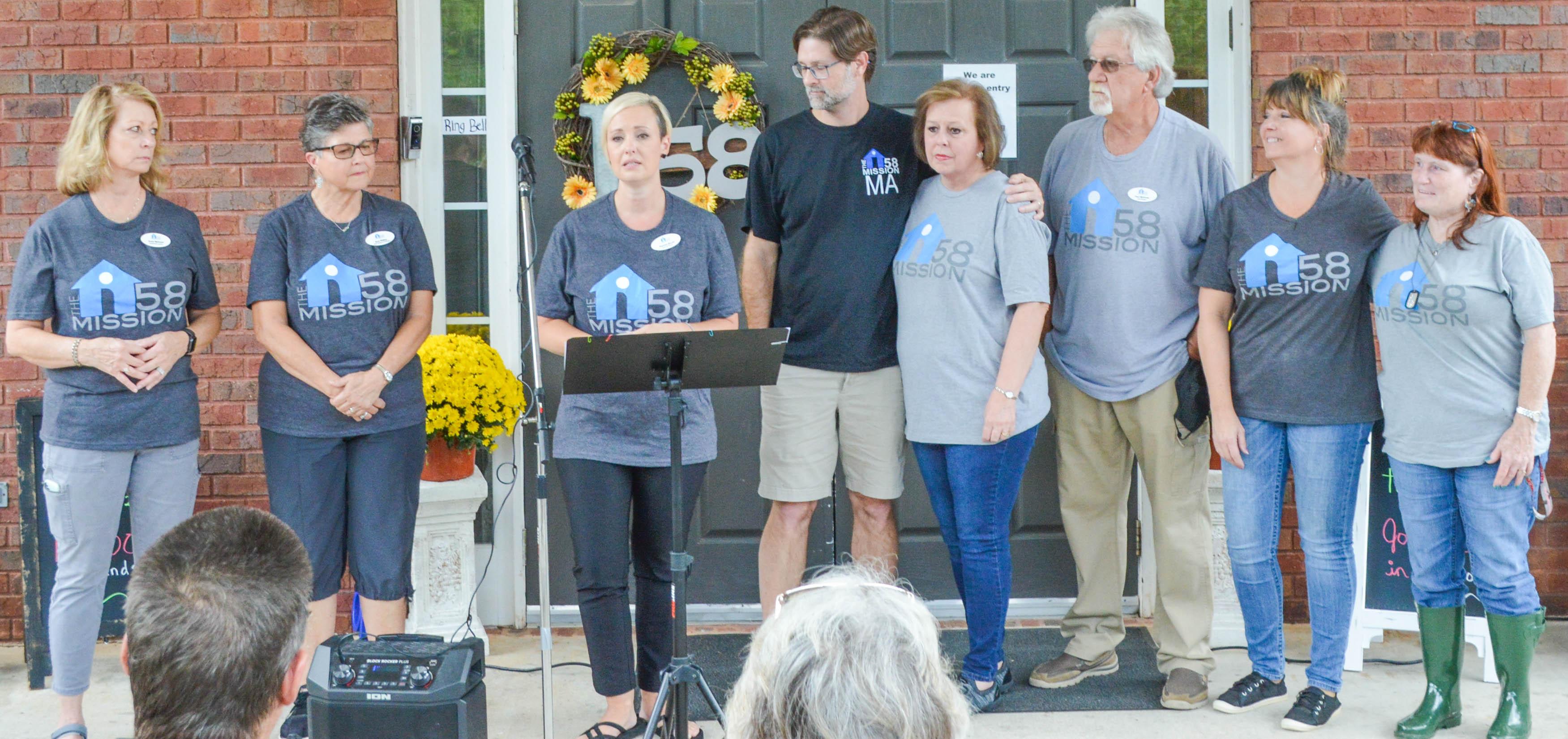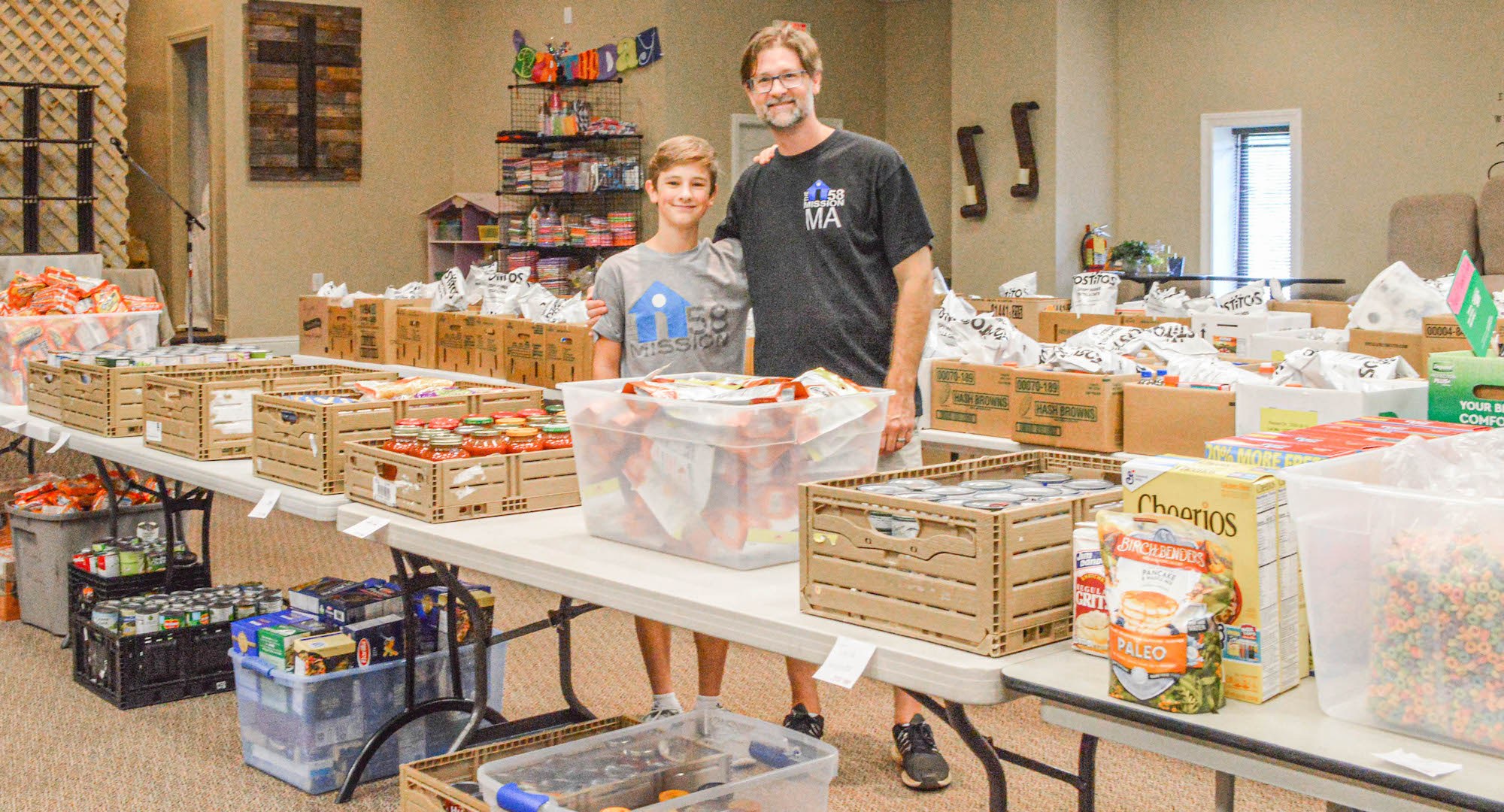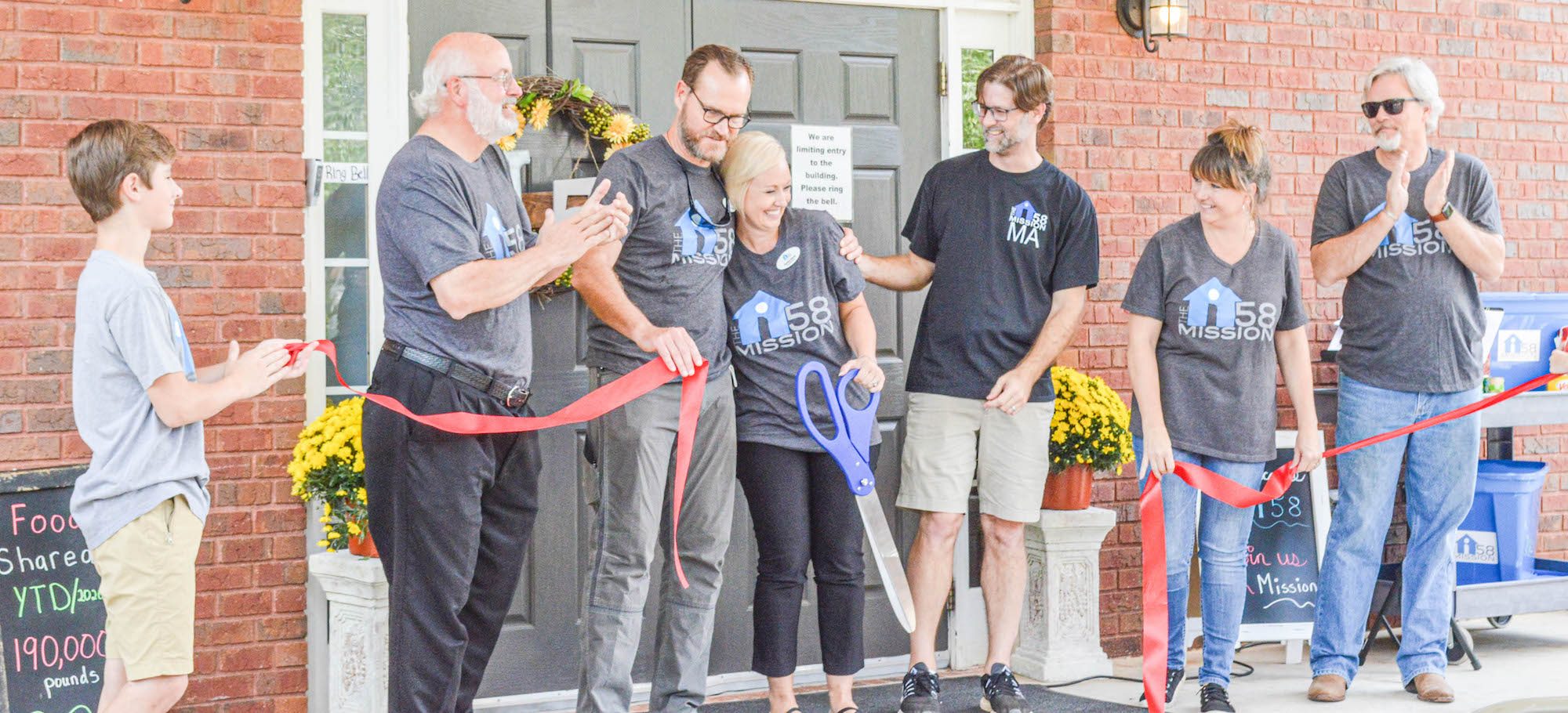 The I-58 Mission has only had one location – but now the organization owns its building. At the ribbon-cutting are, left to right: Jude Novak, Tony Bell, Jonathan Johnson, Karhma Novak, Anthony Novak, Elisa Briscoe and Jonathan Leek. Not pictured is Scarlett Novak.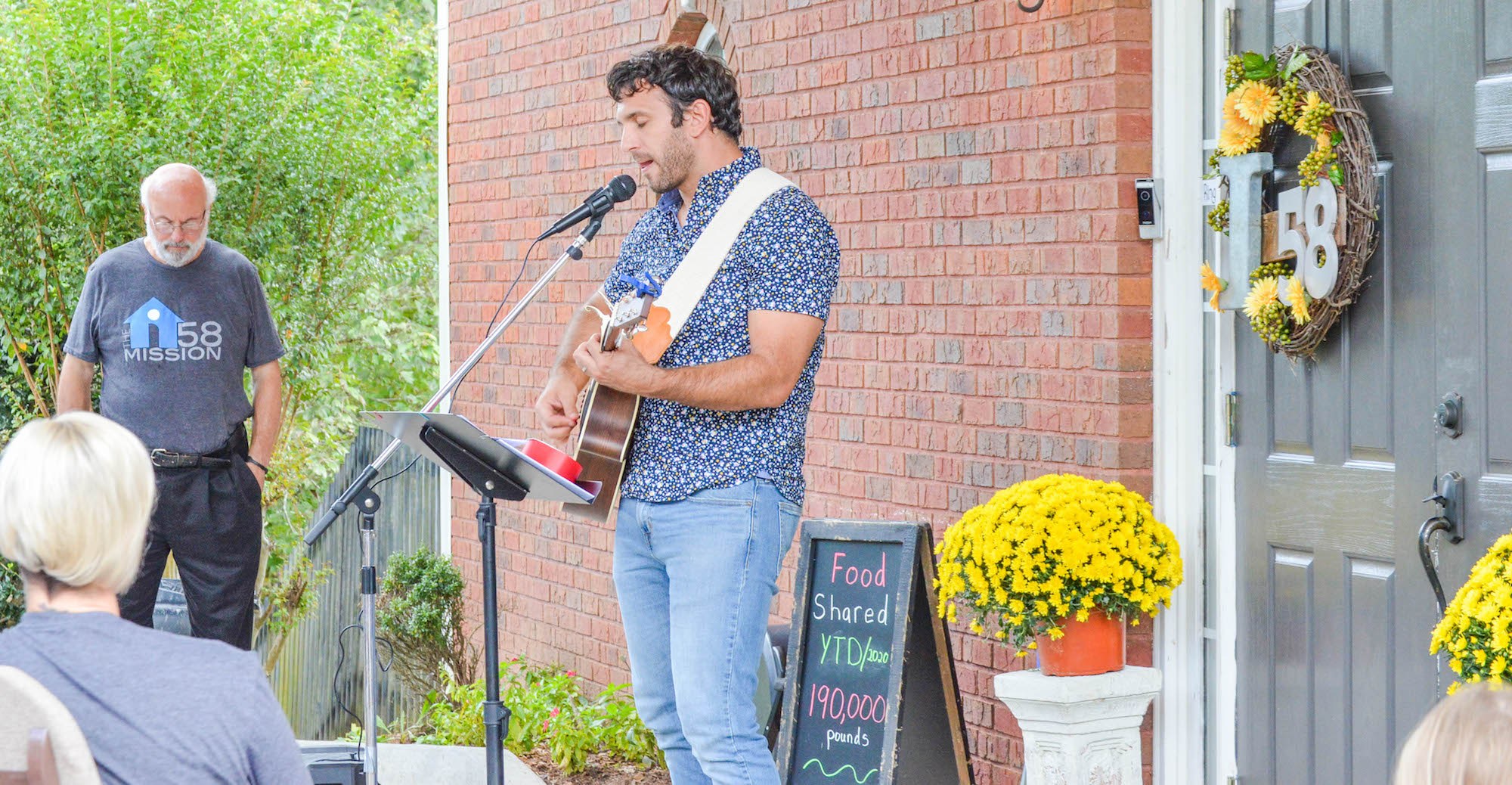 Jesse Dukes sings at the I-58 Mission ribbon-cutting event.