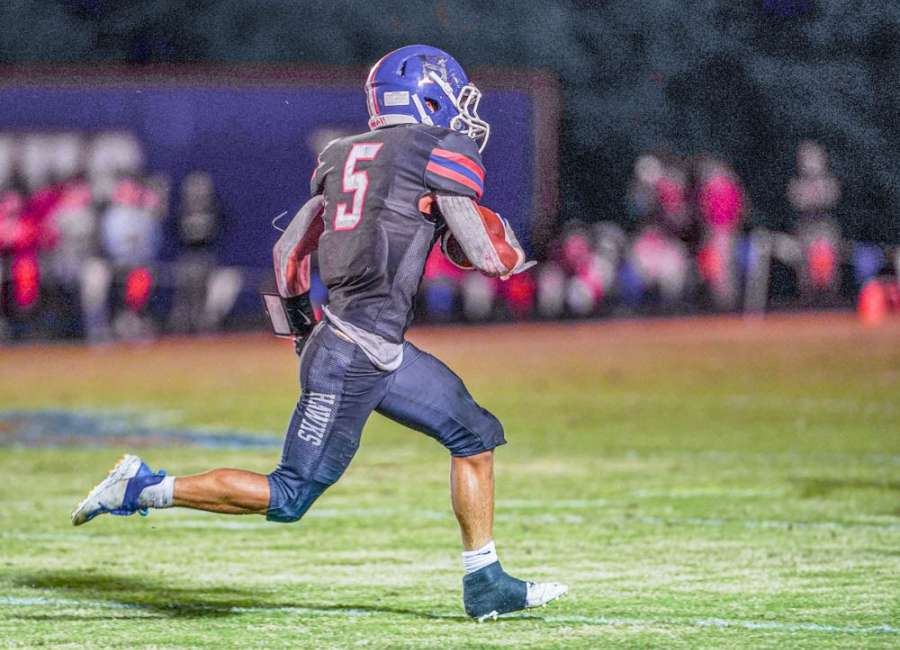 The Heritage Hawks were back home Friday night after back-to-back road trips took them to Alpharetta and Carrollton.
Head Coach Micah Alba welcomed a couple of players back who had missed time and saw the offense warm-up, but the Hawks fell to the Whitefield Academy Wolfpack 28-6.
The Hawk offense was led by senior Andrew Rich, who had 122 yards rushing on 17 carries, while quarterback Andrew Celata complete 6-of-10 passes for 77 yards.
On a third-down play in the first quarter, Celata rolled to his right under heavy pressure and threw against his body and found Braxton Goodwin over the middle in traffic for a first down. Celata also had a perfect pitch and catch with Mack Mikko for 30 yards on a slant route just past midfield.
The Wolfpack's starting quarterback, Ayden Duncanson, went down with a non-contact injury in the first three minutes of the game and was replaced by Cole Peterson. The change was nothing new or Peterson; he was the starting quarterback the past two seasons.
Peterson directed the Wolfpack offense with skill and precision; he finished 13-for-18 for 176 yards and two touchdowns.
Rich scored on a 9-yard touchdown run midway through the third quarter to pull the Hawks within one at 7-6. However, two touchdowns before halftime, including an Eric Little run on the final play of the first half sent the Hawks to the locker room down 21-6.
The Hawk defense, who battle on every play, didn't allow anymore scoring until the Wolfpack tacked on a final touchdown with just a couple of minutes remaining in the game. Sophomore defensive back Micah Alba forced a Wolfpack fumble in the second half to keep the Hawks in the game.
The Hawks will take this week off and begin preparation for the Landmark Christian War Eagles on October 30, at Heritage.