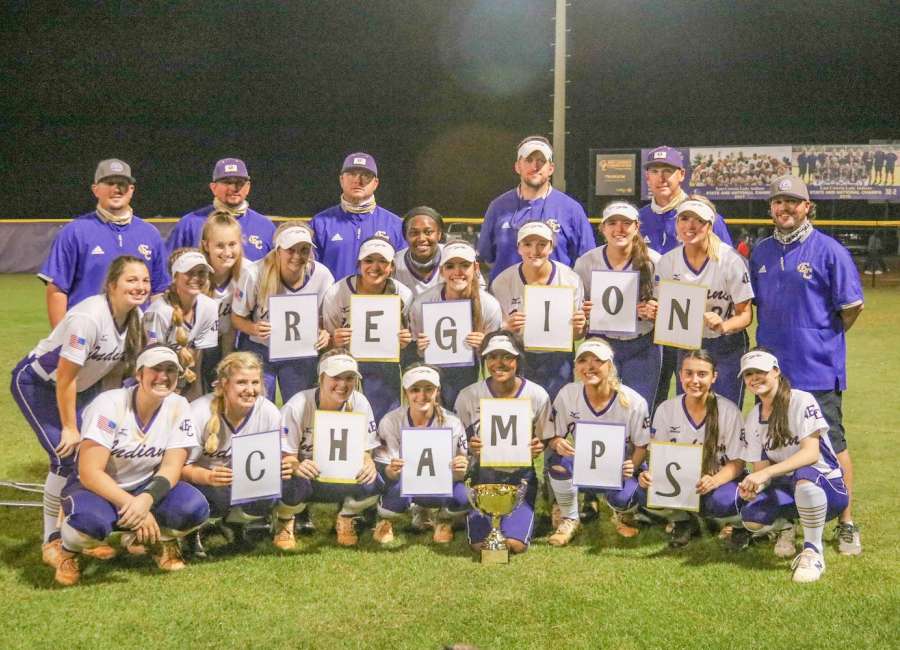 By Rob Grubbs
The East Coweta Lady Indians captured the 2020 Region 2-AAAAAAA softball championship with their 8-0 victory over the Newnan Lady Cougars Thursday night.

It was the culmination of a three-day event that saw the Lady Indians win three games, all by run rule. The Newnan Lady Cougars finished the tournament 2-2 and second place overall. Both teams will host first-round state playoff games.
First Round – Tuesday Night
Newnan 5, McEachern 2
After falling behind 2-1 going to the bottom of the third, the Lady Cougars got three consecutive hits from Lily Meuninck, Reagan London and Maddie Veal to tie the game up. Newnan would take the lead when the next batter, Megan Smith grounded out to score London and put them up 3-2.
The Lady Cougars added single runs in the fifth and sixth inning to secure the victory. Alex Williams drove in Jaisha Davison with a ground out and Caroline Strickland drove in the final run with a single to left.
Maddie Veal pitched five innings of one-hit ball to win and Megan Smith followed with the save.
The Head Coach for the 7th ranked Lady Cougars praised her senior leadership afterward. "We have the best senior class. They are tremendous girls as people and their athletic ability; they are just great girls to work with. "
East Coweta 18 Campbell 1
Head Coach Franklin DeLoach got to play many of his role players in the first-round game against Campbell, but the results were the same. Ansley Teteak went 3-for-3 at the plate, including a home run to lead the Lady Indian offense. Kip Heggood and Bailee Echols each homered and had 4 RBI as East Coweta scored 16 runs in the first inning. Echols homer was a grand slam.
Kylie Ferguson and Hannah Stubbs combined for three innings from the circle.
Ashleigh Griffin, Heggood, Ava Brooke Strickland and Karlie Gutierrez also added two hits.
Coach DeLoach said, "We played some different girls, it's one of the games when you have to do it. You want to give your catcher and pitcher the night off. Every team after tonight will be quality going forward. But tonight, we did what we were supposed to do."
Second Round – Wednesday Night
East Coweta 12 Newnan 4
The Lady Indians poured it on early as they scored ten runs in the first two innings to coast to a 12-4 victory. Maci Wiggins had 5 RBI, including a grand slam while Katie Taylor went 2-for-2 with 4 RBI.
Kenadie Cooper added a 3-for-3 night as all of the starters who didn't play in game one came up big.
The Newnan Lady Cougars showed grit when they got two 2-run homers in the top of the fourth to close within 10-4, but East Coweta added two additional runs to finish the game out.
Jaliyah Holmes pitched three innings and only gave up one hit, a double off the bat off Meuninck. The Lady Cougars brought pitcher Megan Smith in and she pitched a gutsy three innings to keep them in the game.
Finals – Thursday Night
The Newnan Lady Cougars came into the final round needing a win to get another shot at East Coweta. They came up big with a five-hit shutout by Maddie Veal to win 8-0 and clinch at least a second-place finish.
KayLen Madrey propelled the offense with a 4-for-4 night and each Williams and Davison drove in 3 each.
That win set up the all-Coweta County region championship. Holmes got the start for East Coweta and she shut down the Lady Cougars in the 8-0 championship win. She only allowed two hits and struck out thirteen.
Griffin went 2-for-3 with a home run and Wiggins stayed hot with a 3-for-3 night.
With the region now settled, both teams are now off to bigger and better moments in the state tournament.
Photos by Greg Keith Photography