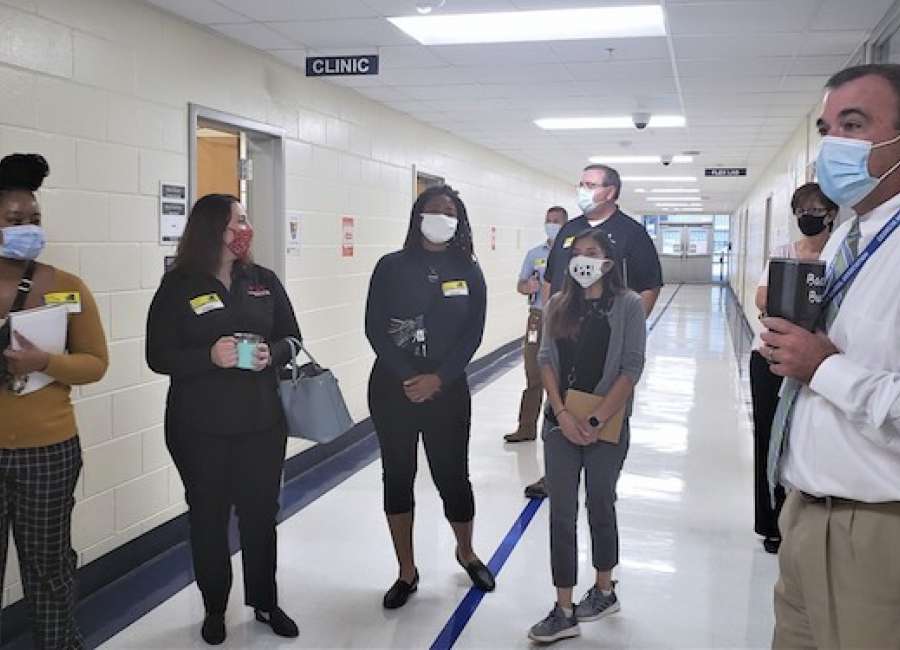 Officials with the Georgia Department of Public Health, District 4, and Coweta County Emergency Management toured several Coweta schools last week to assess protocols to guard against COVID-19.

Coweta school officials met with the local and regional officials to tour Newnan High School, Madras Middle School and Canongate Elementary. The group – many of whose members have reviewed Coweta Schools' plans for safe face-to-face instruction – saw firsthand the mitigative and protective measures put in place to guard against COVID-19 infections in schools.
Coweta Schools has worked closely with local and state health officials to develop the plans in place at local schools, said Superintendent Evan Horton, and the goal of the tours was to get firsthand observation of practices.
"Any recommendations you can give us to do this safer and better will be appreciated," Horton told the visitors.
Officials who attended Monday's tours included Michael Terrell and Nick Burgess from Coweta County Emergency Management; Georgia Department of Health District 4 chief epidemiologist Ashton Harris; and several other DPH District 4 officials including epidemiologists, emergency preparedness directors, outbreak investigators and contact tracers from the District 4 office and an infection control representative from Piedmont Healthcare.
Horton, school principals and system administrators reviewed school classrooms, cafeterias, nursing clinics, athletic facilities, bus loading zones and other facilities to look at the practices and various facility improvements put in place as students have returned to in-person instruction.
Student and faculty social distancing, required face masks, student traffic control and staggered scheduling, temperature stations, transportation plans, lunch practices and other measures were also discussed and examined.
The group also reviewed the current hybrid model in middle and high schools which divides in-person students into two students cohorts to attend school on an alternating week-on, week-off basis, with distance learning during alternating weeks.
The hybrid model reduces the number of students in middle and high schools by half, which allows for greater social distancing.
As COVID-19 indicators continue to stabilize and decline in Coweta County, the school system will continue to work closely with health and safety officials, officials say. In addition, a decision is expected in the coming weeks about transitioning away from the hybrid model in middle and high schools and allowing those students to attend daily.
Full-time online learning through Empower will remain an option for families, and another reassessment period is scheduled in early November.
Health authorities have advised the school system to remain vigilant with current mitigative measures in schools. Those measures will remain in place after Oct. 12.
District 4 Public Health has expressed its approval of Coweta Schools' safety plans, reporting and contact tracing efforts as schools have gradually returned to face-to-face instruction. Officials who visited Monday said they plan to offer additional guidance following their observations.