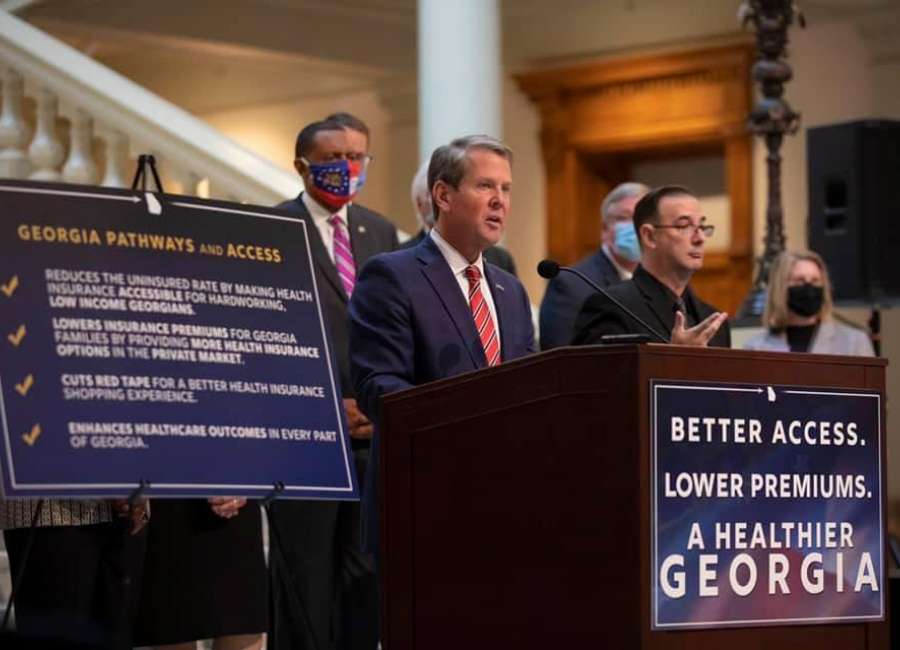 Georgia's health care waiver request, which has been in the works since 2019, is set to be approved by the federal Center for Medicare and Medicaid Services, Gov. Brian Kemp announced Thursday.
Kemp and CMS Administrator Seema Verma spoke about the plan at a press conference Thursday afternoon.
Georgia Pathways and Access are two separate programs that are aimed at improving health insurance in Georgia.
Georgia Pathways will give access to health insurance for Georgians who don't qualify for Medicaid but don't make enough money to qualify for health insurance subsidies under the Affordable Care Act.
Kemp also announced that the state will change the way Georgians buy insurance plans through the Affordable Care Act.
But actual access to the insurance will still be a ways off, with the Georgia Pathways program not starting until July, a reinsurance program not starting until January of 2022, and the third program, Georgia Access not starting until January of 2023.
Under Georgia Pathways, uninsured Georgians with incomes at or below the poverty level would be able to get Medicaid as long as they meet eligibility rules, which can be working at least 80 hours a month, or going to school, doing work-related training or community service. Georgians whose employers provide insurance and meet those criteria could get significant government help paying their premiums and copays.
Another aspect of the program is a reinsurance program that is intended to reduce the premiums for plans purchased through the ACA exchange. Kemp said that the reinsurance program will reduce premiums by an average of 10 percent and by up to 25 percent in some areas.
Georgians purchasing subsidized plans through the Affordable Care Act will have options to enroll or reenroll directly with insurance carriers, with local brokers or agents or through private sector web-broker sites, Kemp said.
Kemp said that the state gets a lot of complaints about the federal Healthcare.gov site and how hard it can be to navigate.
According to a factsheet provided by the governor's office, the changes will maintain access to all current options and existing coverage for preexisting conditions. The state is not going to introduce new plan types and will not subsidize plans that don't meet the ACA's "qualified health plan" certification. Georgians who qualify will continue to receive tax credits for plans bought in the individual market.
Kemp said that the plan will cost the state about $218 million a year, compared to $547 million for a full expansion of Medicaid. With the changes, over 400,000 low-income Georgians will have access to affordable health insurance, and millions who purchase commercial insurance will see their premiums drop.
The new programs are designed to work together, Kemp said, with the ultimate goal of helping hardworking Georgians gain upward mobility and move into private insurance coverage.
"Georgia Pathways and Access will provide access to health care insurance for thousands of hardworking Georgians and lower premiums for millions more," Kemp said at the press conference. "This bold, innovative approach will lower the uninsured rate, spur competition in the marketplace, enhance the shopping experience for consumers, and improve health outcomes. Through Georgia Pathways and Access, we will build a safer, stronger and healthier future for our great state."
Georgia's uninsured rate before COVID-19 was 13 percent, the third-highest in the country, according to Georgia Health News.
The ACA is the subject of court challenges, including one that is set to be taken up by the U.S. Supreme Court next month. According to Georgia Health News, state officials said that the Georgia Pathways eligibility changes would continue whether or not the ACA is overturned.
Georgia Health News contributed to this story