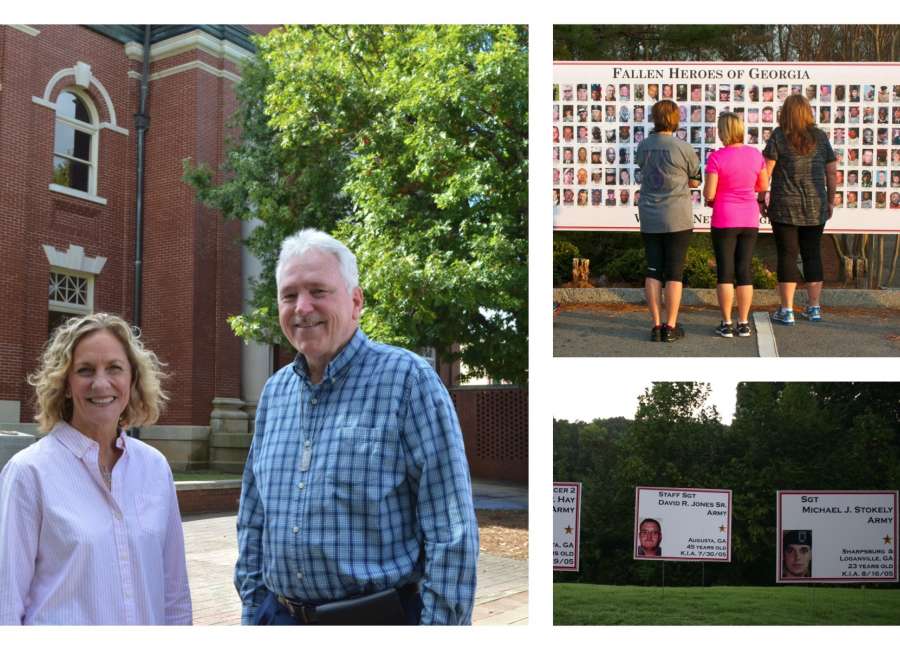 For 12 years, the Fallen Heroes of Georgia 5K has put name and a face to Georgia service member killed in the War on Terror, while raising money for foundations and scholarships created in memory of fallen Georgia servicemen and -women.
For 2021, the run will make its new home in Coweta, thanks to the Whitlock and Stokely families.
The Whitlock and Stokely families, who both lost a son in the War on Terrorism, have been heavily involved with the Fallen Heroes of Georgia 5K for several years. When the founder of the run, Steve Durling, decided it was time to hand the run off to others, the two local families stepped forward.
The 2021 Fallen Heroes of Georgia 5K will be held May 22 on Newnan Utilities property, behind Carl Miller Park and around the reservoirs. It's a move from Lake Lanier Islands, where the run was held on roads that remained open to traffic.
The course will be the same one used both by local high school cross country teams and for the Piedmont Autumn Chase event.
A way to remember
The Fallen Heroes of Georgia 5K is more than just a run.
"The whole purpose of the race is not to forget," said Clare Whitlock, whose son, Air Force Capt. Nicholas Schade Whitlock, died along with three others in 2012 when their plane went down in Djibouti, Africa. They were flying a special operations mission in support of Operation Enduring Freedom. "That is what the military always says – we'll never forget. The cost of our freedom – it costs us, and it costs some families more than others."
Along the course, in order of their deaths, is a sign for every Georgian who has died in the War on Terror. There are additional signs for victims of the Fort Hood shootings, the Chattanooga terror attacks and some others.
There are also large signs with pictures of every one of Georgia's 231 fallen in the War on Terror.
Those pictures and signs include Sgt. Mike Stokely, killed in 2005 in Iraq by an IED explosion, and Whitlock.
Clare said her husband, Jimmy, spends the 5K standing at their son's photo sign.
He'll help set up for the race, but during the event, "that's what he wants to do," she said. She usually runs in the event, though she won't be able to this year – there will be too much work to do.
For those who run – or walk – "along the whole course, you are actually remembering and seeing them," she said of the fallen.
Whitlock said that her involvement in the race, and the involvement of other families of the fallen, "helps with our healing, in a lot of ways, from the ongoing loss of that person, their absence."
Humanizing the fallen
Mike Stokely's father, Robert, said that the signs and pictures remind people that each "fallen soldier" was a real person, with a life, a family, friends.
When someone is killed in war, "we see this fallen military personnel, the flag-draped casket, the rifle salute, the folding of the flag. But what we don't see in all of that is the people they were," he said.
"It's a little antiseptic to say 'fallen soldier, fallen soldier, fallen soldier' That is kind of a label. What this race does – it rehumanizes those who went off and served their country and died serving their country," Stokely said.
Stokely was full of praise for Durling, who has no personal connection to the military but started the run because he wanted to put the spotlight on Georgians killed in the War on Terror. He and his family put in a tremendous amount of work over the years, Stokely said.
"They planned their whole family life around this, all year long, to make this happen," Stokely said. "With no members of the military in their family. I just thought it was pretty remarkable that they had this passion and it grew."
And he's committed to helping the new organizers get things running, Stokely said.
Each year, the run draws in about 1,600 to 2,000 participants. That might drop off some, with many participants not willing to make the drive from Lake Lanier to Coweta, but hopes are that loss will be offset by runners from the West Georgia area.
"We want to draw runners from all over – from as far away as they want to come," said Stokely.
The run takes a large cadre of volunteers, and hopes are that they will come out, too. Whitlock spoke of the strong community support for her family and her son after his death, and she hopes to get the local community involved.
The course is beautiful and very different from most road races, said Stokely. "They'll love the venue with the lakes, the trails," he said. Though the race will be held in May, the course is shady.
Making it matter
The 5K is usually held in the spring, though this year it was in September. But the Whitlocks and Stokelys wanted to put it closer to Memorial Day.
Proceeds from the 5K run will go to the Capt. Nicholas Schade Whitlock Foundation and to local charities chosen in honor of Mike Stokely, which will be determined later.
The 5K has options for serious runners, walkers and even parents pushing strollers. "We want it to be a family event, a time people can learn a little bit about the patriotism, the sacrifice that has been made for this country, for this community," Stokely said.
But, "we want it to be an uplifting thing. We don't want it to be all sad."
Stokely said in the time after his son's death, he was often asked by people what they could do to make it better.
"There is no way you can make it better. There is no way to replace what we lost," he said. "But you can make it matter. You can make it matter by showing up in your own way and remembering with honor."