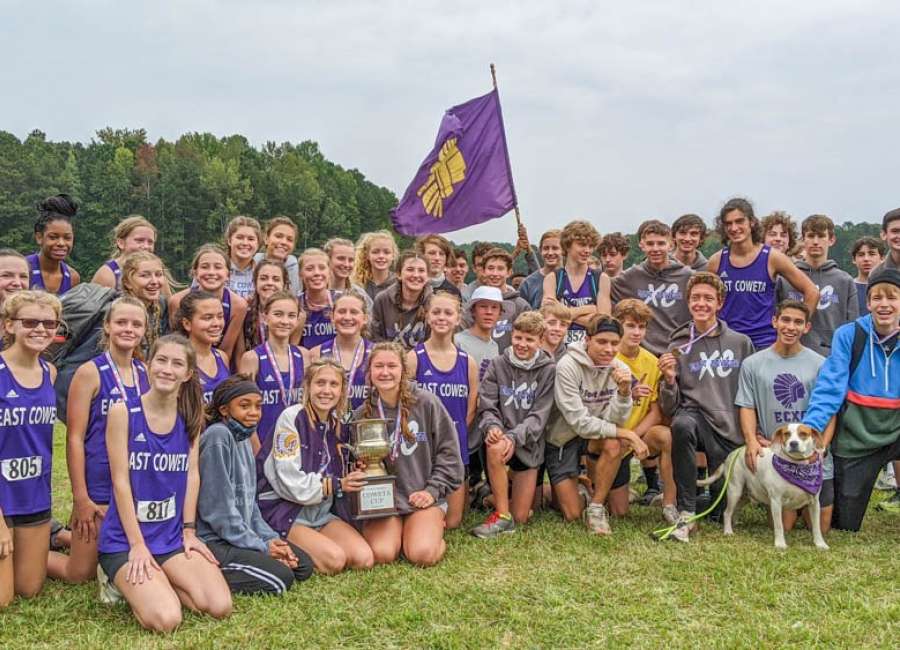 By Rachel Adams, sports@newnan.com
The East Coweta Cross Country team is hoping for good times and big wins to conclude its 2020 season.
Both the boys and girls teams plan to compete at the upcoming 7A, Region 2 Cross Country Championship at the Newnan Utilities Water Treatment Center on Oct. 28. Qualifying teams will move on to the GHSA State Cross Country Championships in Carrollton in November.
EC community coach Bill Buckalew said he has high hopes for both teams at the region meet. The boys team is looking to place with runners in the top slots for State, and the girls team is looking to qualify for State for the first time in three years.
"We're looking for some good times," Buckalew said. "I think they have a really good shot this year."
One of EC's fifth year varsity runners, Matthew Moore, is a senior at EC and currently one of the top ranked runners in the state. Moore started running for EC as an eighth grader, and Buckalew said that his improvement over the years has been vast and rewarding.
"Matthew really wasn't a great runner to start with, but he really stuck with it and got better and made it a focus," Buckalew said. "One of his goals this year is to get on the podium at the state championship meet. We're looking for big things from him."
EC's other current varsity boy runners include Houston Hamby, a sophomore; Logan Ray, a senior and fifth-year runner; and Troy Blackwood, Cole Martin, Andrew Helfers and Nick Enright, juniors.
On EC's girls team, junior Leah Pfaff currently holds the top spot. Pfaff began running for EC her sophomore year and is favored to be the region champion this year.
"She had never done any kind of running before joining the team. She was a member of the band, and we recruited her out of that to come run with us," Buckalew said. "I don't think she knew at the time how good she was going to be. She just started running, and we figured out that she's a good runner, and she's been very competitive ever since."
Pfaff's goal this year is to break a 20-minute 5K, which would be an EC record.
EC's other current varsity girl runners include Shannon Ferry, a senior and fifth-year runner; Mary Ellen Goltermann, a junior; Maddie Stanley and Madison Anderson, freshmen; Melissa Antrim, a junior; and Madeline Shaw and Skyler Carder, seniors.
Another EC team wrapping up their season is "The Main Event," a group of eighth grade girls recruited from EC's feeder middle schools. Buckalew said the team is expected to win their last meet of the season.
"They are excellent. They are great runners," Buckalew said. "They're going to be good in the future; they'll be on our varsity team pretty soon."
Runners for "The Main Event" include Ansley Butts from Arnall; Madison Pullen and Reese Kilgallen from ECMS; and Daphnee Houde, Ansley Halford, Natalie Zern and Hailey Trotter from Lee.
Though EC's 2020 cross country season will soon be coming to an official close, the COVID-19 pandemic gave the teams a bit of a rocky start. Buckalew said training began in May, before season plans were finalized.
"They've been running for about 24 weeks now, and some of our varsity boys ran over 500 miles this summer," Buckalew said. "And they had to make that commitment back then, even not knowing if there was going to be a season this year, so they've been feeling pretty lucky that they've gotten to go this far."
EC XC has only had one reported case of COVID-19, with no spread throughout the teams. Buckalew said there are routine temperature checks, with official practice times four days a week to minimize exposure.
"We've been very lucky and wary of the situation," Buckalew said. "There have been a lot of differences this year. I'm proud of the kids for jumping in early and getting all their miles in."