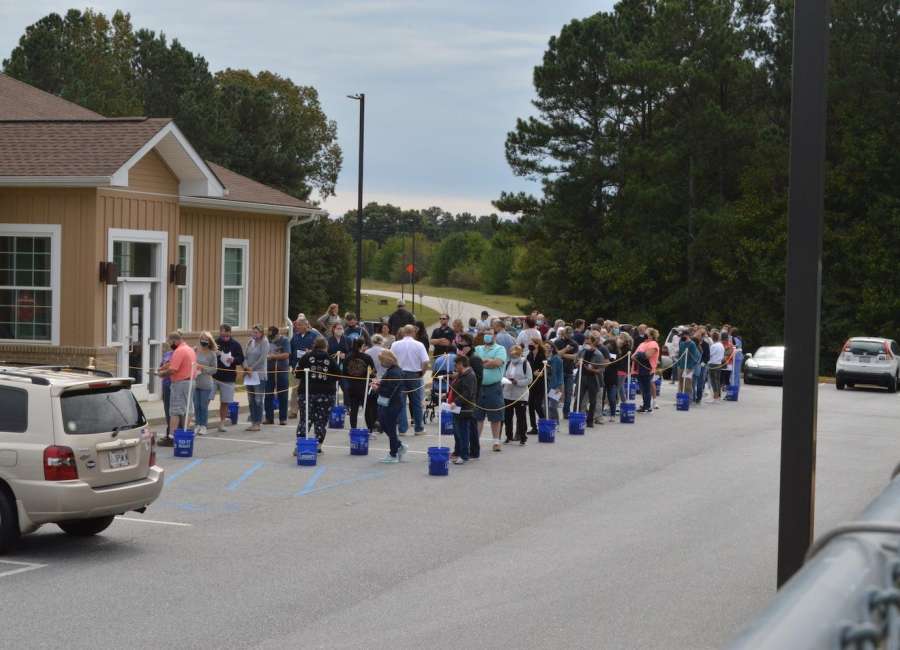 After a rough and slow start, early voting in Coweta moved smoothly Thursday and Friday.
Early voting opened Monday with long lines and waits of three hours reported by some voters. The major reason for the slow down was the state's Election Net computer system, which was moving extremely slow. E-Net is used to check in voters.
At the early voting locations, voting machines often sat empty because election workers couldn't get voters signed in fast enough to use all the machines.
On Tuesday, things were even worse as E-Net was overloaded by the addition of many counties that had been closed on Monday for the Columbus Day holiday.
By Wednesday, things were improving, as the state worked to increase the bandwidth for the E-Net system.
Early voting will be held Saturday from 9 a.m. to 4 p.m. and continues through Oct. 30. Early voting is held from 8:30 a.m. to 4:30 p.m. Monday through Friday, and will also be held Saturday Oct. 24 from 9 a.m. to 4 p.m.
Voting locations are the Eastside Precinct at the Central Community Center, 65 Literary Lane, Newnan, and the Coweta Voter Registration Office, 22 E. Broad St., Newnan. The Eastside Precinct is larger and can hold more voting machines.
Because of social distancing requirements, capacity is limited at the Voter Registration Office.
State officials acknowledge problem — eventually
Though local election officials tagged the slowness of E-Net as the problem on Monday, state officials wouldn't publicly confirm there was a problem with the computer system, instead attributing long lines to high turnout.
On Wednesday, the Secretary of State's Office acknowledged the problem and said it was working to increase bandwidth.
"They told us that they had updated their system," said Coweta Elections Director Jane Scoggins. "It appeared to be running smoother."
"Once the state system improved, we improved," she said.
On Monday, there were a total of 1,479 ballots cast, with 915 of those at the Eastside Precinct and 564 downtown.
Tuesday there were 1,240 votes, with 674 at Eastside and 566 downtown. Wednesday's numbers were 1,308, with 720 at Eastside and 588 downtown.
Numbers were up significantly on Thursday, as lines moved faster. There were 1,905 votes cast, with 1,133 at Eastside and 772 downtown.
In addition to lines moving faster, they look shorter now that the county has set up queue lines in the parking lots, so that the line doesn't wrap around buildings.
On Friday around noon, the wait at Eastside was reported to be about 90 minutes.
By just before noon, there had already been 492 votes cast at Eastside and 354 downtown, according to Scoggins.
Lines tend to be longer in the mornings, because a significant number of people are arriving well before the early voting locations open at 8:30 a.m.
Scoggins said she got an email from a voter Thursday who was very upset. He said it was 7:50 a.m., and he had been in line for over an hour. He was upset that the line hadn't moved at all and called it voter suppression. The line hadn't moved because the early voting location wouldn't open for another 40 minutes.
Elderly and handicapped voters can skip the line
Under state law, certain voters are able to skip the line for early voting. Voters who are over 75 or handicapped can speak to poll officials and move to the front of the line, but only after 9:30 a.m.
Voters who need to use the restroom can ask their fellow voters to save their place in line. At Eastside, the restrooms at the soccer fields are open for voters to use, as well as the ones inside the community center, Scoggins said.
In addition to being used to check in voters, E-Net is used to cancel absentee ballots. Many voters who requested paper absentee ballots are deciding they want to vote in person, instead. Voters must bring their absentee ballots with them to the polling place to have them canceled. If you've requested a ballot and have not received it, there is an affidavit process.
Voters who have requested absentee ballots are encouraged to go ahead and vote with those ballots instead of having them canceled.
In Coweta, absentee ballots can be taken to a secure drop box located at the top of the handicapped ramp at 22 E. Broad St. Ballots can also be mailed but must arrive at the Voter Registration Office by 7 p.m. on election day.
Poll watchers and observers
The 2020 presidential election is hotly contested, and there are poll watchers at both early voting locations.
Scoggins said there have been other people who are arriving and saying they are poll watchers. However, under state law, there are specific rules regarding poll watchers, and all poll watchers have already been assigned.
Poll watchers are appointed by local and state political parties, and there can only be two per party, per precinct. Poll watchers have badges and receive training, she said. Under state law, poll workers are prohibited from speaking to voters, checking elector's lists or using cameras or recording devices, including cell phones.
Some people have requested to be poll "observers," but that is not a position that is defined under state law. Anyone wanting to observe early voting must be at least 150 feet from the building where voting is being held. If the line extends farther than 150 feet from the building, observers must be at least 25 feet from the end of the line.
For more information about early voting, including directions and hours, or to check your voter registration and view your sample ballot, visit www.mvp.sos.ga.gov . You can also contact the Coweta Voter Registration Office at 770-254-2615.