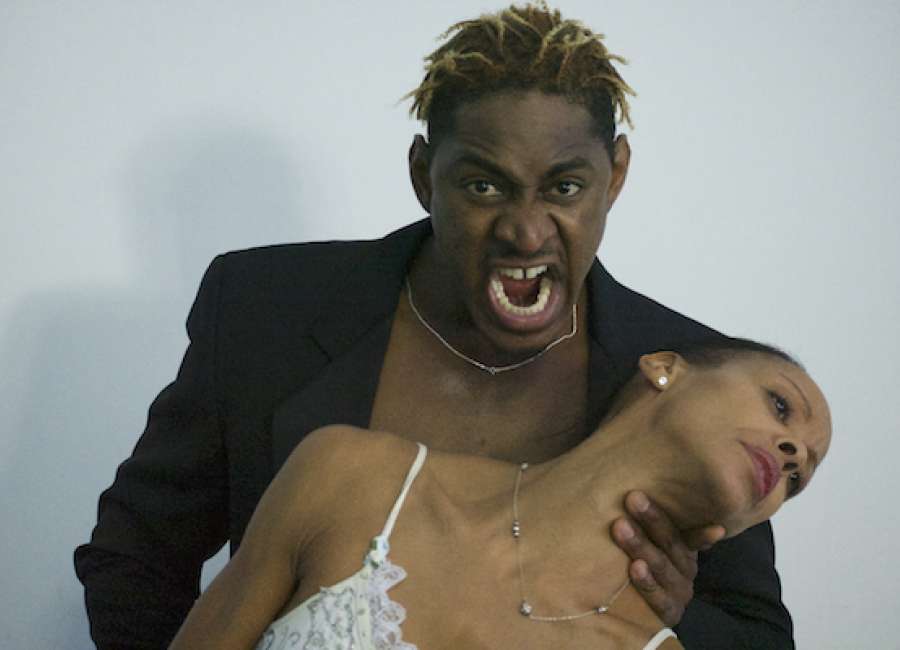 NCAC, Southern Arc to bring family-friendly ballet back for third year
Dracula is all set to make his regular visit to Newnan on Halloween.
The Newnan Cultural Arts Commission and Southern Arc Dance will present two performances of "Dracula" at the Wadsworth Auditorium on Friday, Oct. 30 at 7 p.m. and Saturday, Oct. 31 at 3 p.m.
Dracula may be rooted in the horror genre, but Southern Arc's production is family-friendly, according to Paulo Manso de Sousa.
"The ballet is not gory," said Manso de Sousa, the dance company's founding artistic director. "It's a love story about a vampire that falls in love with a human. It's great for this holiday – it puts families in the mood for Halloween."
In fact, this year's production has added something new, just for children. Following the afternoon performance on Halloween, there will be a costume parade, candy and photo opportunities with performers.
"We wanted to do something special for Halloween," Manso de Sousa said.
Manso de Sousa choreographed the ballet, which contains dance styles ranging from classical to hip hop, and students from Southern Arc Dance Center will perform alongside professional dancers and guest artists.
World-renowned ballerina and acclaimed guest artist Myrna Kamara will be featured as Mina. Kamara studied at the Washington Ballet School and the School of American Ballet before joining the New York City Ballet in 1984. There, she danced roles in ballets by George Balanchine, Jerome Robbins, Peter Martins, Eliot Feld and Lar Lubovitch.
During the 1989-90 season, Kamara danced in Bonn, Germany, under director Youri Vamos, where the role of the Nubiana from Spartacus was created for her. As a principal dancer for the Miami City Ballet in the early 90s, Kamara received critical acclaim for her performances in the Balanchine repertoire, including the Arabian solo from the Nutcracker, the siren in Prodigal Son, Calliope in Apollo, the solo girl in Rubies, the Russian girl in Serenade, Allegro Brillante, Who Cares, Bugaku, Agon and the Four Temperaments.
From 1996-99, Kamara worked in Switzerland with Maurice Bejart and performed several of his ballets, including Bhakti, Sacre du Printemps, Le Mandarin Merveilleux, L'oiseau de Feu and Ballet for Life (Le Presbytere).
Kamara has appeared as a guest artist throughout the U.S. and Europe. One of her most distinguished and notable performances in the past 13 years has been at the Arena di Verona, where she has portrayed the prima ballerina in the opera Aida.
Other special performances included Franco Zeffirelli's production of Aida at the Teatro alla Scala in Milan, Italy. Other tours included the Spoleto Festival, the Edinburgh Festival, the Leonide Massine Festival, South Africa, Portugal, Japan and the Kennedy Center.
Derrick Smith will return in the title role. Smith holds a BFA in dance from Brenau University and trained at the Florida School of the Arts, The Ailey School Summer Intensive Program, Orlando Ballet School and Atlanta Ballet. He was a soloist with Gainesville Ballet Company and was named Best Male Dancer of the Year by Nu Delta Alpha dance honor society.
Smith was a member of Encore! (Dallas Black Dance Theatre II at the time) under the direction of Allyne Gartrell, before joining Dallas Black Dance Theatre as a first company member in 2010. In his four years at DBDT, Smith performed many notable works, including "Reflections in D" (Alvin Ailey), "Pulse" (Ray Mercer), and "Event-ually, Two" (Hope Boykin) – a duet he danced with Nycole Ray in his first season.
More recently, Smith has danced for Celebrity Cruises and Holland America Cruise Lines. He currently is a dance teacher and director at Shiloh High School.
Musicians from Musicology in Newnan, including Doug Kees, will perform original music during the shows. They will be joined by guest artist Bahar Bingol, a traditional Turkish vocalist and instrumentalist. Local performer Jeff Allen also will have a featured role in the production.
General admission tickets are $25, and tickets for children under 10 are $15. For more information or to purchase tickets, visit www.southernarcdance.org or call 770-683-3724.