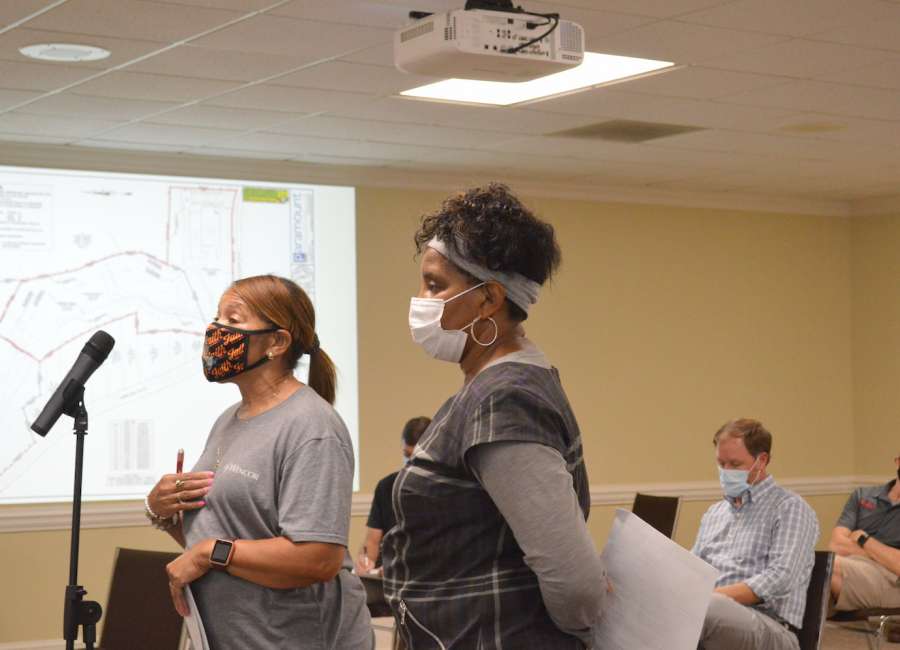 The Coweta County Commissioners approved allowing property off Amlajack Boulevard, which backs up to homes on Herring Road, to be used for an occasional granite crushing operation.
The 11-acre tract was zoned industrial in 2016, and is currently owned by Mega Fabrications. The property was rezoned by a former owner for a parking and staging area for tractor-trailer equipment.
Mega Fabrication, which produces granite countertops, began using the property to store pieces of countertops and crush them. The county placed a stop work order on the property until the commissioners could hear a request to change the conditions on the property. The zoning was conditional for the tractor-trailer parking and staging area.
According to the community development staff report, a complaint was made in February about development activity, and it was determined that 2.5 acres had been disturbed without proper permits. The work included clearing, grading and filling, and stockpiling the granite, concrete and rock, and a stop work order was issued. According to the report, a second stop work order was issued in September.
Commissioner Al Smith said that neighbors are concerned about noise and that they had asked that the crushing be limited to only a day or two a week. The proposal was for crushing Monday through Friday from 8 a.m. to 5 p.m.
The crushing would only be done every few months, said engineer George Harper, speaking for Mega Fabrications. It takes several months to build up enough of the surplus granite to do the crushing. However, when it's time to do the crushing, Mega Fabrications rents the equipment.
"It is not going to be a rock quarry or anything like that," Harper said. Instead of a limitation on how many days a week it could be done, he asked for the limit to be a certain number of days per month or every few months. The property is heavily wooded and at a lower elevation than the homes on Herring Road, he said.
Herring Road neighbors were strongly opposed to the project.
Chris Johnson said she has lived on Herring Road her entire life. "It's already so much industrial out there, we cannot live out there already. It is so much we can't even cross the street; you can't even get to the mailbox," she said.
"I don't want to hear any rock crushing," she said. There are five family homes on the street and "we do not want this there at all."
"We've got to live out there … it's just too much noise," she said.
Her sister, Paulette Bonner, also spoke in opposition. There is already the trash compactor site and warehouses along the road. "So what else do we need? I can't rest. I'm 58 years old. When you retire, you want to rest. You don't need all that noise."
Johannes Steyn of Mega Fabrications said he would be the property owners' best neighbor. The crushing is for recycling remnants of countertops, and there's not much of it. "Since February of 2017 we've crushed maybe four times," he said.
When they do, it takes about two days to set up and another three days to crush.
Commissioner Bob Blackburn made a motion to approve the rock crushing, but it can only take place for one week every three months.