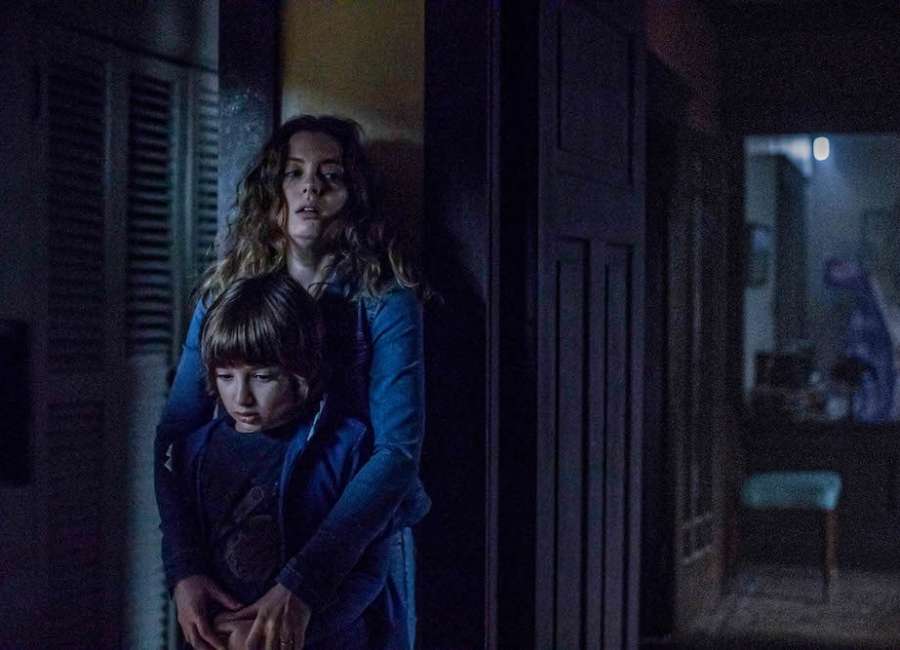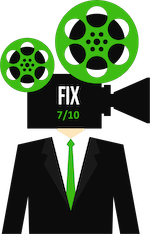 Review by Jonathan W. Hickman
All Oliver wanted was a friend, and in Larry, he's about to get one that he'll never forget.
Writer/director Jacob Chase's "Come Play," a feature version of his popular 2017 short film "Larry," is a masterful combination of expert sound design and skilled practical effects. It's pretty darned scary too.
"Come Play" tells the story of a lonely boy named Oliver (played by Azhy Robertson), who has a hard time making friends. Oliver is on the autism spectrum and only communicates through his cell phone. Apps enable him to answer simple questions, but the awkwardness of this method of speech naturally separates him from his peers.
One night, a strange monster named Larry visits Oliver. By using Oliver's cell phone to introduce himself, Larry tells his ghostly tale through a curious ebook. But when Oliver reads the mysterious tome, Larry suddenly becomes more and more real. Understandably frightened, Oliver stops reading in hopes that Larry will leave him alone.
The ebook uniquely targets Oliver's condition, which makes it hard to resist. Titled "Misunderstood Monsters," it coaxes Oliver to become Larry's friend because no one else will accept the misshapen creature. When some bullies throw Oliver's cell phone away, he's no longer able to warn those around him that a monster is in their midst. And, to Oliver's dismay, the manipulative Larry can travel through most any gadget with a screen.
A chilling story written around our device-dependent times, "Come Play" works primarily because of the well-crafted setup. The opening sequence makes impressive use of sound effects—every bump and knock in Oliver's room and throughout the house sets viewer nerves on end. And the eventual reveal of the predatory Larry is particularly remarkable—he's a being that's impossible to ignore.
A filmmaker with a career in making practical props, Chase used his deep interest in puppetry to work with The Jim Henson Creature Shop in constructing a real monster. Larry could have been a visual effects product, but Chase sought out the best puppet creators available to authentically bring his disturbing vision to the screen. This fantastical villain has weight.
Because Larry was built to be touched, the actors had a fully formed character to work against, and the effectiveness of the tangible result is hard to deny. They made Larry real. He walks, moves, reaches out, crouches through hallways, and terrifies all those who encounter him. It's old school movie magic that melds seamlessly into the production.
Of course, without the right casting, "Come Play" would have been emotionally hollow. And youngster Robertson proves to be the perfect emotional center of the film. I remember reviewing an indie named "Beyond the Night" last year that featured Robertson as the troubled boy with an inspirational gift. Here, as Oliver, he's given even more to do, and playing an introverted child forced to communicate through a device offers Robertson a chance to emote. It's a convincing bit of acting, as he takes Oliver through a range of emotions, forced to deal with crushing trauma.
Jacobs and Gallagher are excellent as partners whose marriage is damaged by the difficulties in raising a unique child. Both roles are well-written, giving each actor a chance to develop distinct personalities. Even though the ultimate challenge is a supernatural one, Jacobs and Gallagher never cease being loving parents, which helps endear the characters and their outlandish plight to viewers.
Chase's narrative starts exceptionally well but doesn't end on a completely satisfying note. Still, this film works better as an entertaining family-friendly horror film than the more ambitious 2016 J.A. Bayona directed "A Monster Calls." Both movies have similar elements, but where Bayona's film leans heavily into the symbolic aspects, Chase goes for more explicit genre-related touches.
Of course, Chase is commenting on the inherent risks associated with giving children mobile devices that expose them to mature materials and other threats. But "Come Play" is more broadly appealing if ultimately not as dramatically complete.
Given it's PG-13 rating, "Come Play" is perfect viewing for family audiences this Halloween weekend. It's just scary enough to get under your skin while not embracing some of the horror genre's gross unpleasantries.
Director/Writer: Jacob Chase ("The Four-Faced Liar")
Come Play:

Cast: Azhy Robertson ("Beyond the Night"), Gillian Jacobs (TV's "Community"), and John Gallagher, Jr. ("Hush" and "10 Cloverfield Lane")
Running Time: 1 hour 45 minutes
Rated PG-13
***
A RottenTomatoes.com Tomatometer-approved critic, Jonathan W. Hickman is also an entertainment lawyer, college professor, novelist, and filmmaker. He's a member of the Atlanta Film Critics Circle, The Southeastern Film Critics Association, and the Georgia Film Critics Association. For more information about Jonathan visit: FilmProductionLaw.com or DailyFIlmFix.com