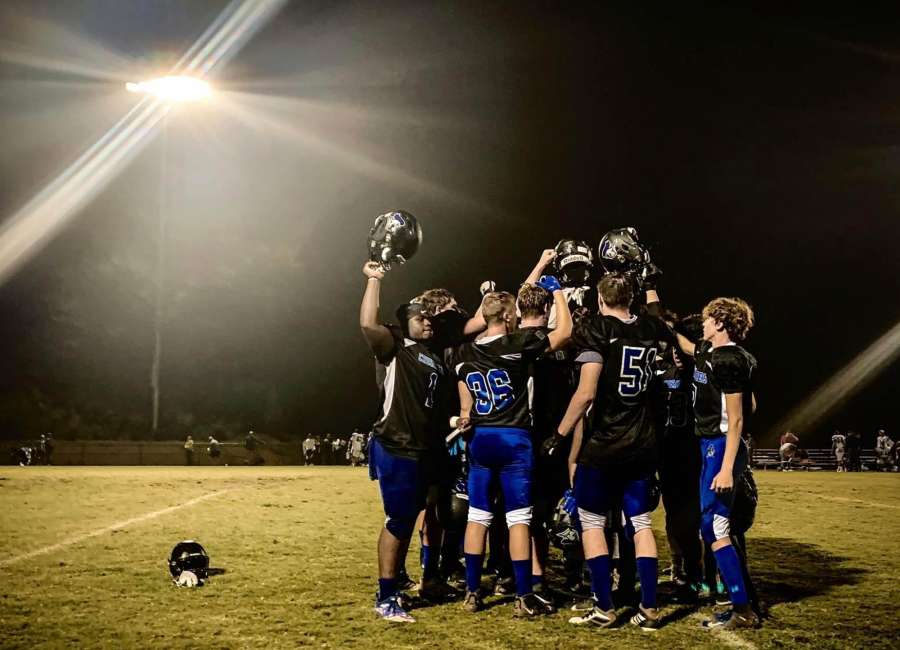 By Rob Grubbs
The Central Christian Crusaders opened their 2020 region schedule with a 48-21 victory over the Griffin Christian Crusaders at Roy G. Davis Stadium on Friday night.
Central Christian plays in Class A Region 1 of the Georgia Association of Private & Parochial Schools (GAPPS). The victory improves Central Christian to 3-3 on the season and gives them an early lead in the region.
Central faced adversity right at the start; Griffin Christian scored on the game's first play and forced Central to punt on their first offensive possession. A great kick from Central Christian pinned Griffin Christian deep and the Central defense put the first points on the board with a safety.
After the free kick, Central scored a touchdown and a successful two-point conversion to take a 10-7 lead. Griffin retook the lead and it looked like they would make it hold through the half, but Central freshman quarterback Edward "Juice" Bouldin found JT Brown for a touchdown pass and Central 18-15 lead.
After receiving the second-half kickoff, Central drove the field behind running back Jordan "JC" Clements to take a 24-15 lead. The offense hit on all cylinders in the second half behind Clements, Bouldin, running back Cody Earle and Head Coach Paul Frantz's great play calling. They added 24 additional points to close the game out.
On offense, Central dominated the line of scrimmage to allow Clements to have over 200 yards rushing with 4 touchdowns and Bouldin added another 100. The offensive line got a big boost when freshman Blake Hearn stepped in for starting center Noah Hill.
The defense was led by Marcus Woodard, Colton Hayden Landon Gregory Larron Rainey, Joe Greene, Ryan Suggs, Kaleb Chaney, David Hayden and Tyler Clark. The defense produced two safeties and played fast, physical football all night.
Central will travel to Camp Hill, Alabama next week to face the Southern Prep Academy before returning to region action on October 30, 2020 against Rock Springs Christian Academy in Milner, Georgia.