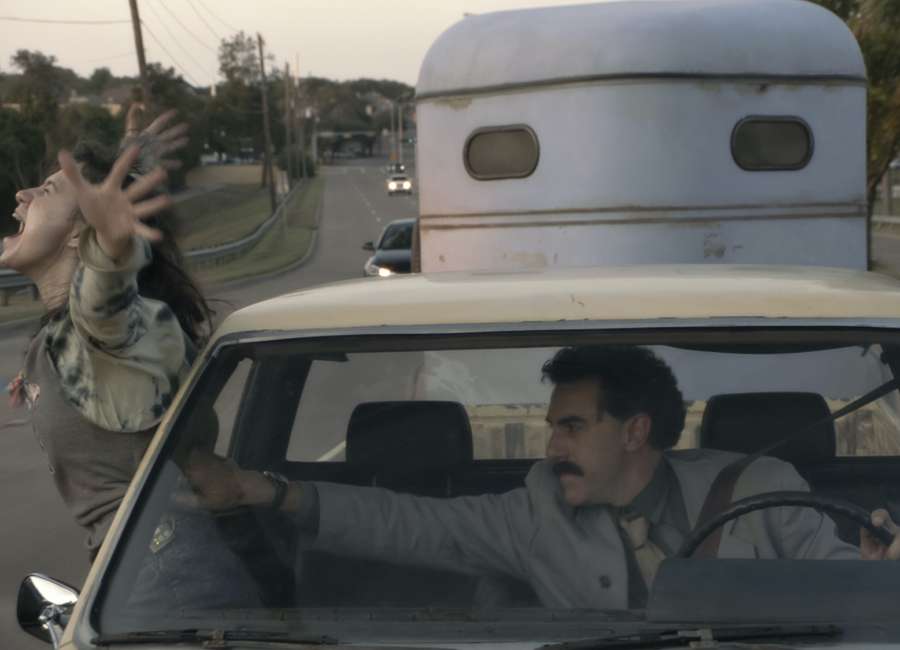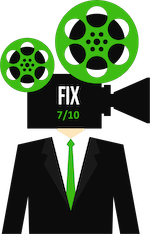 Review by Jonathan W. Hickman
More shocking than funny and surprisingly sweet, "Borat Subsequent Moviefilm" is an outrageous exercise in stunt filmmaking.

Shot in secret during the on-going COVID pandemic, comedian Sacha Baron Cohen reprises his most famous character, Borat, who last visited the United States in 2006. Much has changed since then. Borat's fallen on hard times. The wild success of his first monstrous adventure brought shame to his beloved Kazakhstan.
Humiliated and forced to spend back-breaking years in a rough gulag, Borat's freed to don the rumpled grey suit once again and proudly represent his nation. Shady government officials want him to return to America to deliver a gift to Vice President Pence. The unusual "gift" is a monkey who is a famous porn star in Kazakhstan. Okay, I chuckled, but thankfully, the movie steers away from this sordid story thread.
Before his departure, Borat stops by his humble home to discover that a new man has taken over and adopted his two grown sons. The boys reject Borat. But all is not lost; he finds his fifteen-year-old daughter tied in a crate and living in squalor in the backyard.
The impressionable, dirty-faced urchin desperately begs her father to take her with him. She dreams of becoming the next Melania Trump—a recurring gag. When Borat insists on leaving her behind, the resourceful youngster finds a way to tag along.
Once in the US, Borat and his stowaway child take to the open road. When the monkey's present doesn't work out, he decides to deliver his daughter to the vice president instead.
From there, "Borat Subsequent Moviefilm" becomes a ramshackle road picture pieced together from skits shot in various parts of the country. Prolific television comedic filmmaker Jason Woliner takes over directing duties from the great Larry Charles, who shepherded the original. Both films share an improvisational vibe, but this outing has more structure.
Cohen is once again manic in the title role. He creatively bares almost all, using every possible inch of his being to extract painful laughs. And, on cue, he proudly delivers his now-infamous catchphrases like "very niiiice." While the character's crudeness is still retained, giving Borat a youngish daughter tamps down some of the gross-out humor.
But where the comedy is uneven the candid camera, gotcha moments consistently dominate. A series of scenes occur at the PMS Center, a postal business near where I live. It was shocking to realize that Borat was in my community. The humble owner of that establishment, Alan Smith, calmly assists Borat with sending, receiving, and drafting many faxes. Smith is a great sport, as the messages from back home get ever more threatening, and Borat is crestfallen. If only other Borat victims got off that easy.
Much attention has already been paid to the gate crash at a Republican event featuring VP Pence. But the headline of the weekend is the appearance of America's Mayor Rudy Guiliani. Everything about his presence here is disturbing. And Guiliani may never recover.
While Borat is naturally back for this sequel, his television producer Azamat (Ken Davitian) merely gets a mention. Their naked fight scene down the hallways of a hotel in the first film was a bonafide classic. And Davitian made a terrific straight man next to Cohen's brilliant imbecile.
Azamat's replacement is Borat's daughter, Sandra Jessica Parker Sagdiyev (Maria Bakalova). In many ways, Sandra is a good substitute, who, like Azamat, balances Borat's zany qualities. Newcomer Bakalova steals almost every scene. She plays the gullible teenager as hopelessly devoted to her equally clueless father. And their often grimy, uncomfortable relationship soaks into you as it evolves. Its stain leaves quite an impression.
The real magic of "Borat Subsequent Moviefilm" is that it is a real movie that manages to sustain itself over a feature runtime. While there had to be some semblance of a script, Cohen and Bakalova are often playing opposite non-actors. At times, the real people featured don't even know they're being punked. In less competent hands, these potentially dangerous, edgy scenes would fall flat. But because these two stars stay in their roles so convincingly, they find some comic gold.
But not everything is funny or even effective. At times, you can see Cohen working a bit too hard, especially in one section where he dresses up in a racist costume and sits down with some nice ladies in a synagogue. Some viewers may find this moving, but others will think it's in bad taste.
Of course, that's the entire point; Borat has no taste. He's gleefully and ignorantly irreverent. In the first film, this approach felt fresh, but here it comes off, at times, as mean-spirited and searching. The joke can only stretch so far. And while Borat may be a clumsy oaf with no rational agenda, Sacha Baron Cohen certainly has one. He's set his ideological sights clearly on conservatives and the Trump administration.
Early in the movie, Borat walks around on America's streets, and people chase him for his autograph. In 2006, no one here really knew who the guy was, which permitted the practical joke to flourish. Now, Cohen and his team are forced to find their marks in the extremes. And this is where the film is hit and miss.
Regardless, I laughed during "Borat Subsequent Moviefilm." And viewers will flock to it as an escape, rediscovering in the process that nothing is sacred.
****
A RottenTomatoes.com Tomatometer-approved critic, Jonathan W. Hickman is also an entertainment lawyer, college professor, novelist, and filmmaker. He's a member of the Atlanta Film Critics Circle, The Southeastern Film Critics Association, and the Georgia Film Critics Association. For more information about Jonathan visit: FilmProductionLaw.com or DailyFIlmFix.com