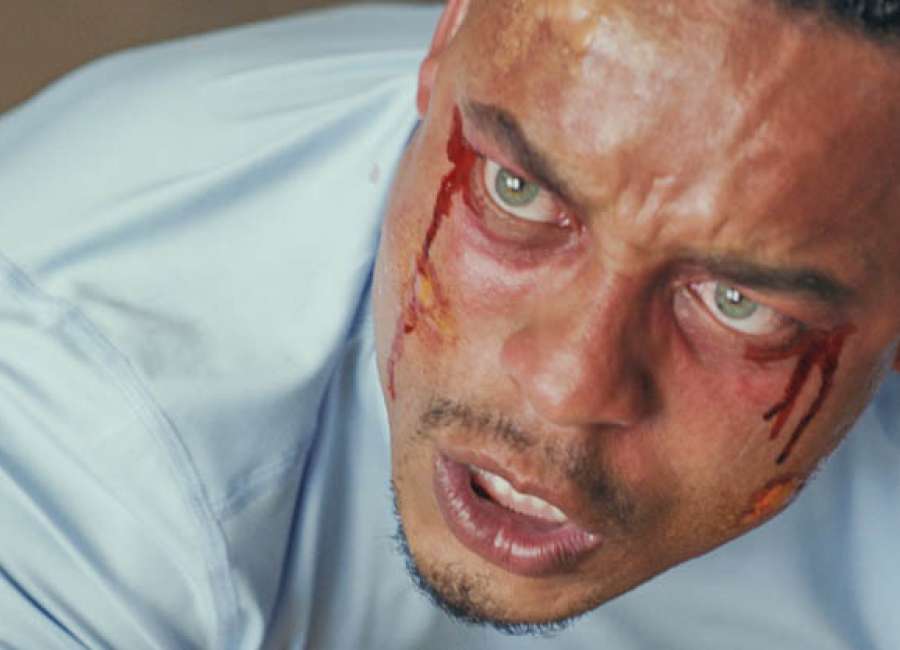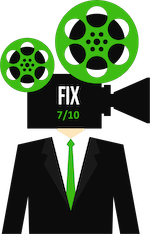 Review by Jonathan W. Hickman
Pandemic cinema is not new. And the zombie thriller "Alone" borrows well from a myriad of familiar sources, including the undead films of the late George A. Romero. But now, more than ever in my lifetime, the concept of self-isolation is horribly personal.
In "Alone," the young, attractive, artfully tattooed Aidan ("Teen Wolf" star Tyler Posey) wakes up to discover that his lonely life as a me-first, meandering surfer has terribly changed. A global pandemic threatens everyone, and news reports encourage people to stay inside. For Aidan, used to his keeping himself company, barricading in his apartment, and hunkering down with his ample supply of bottled water seems reasonable. But as the pandemic grows, the infected continually try to breach the safety of his bunker. And the food won't last forever.
As the days pass and the power grid fails, Aidan loses hope. When he's ready to pack it in, he notices a young woman (played by Summer Spiro) in the window of a parallel apartment. Like Aidan, this woman, named Eva, is doing the best she can while staying inside. And the realization that he's not alone convinces him to go on.
"Alone" can be viewed as a straight-forward story of survival. It's the type of frustrating narrative that makes viewers question the decisions of the protagonist. And because we are experiencing the reality of a global pandemic, it's somewhat easy to relate to Aidan's plight.
Of course, the pandemic in "Alone" isn't the incremental, sad reality of living with COVID-19. In the movie world, we get a mysterious, fast-moving super-virus that turns normal people into undead-like killers. And as a pure zombie film, "Alone" isn't bad.
However, as a contained thriller, director Johnny Martin (a stunt expert turned director who gave us the Georgia-made "Hangman" in 2017) takes advantage of the production's limitations. Morose scenes of despair in Aidan's apartment are boosted by thrilling moments outside. One exciting sequence has a hungry businessman zombie leaping athletically from balcony to balcony. These are not Romero's slow-moving flesh-eaters.
And writer Matt Naylor's script for "Alone" makes maximum use of the movie's secret weapon—Donald Sutherland. A ubiquitous presence in film for decades, Sutherland has a welcomed knack for elevating any picture. And, apparently, the guy likes to work, helping tiny movies advance to a higher level.
Just last year, I reviewed him in a genre-blending project called "American Hangman." That was a solid screenplay within what I thought was a tired "Saw-like" formula. But Sutherland made that film better. It's his style, his delivery, and cadence that adds an authentic touch to his character, even in a gruesome zombie flick. And based on this movie, I think he smartly takes roles in productions that have something to say to the viewer. If only other talented actors (Eric Roberts, I'm talking directly to you) made such right decisions. Sutherland's late-career should be a model for others to follow.
In "Alone," he plays Edward, a retired neighbor that Aidan happily encounters when he bravely leaves his apartment. Edward is a survivor, offering Aidan some delicious beef-jerky that he "cures himself." We immediately get a scary vibe, but there's deep-seated emotional trauma in Edward. And Sutherland sensitively portrays the older man, as only Sutherland can.
While the infected creatures roam the building's hallways and climb its exterior walls, those isolating have to deal with understandable emotional pressure. Aidan's depression is punctuated by a desire to be with Eva, and, in his mind, he must protect her even if that means putting his own life in jeopardy. Edward understands this human need more than Aidan could ever know.
My read of "Alone" is affected by our current circumstances. Maybe if we weren't in the grip of a global pandemic, I would see the film merely as a well-made zombie horror entry. But when viewed through the lens of our present condition, it's impossible to dismiss an entertaining genre picture that compassionately addresses the inescapable melancholy we've birthed in self-isolation.
***
A RottenTomatoes.com Tomatometer-approved critic, Jonathan W. Hickman is also an entertainment lawyer, college professor, novelist, and filmmaker. He's a member of the Atlanta Film Critics Circle, The Southeastern Film Critics Association, and the Georgia Film Critics Association. For more information about Jonathan visit: FilmProductionLaw.com or DailyFIlmFix.com