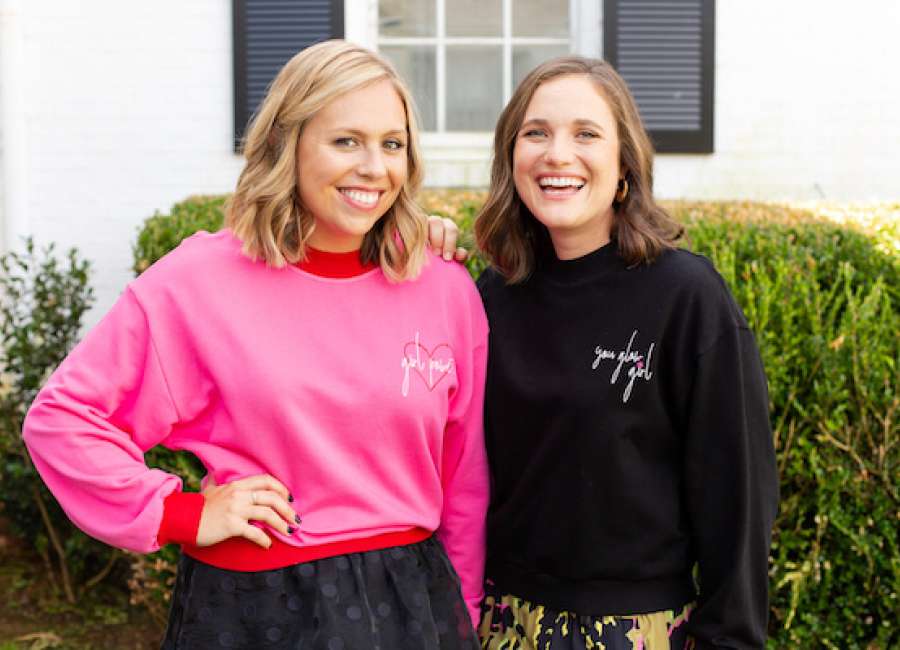 CROSBY by Mollie Burch, an Atlanta-based fashion label, recently held a virtual Q and A with Wellspring Living Founder Mary Frances Bowley to discuss their partnership and celebrate CROSBY'S fifth birthday.
Newnan native Mollie Burch is the co-founder, CEO and creative director of CROSBY by Mollie Burch. CROSBY's "Shine Your Bright" mission aims to empower women to be their boldest, brightest, most confident selves.
Founded on the desire to fight social injustice, CROSBY by Mollie Burch uses bright designs to support organizations that aid victims of sex trafficking. It was always a dream of Burch's to partner with Atlanta-based nonprofit Wellspring Living, and the brand has donated over $35,000 to support the organization.
Wellspring has been serving survivors of and those at risk for sexual exploitation for over 18 years with the mission to help survivors gain the courage to move forward and confidence to succeed.
Partnership beginnings
Burch said CROSBY was founded in October 2015 by her and Taylor Montes de Oca.
She said something that has been a core part of CROSBY since the beginning is its social impact mission and partnership with Wellspring Living.
"Before starting CROSBY, I always knew I wanted to be a fashion designer, but have also had a true passion for social justice," Burch said. "I really wanted to be able to create something that could merge those two passions."
Burch said she first learned about Wellspring in college when she attended a Passion Conference in Atlanta. She said that year, the focus was on modern-day slavery and human trafficking, and how prevalent it is in the U.S., and specifically, in Atlanta.
"My eyes were just completely opened," Burch said. "I had no idea the gravity of the situation and how prevalent it still was and that it's happening around the corner from us."
Bowley was a speaker at the conference, and Burch said hearing her speak and tell stories of women who had been rescued from trafficking had a huge impact on her.
"I knew from that moment I just felt called to do something," Burch said.
Bowley said Wellspring Living began by creating a home that was a safe place for women. She said the first person who came through their doors was a trafficking victim, but they didn't know that at the time because trafficking wasn't really talked about in 2001.
She said they listened to what her needs were, and created a program based on her needs, and the needs of the victims that followed her. Bowley said what they learned, in the beginning, is that the women needed everything — a safe place, therapy, life skills and employment.
Bowley said in 2008, the mayor of Atlanta came to her to see if she could help them with the girls who were being bought and sold in Atlanta. She said once she looked into what was happening to the girls, and when she found out that most ended up in juvenile detention centers, Wellspring opened its first program for girls.
"It's just grown from when we have a need that becomes available to us, we work at it and try to figure out how do we meet that need," Bowley said.
Bowley said what she loves about Wellspring's partnership with CROSBY is that they support what Wellspring is already doing. She said a lot of times people will tell her they're going to help in a certain way, and don't follow through.
She said in January 2015, Burch and Montes de Oca met with her and told her what they wanted to do, and presented their business plan.
"It was such a beautiful thing to watch them just work the plan. They knew what they needed to do, and they did what they needed to do," Bowley said.
Partnership growth
Burch said the partnership with Wellspring Living was a part of the plan from the beginning of CROSBY, but they also knew as a small business they wouldn't be able to contribute much financially in the beginning.
She said they were able to give their first check to Wellspring in February 2017. The way CROSBY partners with Wellspring is Burch designs a print in the fall and the spring that tells the story of one of the women who has been a part of the Wellspring program.
Burch said proceeds from the sales of the pieces are donated to Wellspring. Each piece sold with the special print comes with a card that has the woman's story and information about Wellspring.
"I think that something that is so important about these women and building awareness is their stories," Burch said.
Burch said since its founding, CROSBY has designed seven prints for Wellspring. For CROSBY's birthday this year, they will be selling sweatshirts with empowering phrases instead of a print.
"I love the fact that they tell the story in the print," Bowley said. "I'm so grateful for your model and your creative mind to put those two together."
How Wellspring has benefitted
Bowley said that participants in Wellspring Living's programs need so many things. She said one of the most important things they need is therapy, which participants receive one to three times a week, along with group therapy every day.
She said youth in the program also receive academic help. Bowley said they work to get them back into school, as many of them haven't been to school in over a year.
"It's truly life-changing," Bowley said. "I don't know that we could even put a measure on the impact."
COVID-19 effects on CROSBY
Burch said CROSBY has been pushing through despite the unknowns caused by the COVID-19 pandemic.
"A lot of good will end up coming out of this," Burch said. "I think a lot about how the fashion industry itself was overdue for a change."
Burch said things about sustainability and waste now have to be addressed in the fashion industry, and really hadn't been before. She said there's a huge inventory problem right now.
"People, now more than ever, want to be buying from someone that has a mission they believe in, a purpose they can get behind," Burch said. "They want to know stories, they want to know who you are and what you stand for."
She said despite the COVID-19 pandemic, CROSBY was able to donate the same amount as last year to Wellspring Living.
Burch said CROSBY also has masks they're selling online, and with each pack of masks sold they're giving one to Wellspring. She said they've been able to donate over 500 masks so far.
"I think there are still ways that you can get creative and try to figure out how to still give back," Burch said.
Wellspring Living will hold its annual fundraising gala virtually this year, streamed on YouTube and Facebook Live Oct. 18 at 7 p.m. Registration for the live stream is free, and can be found at wellspringliving.org/events/gala .