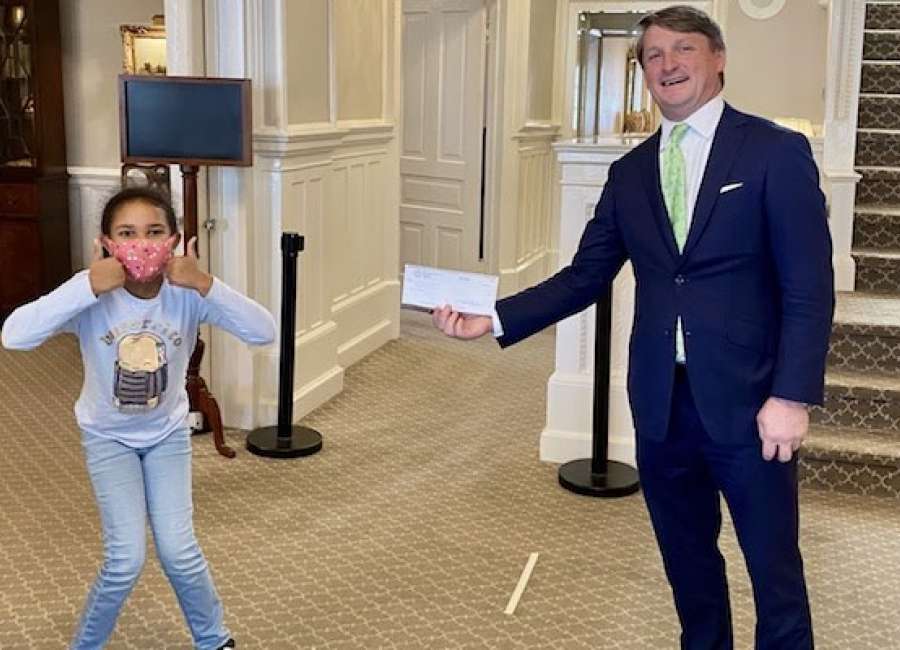 Thanks to Ruth Hill Elementary School student Isabella "Izzy" McMillan, 10 of her schoolmates will be able to participate in Camp Invention in December.

McMillan, 8, a gifted student in Mary Thompson's REACH class, set a goal to help give other students in her school the opportunity to attend the camp through the National Inventors Hall of Fame.
The camp will be hosted virtually by Ruth Hill Elementary School at the end of December with Thompson as director. The fee is $175 per camper, and McMillan told Thompson she wanted to ask local community leaders and businesses to help students who might not be able to afford the fee.
McMillan set a goal of 10 full scholarships, and Thompson helped her hone her pitch, which included information about the camp. The pair began visiting businesses around Newnan, and McMillan got scholarship No. 1 at Arnall Grocery, her first stop.
On her first day, she raised more than $400, including another full scholarship from Golden's Restaurant and tip money from employees of Leaf and Bean and Ace Beer Growlers. Her second day netted more than $900, including a full scholarship from James Malone Beauty and cash donations from the salon's customers; tip money from Meat 'N Greet; partial scholarships from Finley Boutique and Hair Society of Newnan; and three full scholarships from McKoon Funeral Home.
By the end of the third day, McMillan had exceeded her goal by $116 with partial scholarships donated by Grit & Grace Studio to Streetwear and Newnan Mercantile, and full scholarships from Waterscape Nails and Mulch & More of Newnan.
"Izzy's drive, confidence and presence spread light to many business owners within the Newnan community," Thompson said. "Now, as the scholarships are being presented to students, the light continues to spread."
Thompson said McMillan is grateful to everyone who gave her the time to deliver her pitch and wish her well, in addition to the ones who supported her efforts. For more information on donating toward Camp Invention scholarships, contact Thompson at Ruth Hill Elementary School.