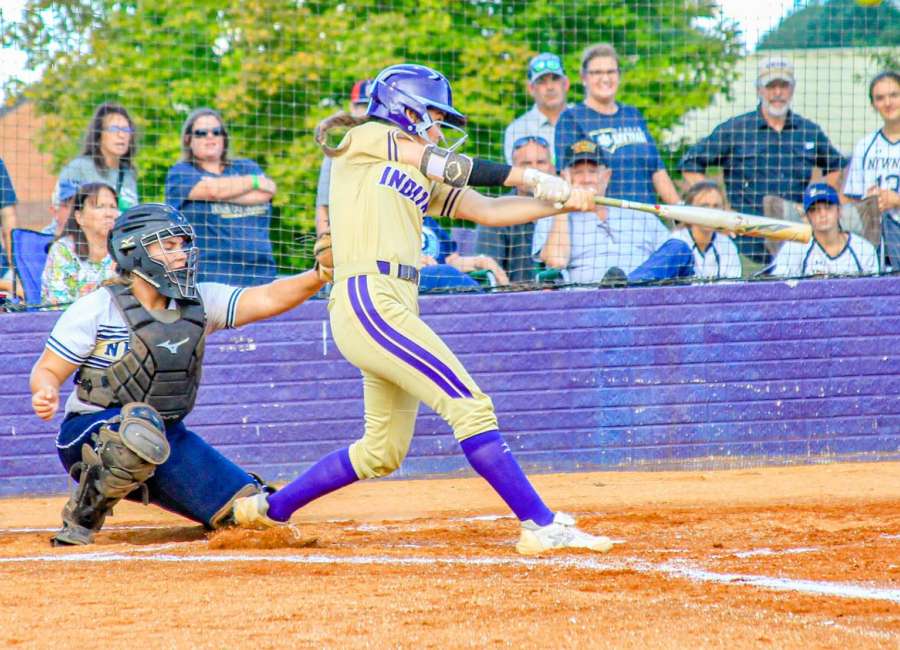 By Rob Grubbs
Sharpsburg, Ga. - In Region 2-AAAAAAA softball, the top spot was up for grabs as Newnan traveled to East Coweta Thursday night. Both teams have answered some early season questions about their batting order and Newnan has unveiled a freshman pitcher that will only get better.
Both will be preparing for a playoff run when the season concludes, but on this night, the Lady Indians started early and never let up in a 12-0 victory.
Lady Cougar freshman pitcher Maddie Veal has given Newnan's experienced batting order a new dimension. It looked like she was going to wiggle out of some first-inning trouble, after a strikeout, she only needed one more out to close the first. Unfortunately, that out came after senior Katie Taylor hit a 3-run homer.
That put the Lady Indian offense on cruise control. Seniors Ashleigh Griffin and Kaliyah Matthews added home runs along the way. Matthews' ball hit one of the East Coweta
Championship signs in right-field and left it with a dent.
Lady Indian pitcher Jaliyah Holmes was dominant as usual. She only allowed one hit on the evening, and that was on an amazing effort by Newnan senior Kaylen Madrey, who tripled in the third inning with two outs.
For the game, Taylor led the Lady Indian offense with a 3-for-3 night that included two doubles and the first-inning homer. Griffin also went 3-for-3 with a homer as well. Kylie Ferguson and Matthews had two hits each.
From the circle, Holmes struck out 10 in the four-inning game.
Head Coach Franklin DeLoach shared afterward, "The bats were on fire — Griffin and Taylor each went 3-for-3 and a home run apiece. The offense set the tempo early, and Holmes did her thing. There are some things we need to clean up, but it was a good win."
The Lady Indians have a couple of big non-conference games this coming week. Northgate on Monday and Whitewater on Wednesday, both at home. The Newnan Lady Cougars look to rebound in a region game on Tuesday against Campbell on the road.