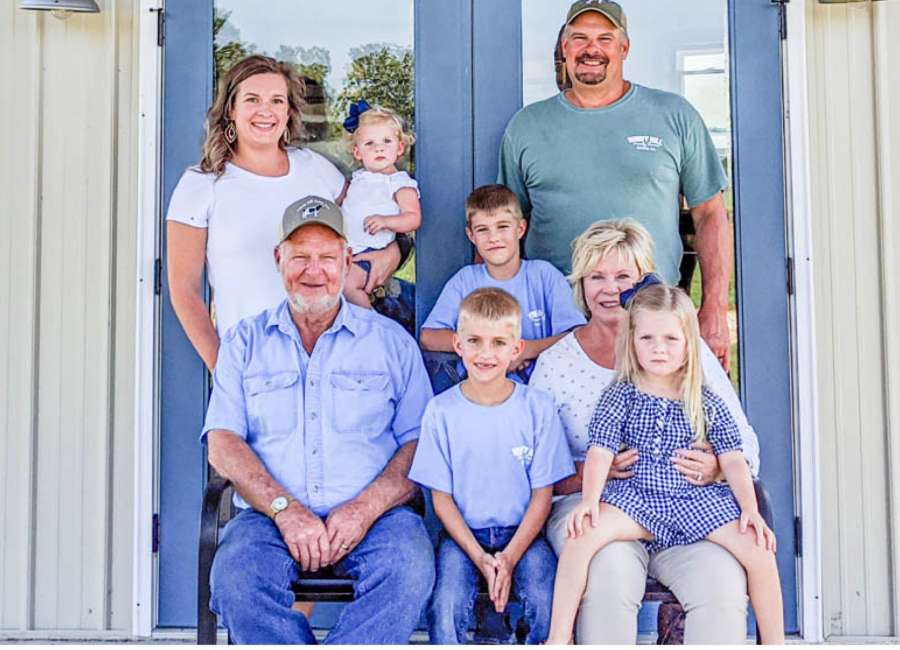 By Rachel Adams
For more than four generations, Windy Hill Family Farms has been providing its community with quality dairy products, and now prime-cut beef.
Windy Hill Dairy, based in Senoia, was started in 1980 as the Butcher Family Dairy Farm. It later changed its name to Windy Hill Dairy, and Windy Hill Family Farms, which sells beef, was opened earlier this year on the same property.
Kirk Butcher, owner and operator of Windy Hill, runs the farm with his father, Bud; wife, Stephanie; daughter, Tori; and sons, Shane and Slade, as well as a number of farmhands.
Butcher said that the farm has sold dairy products since it opened, and he wanted to start selling direct-to-consumer beef as a way to move with the growth of the community.
"We've always eaten our own beef, and we've always raised our own beef, so we just thought this would be a good opportunity with all the population growth around us," Butcher said. "When we moved here 40 years ago, there were only two houses on the entire road, and now there are hundreds of houses, so we thought we would try to capitalize on that."
Windy Hill sells its dairy to Dairy Farmers of America, which distributes the milk to stores. Butcher said the farm is not set up to sell dairy directly from the property, but they sell beef directly to consumers as well as local businesses, including Morgan's Market and Ace Growlers in Newnan.
"We love being able to support a local farmer in the community," said Jason Kanner, owner of Ace Growlers. "We've had tremendous response from customers about their products."
"We're just trying to figure out how to contribute to our community so they want to keep us here for another generation," Butcher said. "We're a farm, and with farms there are smells and noises and sounds at night. I would like to be able to offer my neighbors a service that they can appreciate that makes them want us here instead of wanting us gone."
Windy Hill began selling meat at the beginning of 2020, and Butcher's daughter, Tori, runs the farm stand, a converted grain storage, on weekends.
"We've always produced a lot of beef, but we've never sold it directly to consumers, which is what we're doing now," Butcher said. "We're just trying to provide a high quality, very flavorful product."
The cows at Windy Hill are grass-fed and grain-finished, meaning they are fed on grass and hay products as well as corn grown in the farm's fields. Butcher said about 75 percent of what the cows eat is grown on the farm, while about 25 percent, including grain, is purchased from a feed mill off-site.
"Most people have the perception that it has to be grass-fed and grass-finished to not have antibiotics and hormones," Butcher said. "We grain-finish them to make sure that there's marbling in the meat; that's where the flavor comes from. But there are no added hormones; there are no antibiotics. We don't feed them any other stuff to promote massive growth."
Butcher said Windy Hill is green and sustainable, producing its own fertilizer and food for the cows. Windy Hill only raises cattle, and has since it opened.
"We're taking a product that we've been producing for years and changing from selling it as a commodity to selling it directly to consumers," Butcher said. "We focus on doing one thing and doing it right. We're focused on the cows; I feel like we're very efficient. We know how to feed them and take care of them and make sure they're healthy and thriving, so we stick to that."
Windy Hill Family Farms is run entirely by the Butcher family, while Windy Hill Dairy also employs six or seven farmhands. Butcher said running the farm is a year-round job.
Milking shifts begin at 2 a.m., with the hands milking as many as 350 cows. The milking is usually completed around 11 a.m. The second milking shift begins at 2 p.m. and can continue as late as 11 p.m. During the day, the hands also check on the cows' health and perform routine maintenance around the farm. The cows are fed at 7 a.m.
"We'll go through 25-30,000 pounds of feed every day," Butcher said. "That's a typical morning: mixing batches of feed, feeding it to the cows, and going back and mixing up another batch for a different group."
Different groups of cows are fed different rations in order to meet their dietary and nutrient needs. The farm can also house up to 75 baby calves at one time, who are fed whole milk from the dairy cows.
Butcher said Windy Hill prides itself on producing quality meat and dairy products.
"People want to know where their food comes from. When they come here, they can see the animals, see where they're raised, see where they live, and they can meet the people who do it," Butcher said. "We hope that people see value in what we're doing and come here and buy from us."
The Windy Hill Family Farm Stand is located at 1011 Rockhouse Road in Senoia, and is currently open on Fridays from 3-6 p.m. and Saturdays from 10 a.m. to 2 p.m.