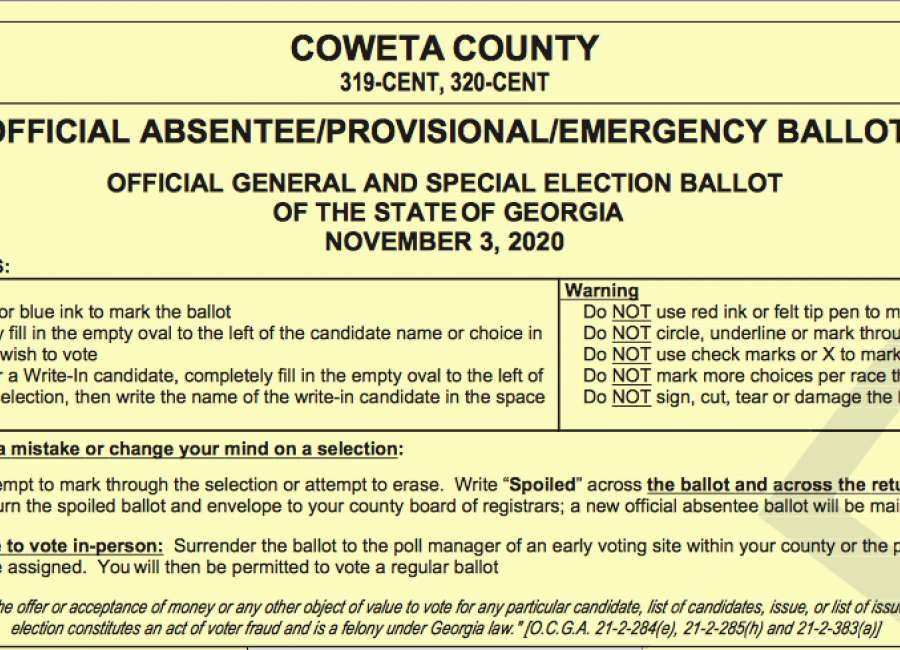 There are 38 days left until the 2020 presidential election, and the voter registration deadline is approaching.
Oct. 5 is the last day to register to vote in the election, if you are not already registered, or to update your address if you have moved.
Early voting for the election starts the next week, Oct. 12.
Cowetans who are unsure of their voter registration status are urged to check it. Georgians can check their voter registration and get lots of other information – including directions to their polling place, lists of what districts they live in, and even view a custom sample ballot, at mvp.sos.ga.gov .
Or Cowetans can call the Coweta Voter Registration Office at 770-254-2615 to check their registration.
Since the July 13 voter registration deadline for the Aug. 11 runoff, the Coweta office has processed over 9,000 voter registration applications, said Assistant Elections Director Ashley Gay. That's a fairly normal number of registrations for the months leading up to a presidential election, she said. Many of those could be duplicates, filed by people who are already registered.
As of Thursday, there were 107,862 registered voters in Coweta.
More space, machines at Eastside early voting location
Turnout for the hotly contested presidential race is expected to be high.
With required social distancing for COVID-19, there will be less capacity for early voting machines at the Coweta Voter Registration Office in downtown Newnan. But at the Eastside early voting location, in the Central Community Center at 65 Literary Lane, there is lots of room to expand. In addition, the Central Community Center is being used exclusively for voting, while the downtown Newnan early voting location is in the county administration building with other offices, and the voter registration office handles additional duties. In addition, parking in downtown Newnan can be hard to come by at times.
"We would like to encourage people, if they plan to early vote in person, if possible, to go to the Eastside precinct," Gay said. In addition to the extra room for more voting machines, there's plenty of parking. Gay said the plan is to have more voting machines set up at the Eastside precinct for November than there were for the June primary.
Early voting will be held Monday-Friday Oct. 12 - Oct. 30 from 8:30 a.m. to 4:30 p.m. at both locations – 22 E. Broad St. and 65 Literary Lane. There will be two Saturdays of early voting – Oct. 17 and 24, when hours will be 9 a.m. to 4 p.m.
Demand still high for absentee ballots
There has also been a high demand for absentee ballots, which are sent to voters through the mail – though not as high as for the June primary, in which all active Georgia voters were sent an absentee ballot application.
As of Thursday, the office had processed over 16,000 ballot requests, and over 400 ballots have already been voted and returned, Gay said. Many of those were dropped off at the secure ballot drop box, located at the top of the handicap ramp outside the Voter Registration Office. Ballots can also be mailed to 22 E. Broad St. Traditionally, ballots have to be in the office by 7 p.m. on election day to count. A recent court ruling extended that by three days, but it is being challenged.
Voters who have received their ballots in the mail can go ahead and vote them and return them, or they can wait until later.
If you requested an absentee ballot and decide you'd rather vote in person – do not throw the ballot away. You must hold onto it and have it canceled before you can vote in person. The ballot can be taken to the voter registration office for cancelation at any time, or voters can take them to the early voting location when they vote early, or their polling place on election day. However, it can take some time to cancel the ballot – especially on election day.
Gay said she's already getting requests for ballot cancelations. Some people say they didn't ask for the ballots. But ballots are only mailed to people who request them, she said. When voters apply for absentee ballots, such as for the June election, there is an option to check a box and continue to receive absentee ballots for the rest of the election cycle, if the voter is elderly or disabled.
Some people may have checked that box because they are over 65 or disabled, without realizing that meant they were signing up to receive absentee ballots in future elections this year, Gay said. "I think sometimes people just check it because they are 65," she said.
Gay said the office has received a lot of questions for voters, and some voters don't understand that the November election is a different election than the June primary.
"Some people seem to think that if they voted in May (or June) that they can't vote in November," Gay said. "They don't want to vote twice, so they are wanting to make sure."
Voting absentee? Read the directions
Those who plan to vote an absentee ballot are urged to read the directions at the top of the ballot, and to fully fill in the oval beside their preferred candidate. Even though filling in the oval has been how ballots are voted for decades, some voters decide to put a check mark, X or slash through the oval, or even circle a candidate's name.
The Georgia State Election Board recently approved a new rule that states a voter's mark must cover at least 10 percent of the oval for the vote to count.
Traditionally, any time an oval isn't adequately filled in the scanner will kick it out and a panel of election workers will review the ballot and determine if the voter's intent was clear. With the new rule, no vote with less than 10 percent of the oval filled in will count, regardless of if intent is clear.
If voters make any mistakes when choosing a candidate, there is no fixing the ballot. Instead, mark the ballot "spoiled" and rerun it to the Voter Registration Office so that a new ballot can be sent.
New rules to help with absentee vote count
Another recent State Election Board rule gives elections offices more options in counting the paper ballots. Under specific rules, elections officials can process and even scan the ballots in the weeks before the election, but cannot actually count or tally them. That gives elections offices the ability to get absentee results sooner. In June, Coweta didn't have final results until 8 p.m. the Thursday following Tuesday's election. The office has also purchased an electric envelope opener which should help speed up the process of opening thousands of outer envelopes.
If you want to vote an absentee ballot there are several ways to request one. The Georgia Secretary of State's Office has created an online portal for ballot requests at ballotrequest.sos.ga.gov . You can pick up a form from the Voter Registration Office or call and have one sent to you. Or you can make your own. Take a sheet of paper and write "absentee ballot request," put Nov. 3 general election, you name, the address where you are registered to vote, the address you want the ballot to be mailed if it is a different address, your birthday, your name and your signature. Voters are also asked to provide a phone number in case there are any issues.
Ballot requests can be mailed to Coweta Voter Registration Office, 22 E.Broad St., Newnan, GA 30263, faxed to 770-683-2800 or emailed to absenteevoter@coweta.ga.us .