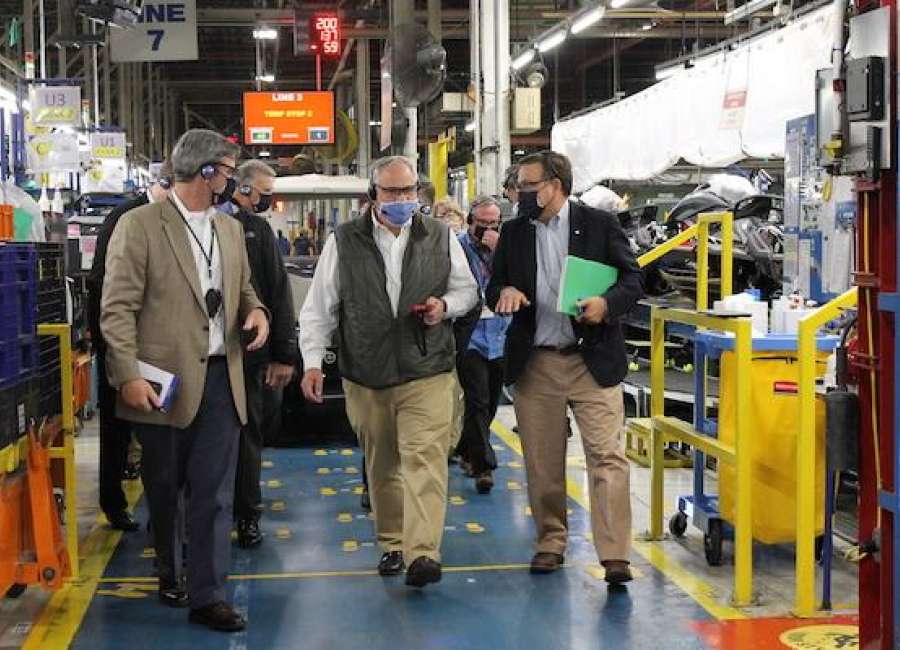 U.S. Secretary of the Interior David Bernhardt toured Yamaha Motor Manufacturing Corporation's Newnan facility Thursday and Yamaha leadership signed the President's Pledge to America's Workers.
Mike Chrzanowski, president of YMMC, and Ben Speciale, president of Yamaha U.S. Marine Business Unit, signed the pledge to reinforce Yamaha's commitment to workforce development.
"Yamaha has a strong footprint in Georgia and these manufacturing jobs contribute a great deal to our state's economy," Chrzanowski said. "These vocations not only provide Georgia workers with a solid means for making a living, they also play a key role in our industry's future."
"Yamaha is proud to sign this pledge in the presence of our Newnan employees and Secretary Bernhardt. We have jobs available now and promise to support and grow the agile, resilient and diverse workforce of the future by building and expanding the pathways that lead to rewarding careers," Chrzanowski added.
The Pledge to America's Workers is an initiative that stemmed from the President's National Council for the American Worker, which was established in July 2018. The council leads a national strategy for training and retraining workers in high demand industries, such as recreational manufacturing.
More than 430 companies have signed the pledge, contributing to more than 16 million new training opportunities for American students and workers over the next five years.
"The marine industry has an annual economic impact of $4.3 billion in Georgia, which includes more than 15,028 jobs within 628 businesses," said Speciale. "Yamaha applauds Secretary Bernhardt's recognition of the importance of the outdoor recreation industry."
"We particularly thank him for his leadership and support of the Great American Outdoors Act, which will improve infrastructure projects such as boat docks and launch ramps. We also appreciate his willingness to open public lands to outdoor recreational activities. That access solidifies the future of our industry and the manufacturing and technical jobs that support it," Speciale added.
Bernhardt toured the facility on Thursday, and said he has been using Yamaha products for over 40 years. He said he received his first Yamaha motorcycle when he was in the fourth grade.
"It really is an honor to visit your incredible facility and see your employees fulfilling orders and creating these wonderful machines," Bernhardt said.
Bernhardt said Yamaha products are used on public land all over the country.
"I thank you for what you're doing here for the American worker, and really for what you've done for America," Bernhardt said. "We are appreciative of you taking the step with this pledge."