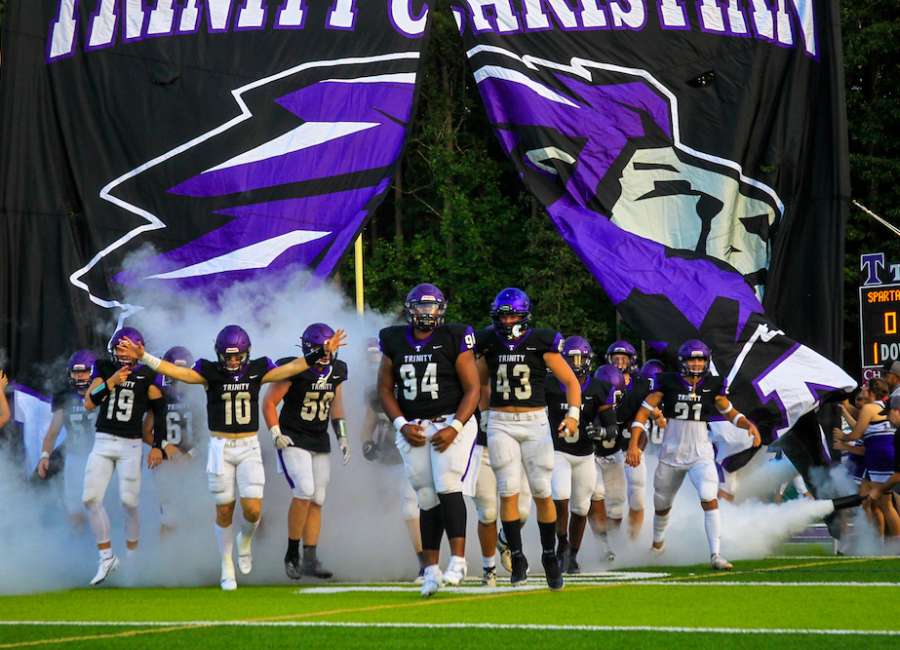 By Rob Grubbs
It does not take a very long conversation with Trinity Christian Lions Head Coach Kenny Dallas to catch his infectious personality. He is a man of deep faith, and he is completely bought into the vision he has as a football coach and a leader of young men.
Amid the fear and unknowns that have had a tight grip on our country the past few months, Coach Dallas shared right up front, "A simple game like football might be a great, unifying force for our country." Leave it to him to see a greater cause.
Coach Dallas has a reputation of building winners, and that is coming into fruition at Trinity Christian. After playing college football at Austin Peay, Coach Dallas started coaching in Tennessee but soon ended up as the Head Coach at Landmark Christian, where he spent 11 seasons. After a stint as defensive coordinator at Eagle's Landing Christian, he took the Lions job in 2017.
In his first three years at Trinity, the Lions have qualified for the state playoffs. But to identify him as just a successful football coach comes up short; Coach Dallas believes in the role of athletics in student life.
"High school football is not Goliath (a reference to the Biblical account of David slaying the giant), those are the big things that come up in life. But we are going to prepare these young men to fight those battles when they do come up. There is nothing better than athletics when done right."
In 2019, Trinity had the youngest team Coach Dallas has ever had, and going into 2020, they are still young – featuring just three seniors on their varsity roster of 52 players. While that may lead one to think next year will be the breakthrough season, Coach Dallas said their time is now.
OFFENSE – The Lions run a Run/Pass Option spread-offense. Per Coach Dallas: "On every offensive snap, we have several options. The credit for the design and the architecture of our offensive philosophy goes to coordinators Chris Hanson and Lance Duncan. They have done a great job of creating a dynamic offense where we count numbers and let our quarterback make the correct choice."
The quarterback who is making those decisions is junior David Dallas, he played at 5-foot-10, 168 pounds last year and is now up to 6-foot, 200 pounds. He is an extension of the offensive coaching staff on the field and the returning Coweta County player of the year. He just keeps getting better. He has a collection of college offers, but for now, he is focused on the 2020 season. Backing him up will be sophomore Henry Brodnax and freshman Austin Morrow.
At tailback, Tyson Wall returns to the position where he had 230 rushing yards last season as a freshman. Look for him to be much bigger and faster than last year. He has experienced back-ups in Shawn Braxton, who starts on defense, and Jimbo Batchelor.
The wide receiver group is deep and very talented; all four of the starters are underclassmen, and they all have college offers. Josh Dallas (the quarterback's twin brother and coach's son) has already gotten attention from UAB, Toledo and Akron.
On the other side is sophomore Aaron Gates, who has garnered notice from just about every program in the SEC and across the country. A special player that people have not had a chance to see yet is Bryce Wilcox, who broke his ankle last year and only played four games.
Rounding out the group is possession receiver Danny Baird, one of the three seniors on the team who just got an offer from LaGrange College. Backing up those four guys will be Javan Harrison and Brock Rainwater.
The offensive line has three returning starters in Harrison Ohmseider, Carson Beach and Max Gosdin. Ohmseider is the other senior starter, along with Baird, and just picked up an offer to Stetson. Joining that group will be Nathan Jones and Hunter Mashburn.
"We feel better in our offensive line than we have since I got here; it will be a strength," Dallas said.
Providing depth will be Wyatt Wood, who started a few games last year and some of the defensive line starters in a pinch.
DEFENSE – The Lions operate out of a 3-4 defense.
Up front, they are going to play five guys in those spots. Coach Dallas considers all five of them starters. Those include Ethan McDowell, freshman Cam Matthews, Zion Marseille, Ryan Earl and Stephen Johnson. Earl was a starting inside linebacker last season but was moved to defensive end.
"We feel good about those guys; even though we are young, we have a lot of depth up front," Dallas said.
Christian Hanson and Josiah Johnson are both juniors and they man the inside linebacker positions. Earl, who played there last year, can always return to the position if needed. On the outside, Batchelor anchors the wide side while Shawn Braxton and Coleman Duncan will rotate on the short side.
The defensive backfield is the one position where there is a lot of crossover play from the offensive skill positions. Josh Dallas and Baird are starting safeties, and Gates and Wilcox are the starting corners. Harrison, Wall and Landon Clare will get some playing time in the secondary as well.
SPECIAL TEAMS – Noah Maupin will be the kicker, and Joshua Taylor will punt. Maupin joined the team mid-season last year from the soccer team and has developed into an elite player. He is currently ranked as the #2 kicker in Georgia and 23rd overall in the nation.
Long snappers will be Sam Taylor and Beach, who will share duties. Josh Dallas will return punts, and Wilcox will return kickoffs.
The other senior on the roster is Maxwell Pope, who can back up at kicker, receiver, and defensive back. Per Coach Dallas, "He is a perfect guy to have in the program."
OUTLOOK – Coach Dallas has done a lot of heavy lifting in his 3 ½ years as head coach. The seniors on this year's team were in the eighth grade when he first got the job. He reflected back on where they started and where they are now, "I feel like we are ready. It takes time to compete for state championships, and that time is spent in the weight room. It starts with kids developing year-round, paying the price in the strength and speed programs."
"This is the first time in my 27 years of coaching that I feel like we are better at every position on the field than we were last year, and this really is a special group," Dallas said. "We talk about pulling a rope, and usually, the coaches have to pull against that rope. But on this team, these guys want to pull us. It is an awesome thing to be a part of."
The Georgia High School Association region alignment moved the Lions to Region 4-A Private, which will get them out of perennial private state power Eagle's Landing Christian's region (even though the two teams will play on Oct. 16). In addition to region games against Pacelli, Brookstone and Heritage, they will also play Claxton and Landmark Christian.
The time is now, the team is young, but the team is also very talented and has excellent leadership. When you look at the roster, you wonder how good they can be next year since they only lose three players. But where there is smoke, there is fire, and there is a lot of smoke coming from the Trinity campus.
Coach Dallas has a vision beyond football, but that vision is paying immediate dividends on the field of competition.