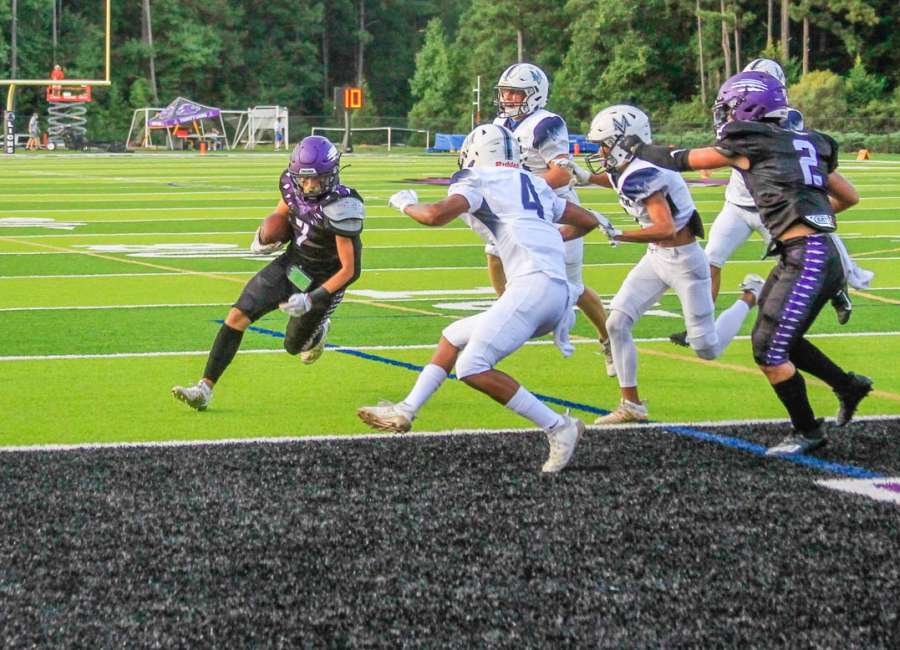 By Rob Grubbs
Fighting off the effects of a letdown after last weeks' tough defeat, the Trinity Christian Lions scored on three of their first offensive possessions Friday night and cruised to a 41-0 victory over Mt. Vernon Presbyterian.
Quarterback David Dallas was surgical in his assault, throwing three first-half touchdowns to propel the victory.
They set the tone early, driving the field with ease and scoring on a 7-yard Tyson Wall run and the rout was on. Dallas would connect on two TD passes to his brother, Josh, one for 68 yards and the other for 21, both in the first half.
Sophomore star Aaron Gates, who did not play in the opening week game, got in on the action early catching a 28-yard pass from David Dallas in the first quarter. He would later add a 26-yard TD catch right before halftime.
Not to be outdone, the defense got in on the scoring as well. Linebacker Ryan Earl read a screen pass perfectly and raced 58-yards untouched for an interception TD return.
Wall, who opened the scoring on the night, closed things out with a 1-yard TD run late in the third quarter. He had 112 all-purpose yards to go along with his two TDs.
It was the Lions' first shutout since October 26, 2018, when they defeated Our Lady of Mercy 37-0. They were led by junior linebacker Christian Hanson and Josh Dallas with nine tackles each and safety Danny Baird with six. Jimbo Batchelor had a sack and a tackle-for-loss on the evening.
David Dallas almost had a perfect game, he finished 14-for-16 for 232 yards and 3 TDs. Josh Dallas had 3 receptions for 103 yards and Gates added 5 for 80 yards.
The Lions go on the road for the first time this season Friday night when they travel to the undefeated Fellowship Christian Paladins.