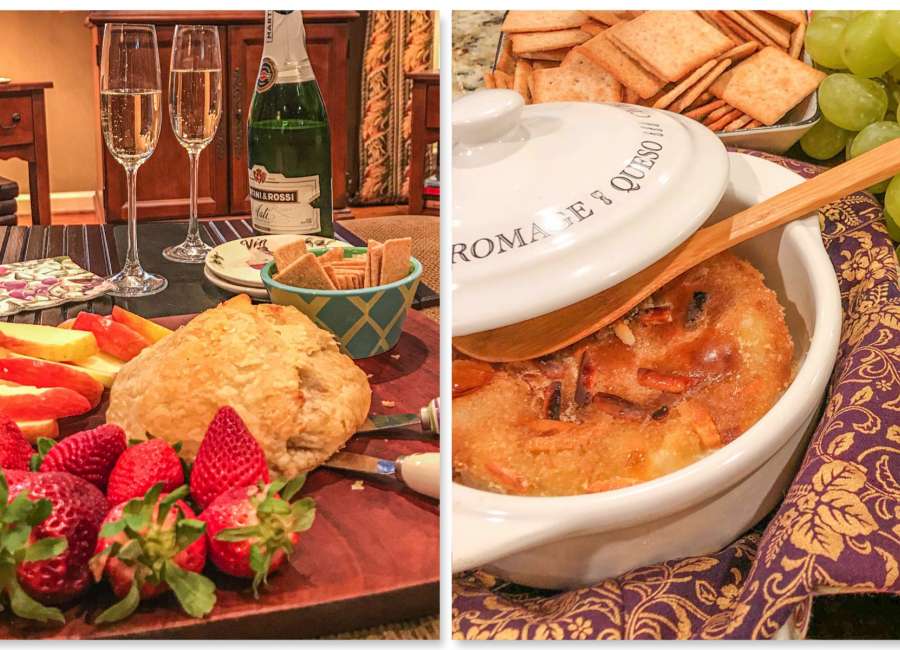 By Susie Berta

I don't know about you, but I get genuine pleasure in surprising guests with a fabulous, upscale appetizer that looks and tastes like you worked a lot harder than you did.
Baked brie with raspberries and almonds is one of those recipes that has what I call "The Martha Effect." It looks every bit like Martha Stewart's skillful, professional handiwork and tastes top-notch, so much so that Martha herself could've executed it and brought it to the party. Except it was just lil' ol' you in your non-state-of-the-art kitchen without a single overpriced Le Creuset pot or shiny All-Clad pan to your name, and it was easy peasy. While you won't rake in royalties from a TV show, and you have no cookbook deals, you will get praise and admiration from your family and friends.
If you have a perverse need to over-gild the lily, consider the flour trick. Flick a bit of flour on your apron, which you will remove with a flair the moment people walk in. "Oh, Quelle Surprise!" you'll demure, letting them get a glimpse of the evidence on your apron. They'll see how hard you have worked to give them the best in culinary artistry! "Why, yes, I ground the wheat and stomped the grapes myself, but, oh pshaw, it was worth all the trouble to entertain you!" Or you can relax and be yourself, confident that this hors d'oeuvre will do all the bragging for you.
People will swoon. It's as beautiful as it is delicious. Guests will flatter you and tell you in sincere wonderment that they couldn't possibly make this great, mysterious thing. Well, I'm here to tell you it ain't that hard. Yes, they can. And so can you. If you really are Martha Stewart quality, then good for you. But, like most of us, if you aren't anywhere close to Martha's level, people will think you are every bit her equal. Rejoice and be glad for the Martha Effect! You are smart enough to make a simple, delicious recipe and present it like a queen. So for your next hen party at your friend's house (someday, sans pandemic), volunteer to bring a baked brie. If the party's at your home (someday, sans pandemic), sprinkle some flour and bake a brie!
INGREDIENTS:
1/2 cup raspberry preserves - In my dotage, I prefer seedless. There's less dental hoopla without all those pesky seeds. But you can certainly use the real thing if you don't have seed issues. And then, while you're at it, you can throw in a couple of fresh or frozen raspberries with the preserves. Have fun!
A handful of sliced almonds - Toasted lightly in a small pan with butter is nice. Be aware they toast fast, so don't walk away. Keep them stirred and remove when lightly browned. Don't over-brown them, or they'll taste bitter and worse, burnt. Toasting the almonds is totally optional, however. I skip the toasting all the time if I'm in a hurry. Or I am feeling lazy. Either of which is often.
1 frozen puff pastry sheet - NOT phyllo, or pie crust, or puff pastry shells. PUFF PASTRY SHEETS, people, sheets! I use Pepperidge Farm. In a long box. 2/box. Freezer section.
1 round Brie cheese - I like Ile de France, and I get the larger one, about 13 ounces and approximately 6 inches or so in diameter. Note: Please resist the temptation to purchase anybody's grocery store, ready-to-go, pre-packaged Baked Brie … um, not EVEN in the ballpark. You'll lose Martha points, too, guaranteed. Seriously, stick with the plan — worth the effort.
1 large egg, beaten well, in a small cup or bowl (for glaze)
Crackers (I like Wheat Thins!), or baguette slices
Fruit as garnish: grapes - seedless red and green, washed, dried and clipped into small sections for your guests' convenience. Also, thin apple wedges are nice. Fan them out amongst the grapes. And whole strawberries are lovely for color, flavor and texture, too.
DIRECTIONS:
Preheat the oven to 400 degrees.
1- Thaw the frozen puff pastry sheet on the counter for about 30 minutes or until it unfolds easily without breaking at the seams. Then unfold it onto a baking sheet. If you just happen to have a fancy, round dish made especially for baking brie, good for you. Use that! If not, the baking sheet is swell.
(You can roll the pastry sheet out into a 12" square, but I don't always mess with all that. Comes out great as is (unrolled) IMHO. Your preference, of course.)
2- Place brie in the center of the pastry.
(You can slice off the top of the brie's white rind or leave it as is. Again, your preference. I've done it both ways. Lately, I've opted for the NOT. See "in a hurry" or "feeling lazy" above.)
3- Spoon the raspberry preserves (and fresh berries if you opted for seeds) all over the top of the brie.
4- Sprinkle almonds on top of the preserves.
5- Fold the pastry up and over cheese, carefully pulling to stretch a little if necessary, overlapping edges on top and sides so everything is sealed up in an excellent small package.
Brush egg glaze to help seal the edges. Just don't leave any holes or open places, or you'll have a godforsaken melted mess of brie all over your baking sheet instead of inside your pastry. Not optimal. Don't stress over the way the pastry looks on top after you've folded it all together. It will all bake out, and nobody will care. For extra Martha points, though, save a little piece of the pastry aside. Cut something clever out of it, free-style or with a cookie-cutter, like a leaf or a heart - or your alma mater's logo (Kidding, not kidding. Football down south is everything. There's always the Super Bowl, too – sans pandemic) and glue it on the top using your egg glaze. Again, I'm over that step. But it does make an impressive presentation if you're feeling the need for extra points and can't help yourself. The first step is accepting you have a problem.
6- Brush the egg glaze all over the top and sides of the pastry and pop it in the oven.
7- Bake in the oven until the pastry is deep golden brown (about 30 minutes).
8- Let it cool on the counter for 20 minutes.
9- Using a super-wide spatula, carefully remove your pastry from the baking sheet and place your golden masterpiece on a serving platter or cheese board.
10- Arrange your fruit on the platter or board, being sure to leave a little room for the cheese to goosh out. Don't forget a small hors d'oeuvre knife or two.
11- Pour some nice Prosecco or Champagne or Sparkling Juice or any wine in a pretty wine glass.
12- Bask in the splendor.
13-You're welcome. You can do this!
Soooo, maybe YOU can bring the Baked Brie to the party next time?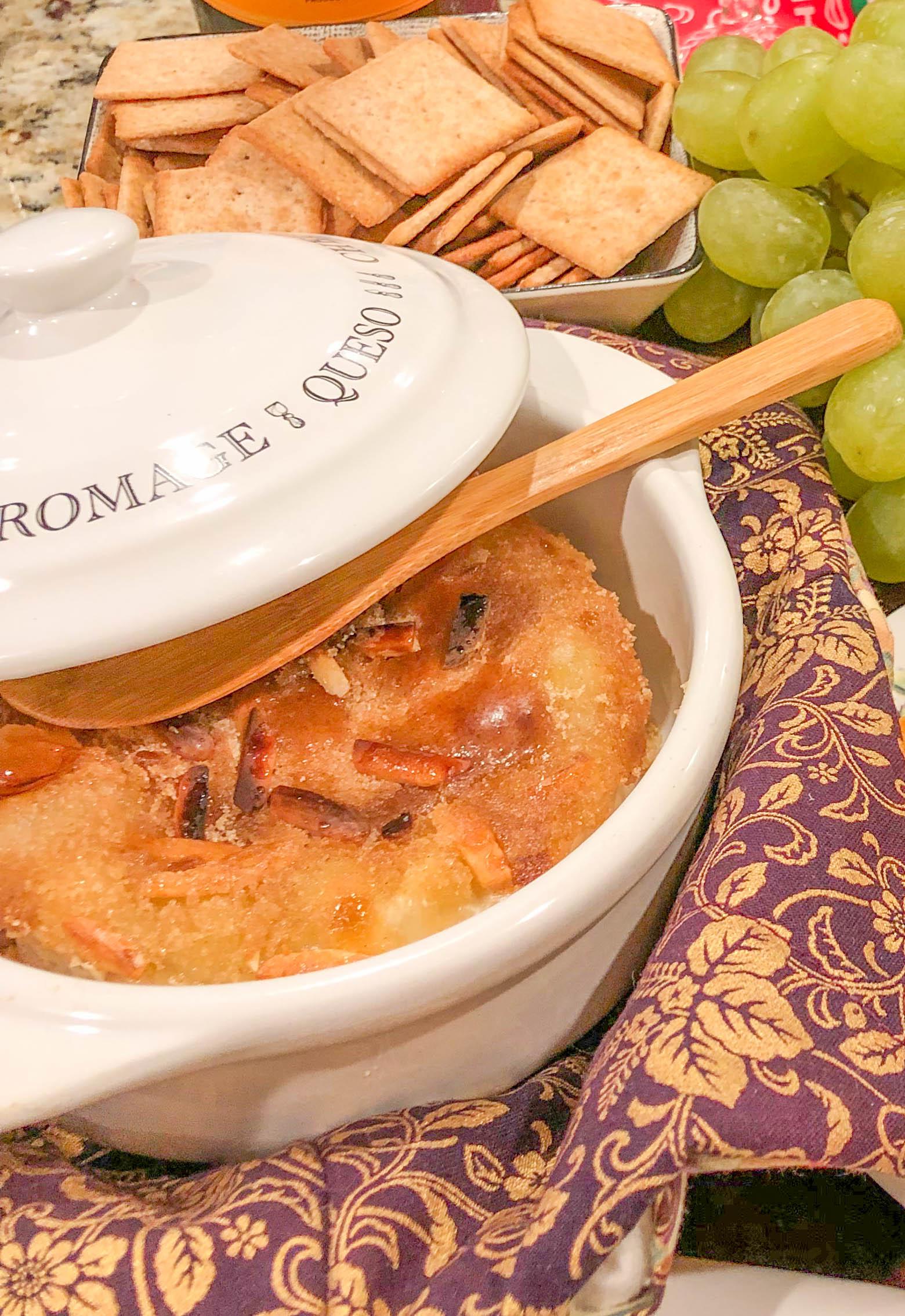 Susie Berta has many creative pursuits, including music, art, writing, cooking, gardening, entertaining and decorating. She has lived in Newnan with her husband, Rick, since 1977. They have raised two boys and have two grandchildren. She is retired from a long career as a vocalist/performer, having sung for many years in the Atlanta Symphony Orchestra Chorus and Chamber Chorus, as a staff singer at St. Mark UMC in Atlanta, and in many other venues, in addition to her one-woman show, "All Grown Up," at the Rialto Theater in Atlanta. As an empty nester, she returned to school in 2003 and earned a BFA in art at Atlanta College of Art and SCAD Atlanta. She is now pursuing her passion for writing and is currently working on her memoir, The Veterinarian's Wife.