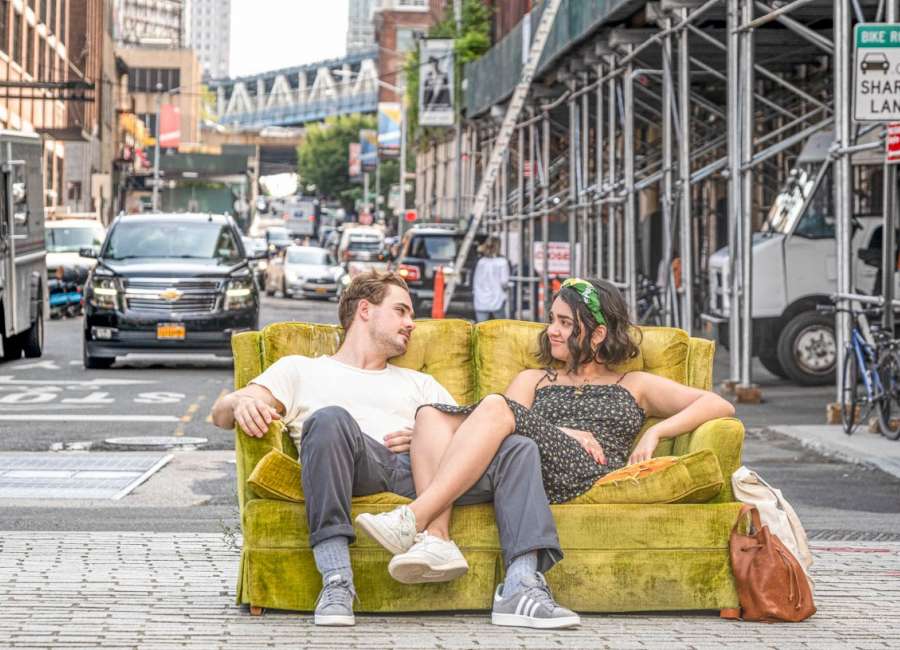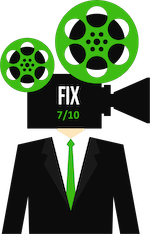 Review by Jonathan W. Hickman
Do you know an emotional hoarder? I've certainly known a few emotional vampires in my time, but a "hoarder?" The phrase is a new one on me, but the gleeful "The Broken Hearts Gallery" has introduced it into my lexicon.
When 20-something Lucy (Geraldine Viswanathan from 2018's "Blockers") goes through a painful breakup, she adds another memento to her growing collection. These otherwise worthless souvenirs remind her of past loves, but the effect is to stunt her forward progress. Lucy is permanently stuck, incapable of moving on.
Lucy's supportive roommates, Amanda ("Booksmart's" Molly Gordon) and Nadine ("Hamilton's" Phillipa Soo), immediately go into crisis management mode. Like everything in this highly stylized fantasy, the two world-weary, but chipper gals have ready-made props meant to comfort Lucy. I noticed that one of the items they give her is a DVD copy of "Eternal Sunshine of the Spotless Mind," which is one of the most romantic films I've ever watched.
While "Broken Hearts" doesn't rise to "Spotless Mind" levels, it's fully aware of its place in the romantic comedy genre. And, in addition to the quirky comic relief of Lucy's roommates, all the familiar and essential ingredients are there.
Lucy works at an art gallery run by a shrewd and vampish Eva Woolf (the lovely Bernadette Peters). After a public meltdown related to her romantic troubles, Lucy finds herself out of a job. By chance, she encounters Nick ("Stranger Things'" Dacre Montgomery), who is in the finishing stages of build-out on a boutique hotel.
Of course, Nick is the kind of handsome, disillusioned young man often found in movies. But writer/director Natalie Krinsky (in her feature film debut) understands that the character's rugged good looks must be tempered by a sensitive side that exposes just a hint of insecurity. And Montgomery is good at keeping his body slightly pinched as if never coming out of his shell.
Smartly, Krinsky knows that the male romantic lead cannot overshadow her female protagonist. Nick and Lucy operate at two distinctly different speeds. And Viswanathan is wonderful, attacking the role with energy and spirit. As the two form a loose business partnership around the hotel's interior design, romantic sparks kindle.
But while the story chiefly centers on a 20-something's search for love, the title's theme provides a unique foundation for rich social commentary. And Krinsky leans into this conceit littering throughout the movie smartphone-shot interviews with people about their collections from past breakups.
Questions about whether we need to let go of past failed relationships swirl around as Lucy's concept for a broken heart gallery develops tangibly. And it helps that Nick's hotel is wanting for a design gimmick in hopes of generating commercial buzz.
In a brief, direct appeal video, Selena Gomez, who shares producer credit, presented our "The Broken Hearts Gallery" screening. And the film takes advantage of Gomez' pop music sensibilities—the movie's soundtrack is current and worth checking out.
Music is strategically used in a series of well-paced montages showing Lucy and Nick's relationship growth. The result is an undeniably charming movie reminiscent of the kinder, gentler romantic comedies of the Hepburn/Grant era.
"The Broken Hearts Gallery" is a happy film, filled with cheer during this gloomy time.
A RottenTomatoes.com Tomatometer-approved critic, Jonathan W. Hickman is also an entertainment lawyer, college professor, novelist, and filmmaker. He's a member of the Atlanta Film Critics Circle, The Southeastern Film Critics Association, and the Georgia Film Critics Association. For more information about Jonathan visit: FilmProductionLaw.com or DailyFIlmFix.com