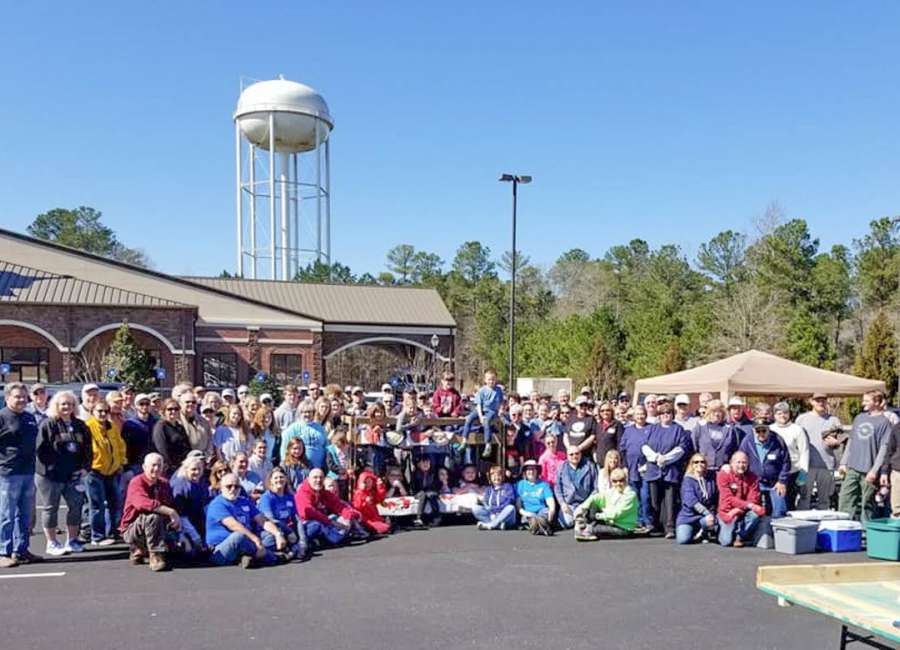 The Coweta County chapter of the national nonprofit Sleep in Heavenly Peace, an organization that provides beds for children in need, is ramping back up after not being able to distribute beds or hold builds because of the COVID-19 pandemic.
SHP was started in Idaho in 2012 and provides handmade wooden bunk beds and bedding to kids in need. There are have chapters all over the country that help build and distribute beds to children in their communities, according to www.shpbeds.org .
The slogan for the organization is, "No kid sleeps on the floor in our town!" A chapter in Coweta County began earlier this year, and became official at the beginning of September.
Church partnership
Brenda Kendrick, a member of the marketing team for the Coweta chapter, said a local chapter was created because of a need in both Coweta and Fayette counties for the beds.
Members of Newnan City Church and Legacy Christian Church decided they wanted to start a local chapter together. Tommy Webb of Newnan City Church and Jack Bennett of Legacy Christian Church are the co-presidents of the chapter.
Webb said he had been involved in several nonprofits through his church in Fayette County. When members of his new church, Newnan City Church, said they were going to be building beds for kids who didn't have them, he wanted to help out, but wasn't planning on leading anything.
He said he showed up for an organizational meeting about SHP, and after 15 minutes he realized he needed to be a part of it. Webb said it is estimated that children in Coweta County need 1,200 beds, and the need is greater than that in Fayette County.
"I thought, 'I can do this,'" Webb said. "God's calling me to do it."
Webb said he was able to go to SHP's headquarters in Twin Falls, Idaho to complete the training required to become a chapter president.
The Coweta County chapter has been able to host two bed builds, and the third one will be Saturday. Webb said Saturday's build will be just for trained volunteers, so they can properly social distance. The build will be part of "Bunks Across America," where SHP chapters build as many beds as possible in one day.
Webb said when the COVID-19 pandemic hit in March, many people had just started to hear about the organization. He said they had a build scheduled for the end of March with college sororities and fraternities that had to be canceled.
Since then, they haven't been able to host a build. Webb said the way the organization functions, SHP chapters provide the tools and expertise, and they team up with organizations for monetary support and labor to host group builds.
Webb said they have only started to be able to deliver beds at the beginning of September. He said volunteers will supply masks for the homeowners and ask them to step out while they install the beds. He said the volunteers try to install the beds as quickly as possible.
Importance of beds
Having a comfortable bed can affect a child's entire wellbeing. Many children across the U.S. don't have a bed or a pillow to sleep on, and they end up having to sleep on couches or floors.
"At SHP, we fully believe that a bed is a basic need for the proper physical, emotional, and mental support that a child needs," according to the organization's website .
Webb said one reason beds are so important is if someone from the Division of Family and Children's Services visits a home and there's not a bed for each child, families only have a certain amount of time to get a bed or the children could be removed from the home.
Webb said children ages 3-17 can receive beds, and requesting a bed from SHP's website is simple. He said neighbors, foster parents or teachers could request a bed for a child they know needs one. Beds can be requested at www.shpbeds.org/request-free-twin-bed .
Something Webb is particularly concerned about is the greater need for beds due to the COVID-19 pandemic. He said with people losing their jobs and their homes, beds may be lost as well.
"This could be a much bigger issue in the next month than we can dream about," Webb said.
Webb said when SHP provides a bed, it comes with everything including the mattress, sheets, pillows and blankets. He said it costs SHP about $175 to build and provide everything for one bed.
Currently, the Coweta SHP chapter needs monetary support so members can buy tools they need. Webb said people can email him at tommy.webb@shpbeds.org to find out what tools they still need.
"As little support or as much support someone can give, it's greatly appreciated," Webb said.
Webb said information will posted about upcoming builds on the chapter's Facebook page . He said anyone can help with a build, from 5- and 6-year olds to people 70 and older.
He said SHP is also looking for organizations that would like to host a bed build.
To request a bed or donate to the Coweta chapter, visit www.shpbeds.org/chapter/ga-coweta-co .