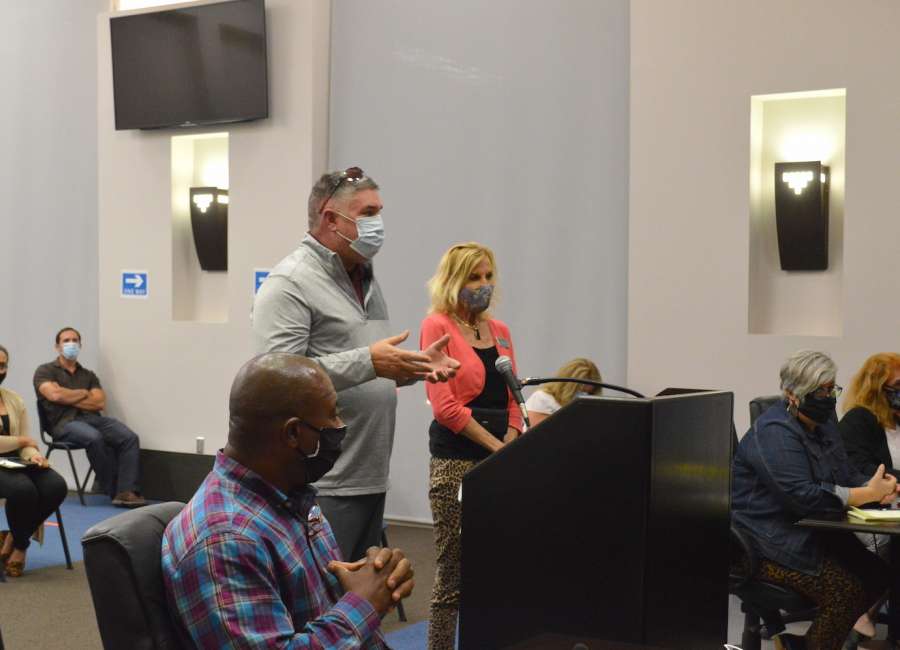 A local sign company owner hopes to work with the city of Senoia on a compromise that will again allow him to put up subdivision directional signs on weekends throughout the city.
Rich Eagleson of Eagle Signs and Advertising in Peachtree City said he has been putting up the signs in and around Senoia for 12 years. They're put up Friday evening and taken down Sunday night.
Eagleson said he has had some talks with Senoia Code Enforcement in the past but there was never any action.
"But then a week ago Friday he decided to pull me over while I was out putting up the signs and gave me an hour to go pick them all up," Eagleson said. "So we went and picked them all up and they told me we couldn't put them out anymore."
Eagleson appeared before the Senoia City Council and asked if there were a way to work the problem out.
Coweta County has a section of its ordinance for "weekend" signs that allows the subdivision directional signs to be put out on the weekends. The ordinance states that the signs can only be placed with permission of the property owner and cannot be placed in the right-of-way. The ordinance requires that the sign owner must have written permission for sign placement.
Practically, however, the signs are sometimes placed without permission, Eagleson said. Coweta Code Enforcement operates on a complaints-only basis.
"The only way Coweta Code Enforcement gets involved with weekend signs is if someone complains," Eagleson said.
At the council meeting, Eagleson's signs were referred to as "off-site advertising signs," and City Attorney Drew Whalen suggested that an ordinance change would be amended to allow them.
However, the city's sign ordinance specifically says that "standard informational signs" can be put on lots in the city without permits. The ordinance defines a standard informational sign as a sign not larger than six square feet, intended for short term use, that contains no reflective elements, flags or projections.
The ordinance states that up to 12 square feet of standard informational signs are allowed in a commercial or industrial parcel, and up to 24 square feet of signs are allowed on a residential parcel. Under the ordinance, the signs can only be erected on private property with the permission of the property owner.
Eagleson said that while he tries to make sure the signs aren't in the right-of-way, it would be impossible to get permission from property owners for hundreds of signs.
A call to Senoia Code Enforcement asking if the signs would be allowed under the standard informational sign provision was not returned.
Tracy Fields of Jeff Lindsey Homes appeared at the council meeting with Eagleson.
"We depend on Mr. Eagleson's signs," she said. "It is a big, big part of our business. Seventy-five percent of our customers find us through weekend directional signs."
Eagleson asked the council why the ordinance doesn't allow "off-site advertising signs" but does allow billboards.
"That was forced," said Councilman Maurice Grover. Senoia's previous sign ordinance was considered unenforceable on constitutional grounds because of the way it defined billboards, so the city had to allow the billboard on Highway 16 near Cumberland. The city amended the ordinance as soon as the issue became known.
"There will be no others," Senoia Mayor Dub Pearman said of billboards.
Pearman said he wanted to look into the intent of the ordinance, whether the signs were prohibited because of safety reasons or if it is more of a nuisance/annoyance issue.
"I completely understand your plight," Pearman told Eagleson. "If it is a safety-related issue, there's nothing I'm going to be able to do for you."
The mayor suggested Eagleson meet with Community Development Director Dina Rimi to discuss a solution.
Eagleson said he hopes to meet with Rimi and discuss the issue and the ordinance.