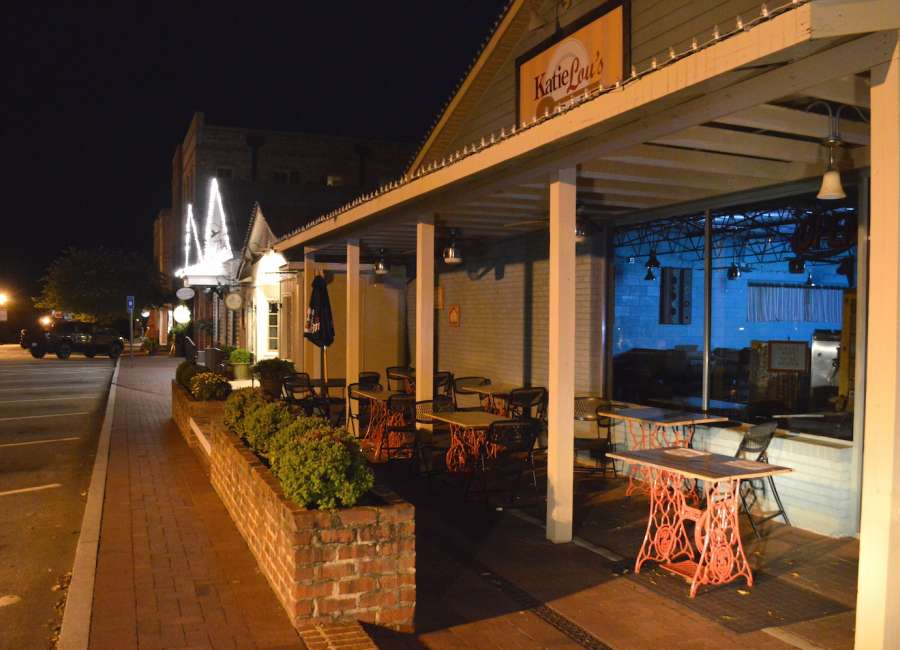 A Senoia business owner will be taking action to improve sidewalk access and outside dining at his restaurant.
The sidewalks on the upper end of Main Street are occasionally divided by brick planters, and in front of Katie Lou's Café, the planters funnel pedestrians closer to the storefront. On the other side of the planters is a narrow walkway that only connects to the sidewalk on one side.
The planters make outdoor dining at Katie Lou's a narrow proposition, and owner Bill Wood asked to remove the planters.
The project will create a 5-foot-wide sidewalk, that will be compliant with Americans with Disabilities Act regulations and will include a railing separating the outdoor dining area from the sidewalk, Wood told the Senoia City Council Monday night.
The restaurant, like many businesses, has been challenged by COVID-19, Wood said. Right now, outdoor dining is the only dining the restaurant offers. The interior isn't open for dining.
"Outside dining has become very popular," Wood told the council. Sometimes, diners will move the tables so that they jut out into the sidewalk, "even though we try to prevent that."
The planters themselves have become repositories for trash and cigarette butts, he said. And because there is no irrigation, "it's hard to have good plants," he said.
Wood said he'd like to use the bricks from the planter to rebuild the sidewalk. There may have to be some alterations to the grade so that there will be a smooth, handicapped-accessible transition between all the sidewalks.
Recently, the city council approved a plan for buildings on the other end of Main Street, that will remove parking spaces and expand the sidewalk for more outdoor dining. To make up for parking spaces, the property owners will build more spaces along Travis Street.
Wood said he's not looking at that kind of project – any extra parking that could be built would be far from Katie Lou's. He's also not planning on adding an awning or extending the porch. Instead, they are using umbrellas, which seem to be adequate, he said.
City Manager Harold Simmons said his biggest concern is the change of the slope and making sure it is ADA-compliant.
City Attorney Drew Whalen suggested that Wood have an engineer sign off on the plans.
Mayor Dub Pearman said he would like for Wood to use pavers identical to the current sidewalk pavers for any portions of the sidewalk except the area where the planter used to be.
Councilman Maurice Grover said he wanted to make sure the granite slab, which functions as a bench, was preserved and given to the city for future use.
The council voted to approve the idea, contingent on Wood having an architect and engineer sign off on the plans being ADA-compliant, and the paver requirement.