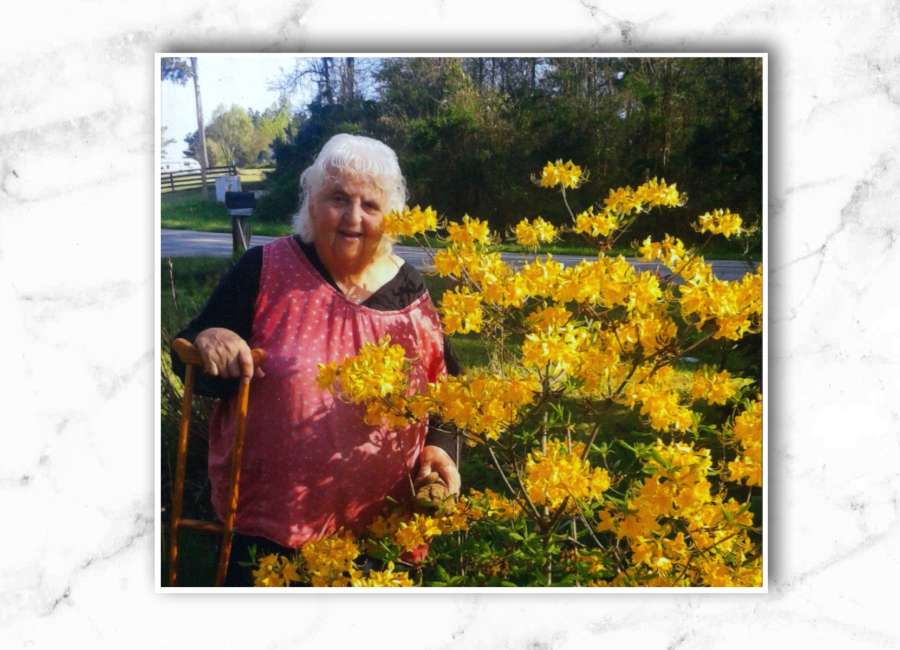 Sara Estell Winkles Proctor of Sharpsburg, Georgia passed away at her home on Monday, August 31, 2020, surrounded by family.
She was 87. Sara was born on November 2, 1932, to the late Peter Allen Winkles and Gena Cochran Winkles of Sharpsburg, Georgia.
Sara was a homemaker who enjoyed being with her family and extended family. She grew up on a farm where she learned to plant crops, and preserve what you planted. She enjoyed making corn salad, pear pickles and all kinds of jams and jellies. She loved to sew. She made quilt tops and hand quilted them, baby quilts for new babies in the family and she also made her own clothes. Having a "bought" dress was a special treat. She loved to crochet. She made numerous scarves, shawls and toboggans for the winter months as well as baby afghans and crocheted baby animals.
Sara loved to work with her flowers. She had a green thumb and as long as she was able she kept the weeds out of her flower beds. She rooted many plants when she wanted to have more of them or someone asked her for one. If you helped her in her yard you were going to do it the way she wanted it done or you would hear about it.
Sara was a collector. She came from a time when you didn't throw things away because you might need them one day. She collected a lot of things through the years but her prize collection was her cookie jars. She looked forward to getting new ones through the years and had shelves built in four rooms to display them all.
She loved spending time with her family, grandchildren and great-grandchildren and extended family. She enjoyed cooking and getting everyone together to eat. She always made plenty of pictures so she was able to look back on the special times she had with all. She was a member of Rock Springs Baptist Church formed by her forefathers where she was saved and baptized at age 15 and whether or not she was able to go she always sent in her tithes.
Sara leaves behind her husband, Bobby Lee Dalton Proctor of Sharpsburg, sons' Wayne (Terri) Proctor of Sharpsburg, Allen Proctor of Chattahoochee Hills, and Bubba (Renee) Proctor of Sharpsburg, and a daughter, Missy (Ronny) North of Sharpsburg, special niece, Linda Cason. Grandchildren, Travis (Meghan) Proctor, Amanda Proctor, John Allen Proctor, Daniel Carroll, Jaynie Proctor, Sadie Proctor, three Great Grandchildren, aunt, Bert Cochran, and nieces and nephews.
Services for Sara Proctor will be conducted on Thursday, September 3, 2020, at 11 a.m. in the chapel of McKoon Funeral Home 38 Jackson St. Newnan, GA with Rev. Howard Alexander, Rev. Bobby Cason and John Allen Proctor officiating. Burial will follow in the Rock Springs Baptist Church cemetery. Pallbearers are Travis Proctor, John Allen Proctor, Daniel Carroll, Thomas Mizell, Kyle "Troy" Kelly & Brian Lewis. Visitation will be Wednesday, September 2, 2020, from 5-7 p.m. at McKoon Funeral Home.
Condolences may be expressed to the family at www.mckoon.com.
McKoon Funeral Home & Crematory (770) 253-4580.