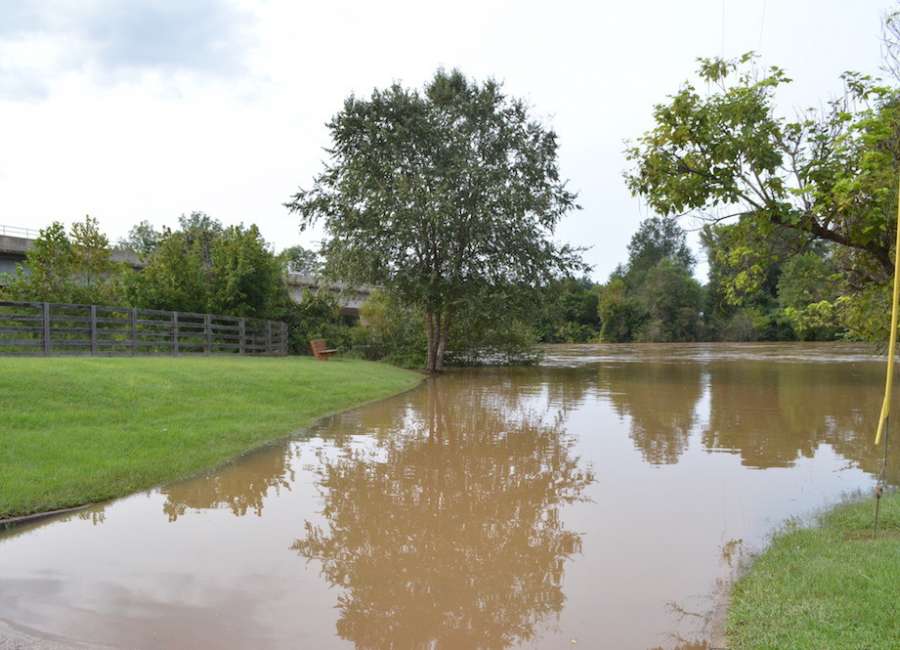 Update: Riverside Park has reopened.
Thursday evening, the National Weather Service was predicting that the Chattahoochee River at the Highway 16 bridge would crest above "moderate" flood stage thanks to heavy rains from Hurricane Sally, and that it would happen around 5 p.m. Friday.
Those predictions showed a crest of 22.3 feet, with the river not dropping below flood stage until Saturday morning.
However, by Friday afternoon the predictions from the NWS Advanced Hydrologic Prediction Service were revised, and the river wasn't expected to hit flood stage at all, with a crest of 16.22 feet Friday afternoon. Minor flood stage for the river is 17 feet, though the "action stage" is 15 feet. The river had reached 14.54 feet Thursday night.
The prediction shows the river dropping below the action stage overnight Friday.
Despite not being at flood stage, the river was high – high enough to almost completely cover the boat ramp at Coweta's Riverside Park, which has been closed temporarily.
The park was closed last week because of an upriver oil release.
From 7 a.m. Wednesday to 7 a.m. Thursday, 3.6 inches of rain were recorded at the National Weather Service's Newnan rainfall gauge.
It's been a rainy year in Georgia. According to the National Weather Service rainfall scorecard, the Atlanta NWS rain gauge had received 47.12 inches of rain through the end of August – that's just 2 ½ inches shy of the 30-year average rainfall for an entire year.