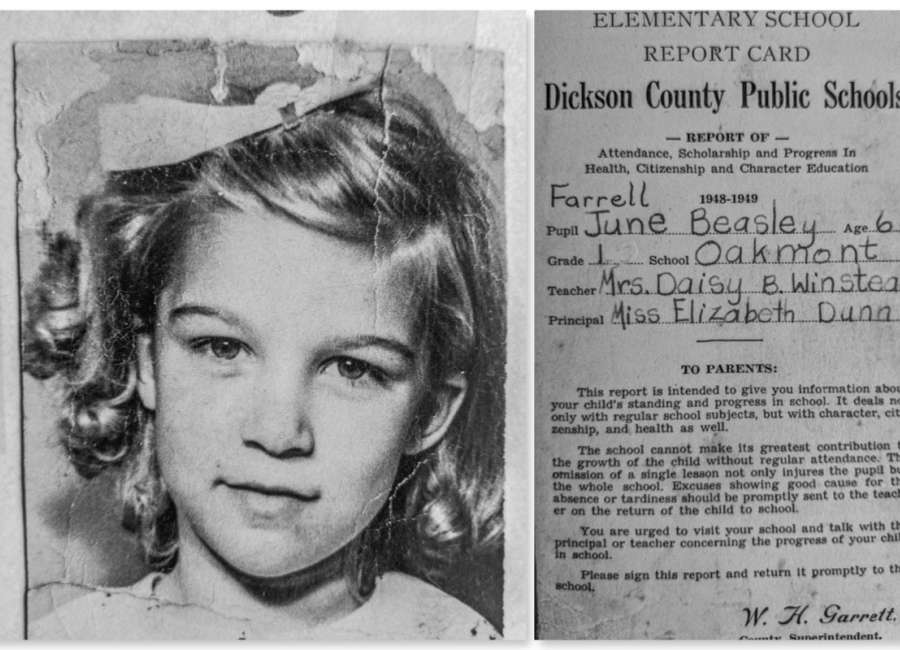 My first memories of school are first grade memories. There were no kindergarten classes at that time. In the summer of 1948, our elementary school burned. I do not know the details of the fire, but I do know the consequences. As a result of this fire, all first grade students attended school in the war memorial building.
This building was built after World War II in honor of the soldiers from our county who fought in the war. It was a large brick building on a hill just outside our small town. Community events, piano recitals and meetings were held in the auditorium.
Now it had become our county's first grade school. All first grade classes for the county met there. Two classes met in the auditorium. A flexible divider was installed to separate two of the classes. I was not in one of those classes.
My class met upstairs in a smaller room. We walked upstairs, then back down to the water fountain and restrooms. Mother bought me a pink collapsible folding cup for water that I loved.
The restrooms and water fountains were located outside on the side of the building. Each day our teachers let us down the steps several times. I do not remember going down individually, but there must have been some provisions for that situation. There was no cafeteria. We carried lunch boxes, paper sacks or newspaper-wrapped lunches.
In good weather, we carried our thermoses and lunches and sat under the large oak trees in the yard. There was no air conditioning. The big oak trees and the big long wide windows provided good classroom circulation. I do not remember being hot during the day. There was no playground equipment, so we enjoyed running and playing under those big trees at recess.
I walked to school and home in all kinds of weather. I walked with several neighborhood friends, and we walked through town and even across the railroad tracks. The walk must have been about 2 miles. Thinking back on that situation, I can see how dangerous that could have been, but I never remember being afraid or complaining about the walk or weather. It was just what we had to do.
I'm sure a fire happening before the school year started meant lots of decisions being made and changes. I am not aware of how other families managed. I was the oldest child in our family and the first to attend school. Other families must have had children spread all over town in different locations. I know some met in churches. Buses must have made stops at all these different locations.
We read in the Dick and Jane series of books. Most of that was sight-reading, not phonics. We did not get a spelling grade, but my teacher encouraged learning to spell. I remember a weekly list of words with a bonus hard word to spell. When we learned all the harder words given for the new year, our teacher gave us a Snickers candy bar. My mother said I was not very good at spelling. I would try every letter of the alphabet. It took me a good while to get my candy bar.
Finally one day I got it. I could spell "umbrella." That should have been an easy word, but it was not for me. My sister was born when I was in first grade. I had my tonsils out near the end of the year. My teacher visited our house to check on me. At that time I was feeling bad so I didn't appreciate that visit, but now I realize how important that visit was.
I remember that one student got a spanking. He didn't turn in his homework for several days. He screamed and hollered, putting on a big show. I don't know if he improved, but it made an impression on me. I did my homework every night.
By the way, in spite of these circumstances, I did pass first grade. I enjoyed school and can remember my teacher's name and the names of many of my classmates.
The next year, my second grade was in the newly built elementary school. It had a lunchroom and lots of play equipment and was closer to our house. The war memorial building housed the county library for several years. Then it was renovated and used for town events again.
It is still a beautiful building, and when I visit my hometown of Dickson, Tennessee, and pass by that building, I have good memories of my first great adventures.