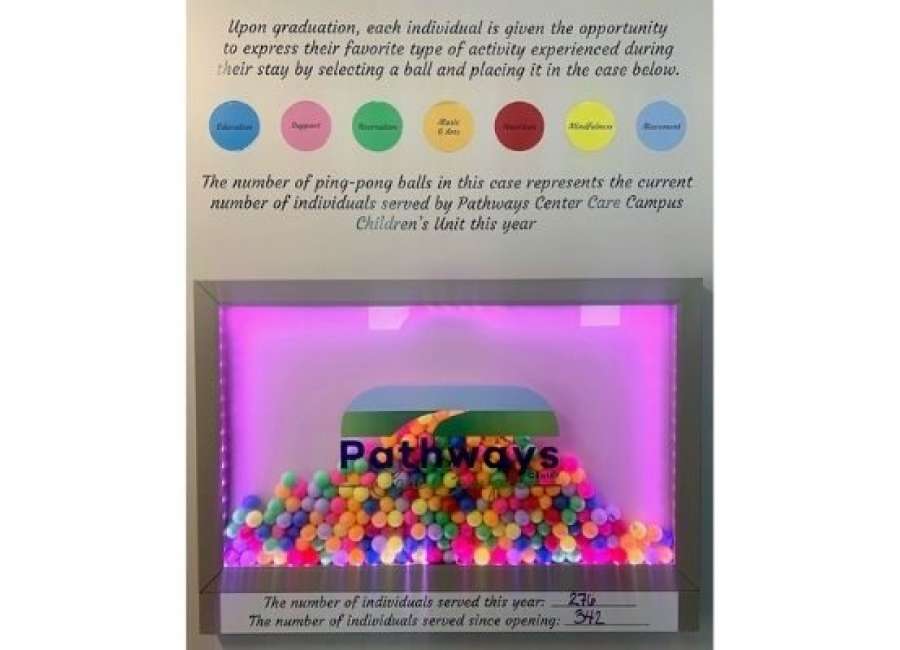 The Pathways Care Campus Child and Adolescent Unit is focusing on different therapeutic activities so each individual can benefit through what works best for them.
The unit provides 24/7 walk-in evaluations for children ages 5-17 who are in a mental health crisis. The idea for the unit came out of the growing need for mental health services for youth.
Abigail Alvarez, client events coordinator at the Care Campus, said when a child joins the unit, they are given a blank gumball machine. She said they recognize that each individual learns in a different way, so they created a program that incorporates various therapeutic activities.
Each activity category is related to a particular color, with categories including education, support, recreation, music and arts, nutrition, mindfulness and movement.
Alvarez said for each activity that they participate and engage in, they receive the associated gumball color sticker to place on their machine.
Each day at 4:30 p.m., they are given the opportunity to cash in their stickers for rewards, including time in the Reward Room or votes on the evening movie.
Alvarez said when someone is discharged from the unit, they are asked to select their favorite category color in the form of a pingpong ball. Then they can write their name on the ball and place it in the display case.
"This display reminds our staff and clients each day of the impact that we are making on the lives of these individuals," Alvarez said. "It also allows us insight into which therapeutic activities are the most engaging. Each ball represents a client that has received care this year, and we strive to fill the case year after year as we continue to serve in the community."
The Pathways Care Campus Child and Adolescent unit has served 276 individuals this year, and 342 since it opened in November 2019.
Alvarez said recently, they have noticed that support and music and arts have been the most popular categories. The support category includes support sessions led by social service technicians and counselors.
The music and arts category includes daily crafts, as well as special art therapy paint classes led by Jenny Jones of Corner Arts Gallery and performing art classes led by The Newnan Theater Company.