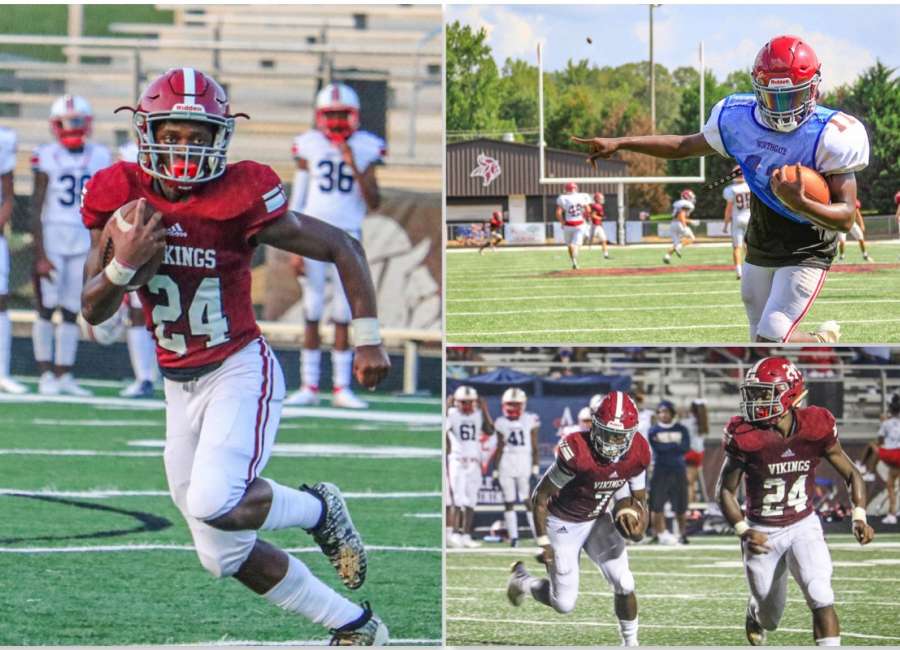 By Rob Grubbs

Momentum for the 2020 Northgate Viking football season started on Oct. 11, 2019.
On that night, the 0-6 Vikings traveled to New Manchester and pulled out a 23-16 victory. That started a three-game winning streak, and on the final night of the season, Northgate almost pulled off an upset of the then seventh ranked and 5-AAAAAA region champion Mays Raiders before falling 12-7 at home.
A lot has happened since then. The shutdown forced the cancellation of spring practice, summer conditioning was limited, the Vikings graduated their starting quarterback and their leading rusher, Tanner Hughes. But a positive development is that Northgate dropped down a classification and is now in a region with more of their traditional rivals in Whitewater, Starr's Mill and McIntosh.
"It has been such a crazy offseason — totally different," said Head Coach Mike McDonald. "This is the first time in 27 years of coaching there was no spring practice. Today, spring is your grind, and it's the only time you go 10 days straight in full pads. But in the past week, I feel like our tackling and physicality has gotten better."
McDonald is entering his third season at Northgate and 14th overall as a head coach. He played high school football at Morrow under legendary Bud Theodocion, where they won the 1987 state championship. After a college career at Tennessee Wesleyan, he made coaching stops at Forest Park, Jackson, McIntosh and Morrow. Before getting to Northgate, he was also the head coach at Union Grove and Newnan.
The Vikings go into 2020 with a dynamic, young playmaking quarterback, an experienced offensive line, and a region where a playoff spot is theirs for the taking.
Northgate is returning six starters on offense and defense.
OFFENSE – Northgate runs the Spread Wing-T offense, with their quarterback in the shotgun. McDonald said, "When you say Wing-T, everyone thinks conservative, but we get in a lot of three and four-receiver sets, so we are multiple."
At quarterback, Northgate has youth, so there is going to be some inexperience. Two sophomores battled for the starting role. James Paige will be the starter, and he will be backed up by a very talented Bryce Alewine. Then we have two freshmen behind them.
"So, there is youth, but they all have great promise," McDonald said.
DJ Reid will be the starting tailback in the backfield behind Paige. Reid was the backup last year and had a great JV year and has had a solid camp.
"He is replacing a pretty good player in Tanner, but we are excited about what he brings," McDonald said.
Slot receiver player Jameson Hugh can also play the tailback, so he'll give Reid some relief when needed, along with sophomore slots Clayton Cowart and James Dubose. Paige will also be a major piece of the running game from the quarterback position.
Inside slot receivers include Hugh and first-time starter Riley Lane. The wideouts include Preston Lindros, who has battled injuries throughout his career and Tyon Williams on the other side. Depth will come from senior Jackson Butz and Landon Usher, who will come over from defense, and another senior, Kyle Gill.
The tight end position is manned by senior Holden Smith who is also a basketball player. McDonald said Smith has improved and had a great offseason. He is big and tough — at about 6-foot-4 and 210 pounds, he can catch and run for a big guy.
The offensive line is solid and is just the security blanket the young quarterback and running back need. "We are very experienced up there," McDonald said. "We have youth at the skill positions, but up front, we are going with five seniors across the line."
At center will be Ryan Ledford, the two guards are Garett Matthews and Will Pesch, and the tackles are Luke Vega, a three-year starter with multiple offers, and Kolby Broussard. Carson Coghlan is the backup guard, and Colton Crawford, a junior, will come over from defense to back up the tackles along with freshman Bradley Smith.
DEFENSE – The Vikings play a 3-5 odd stack defense; it has been Coach McDonalds' bread and butter defensive philosophy since he has been a head coach.
Up front, Northgate has talent and experience back, all juniors who each got playing time as sophomores. Crawford will be the nose tackle, where he started all last season. Justin Scott and Andres Franquez will be the ends. Franquez moved over from tight end and will be getting his first experience on defense. Dion Reed will give the ends a break, while nose tackle depth comes from a freshman Smith.
The Vikings have three inside linebacker positions: "the Sam, the Mike and the Will."
"Sam" is Logan Estes, while Junior Brandon Bordeaux holds down the "Mike," and the strong side is three-year starter, Logan Hester. The "Will" position has been a battle all camp, and it came down to two finalists who will split time, Justin Hale and Jayden O'Neal.
At outside linebacker, senior Robbie Reed is another three-year starter, along with senior Kalin Carter, a first-time starter. This position must be extremely versatile, they must be able to stuff the run from the box as well as help in pass coverage.
The secondary is solid with free safety Landon Usher, who will get snaps at receiver along with corner Tay Lee, who started five games last year. On the other side will be senior Brennan Bailey.
SPECIAL TEAMS – Center Ledford doubles at long-snapper, which allows him to remain on the field for offensive plays and scrimmage kicks. The punting and kicking duties are manned by Dalton McGowan. Returners include a committee including Hugh and Lee for punts. On kickoffs, look for Reed Lee and Hugh.
OUTLOOK – From a region standpoint, Coach McDonald feels good.
"It is kind of traditionally where Northgate's been. Back in with the Fayette schools, but then you got some new in there as well," he said. "It goes from Griffin to Fayette, and then all of a sudden, boom — you jump down to Columbus and Harris County."
The coaching staff has remained intact, and that consistency is always key to program stability.
"I have got a good, experienced, quality coaching staff," McDonald said. "I am really excited about those guys and the job they do day in and day out."
In the past four years, the region playoff spots have gone to Griffin and Starr's Mill, while the other two spots are usually up for grabs. With the experience up front and an electric, playmaking quarterback, the Vikings will be in the mix for one of those other two spots.
The non-region schedule includes traditional power Sandy Creek as well as Northgate's first-ever meeting with East Coweta on Oct. 2, 2020.
Coach McDonald summed things up: "This offseason has been a challenge, but I will tell you our kids have done an outstanding job of handling the distractions."
As they embark on the season, they are a long way removed from that 2019 bus ride as an 0-6 team. Sometimes, you must remember where you were to understand where you want to end up.
The Vikings want to end up back in the playoffs.