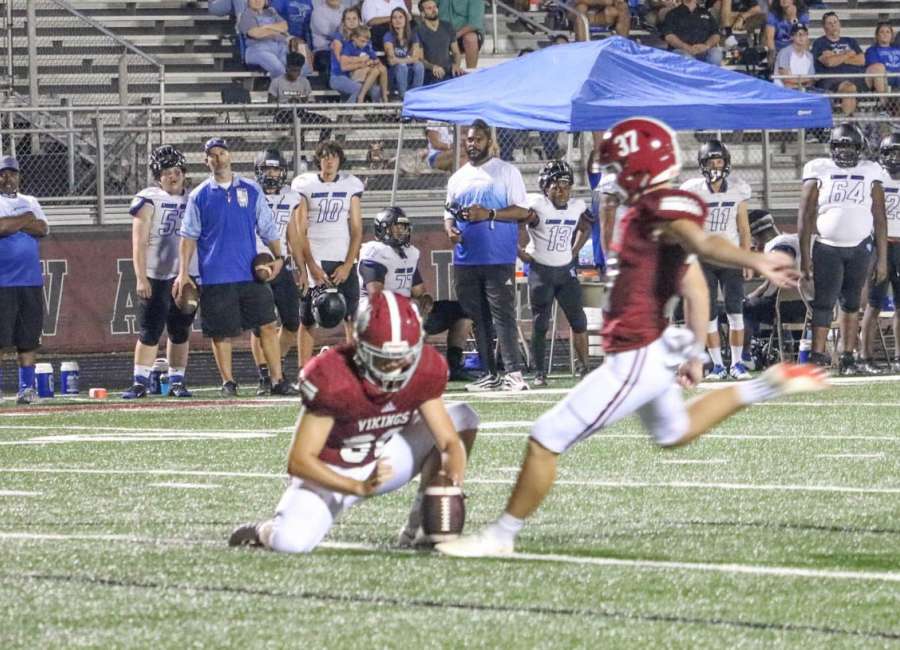 By Rob Grubbs

Sharpsburg, Ga. - In a game that had multiple twists and turns throughout the evening, the outcome came down to three yards.
After the Locust Grove Wildcats scored in the second overtime to pull within one, their Head Coach Clint Satterfield decided to go for the two-point conversion and the win. They only got two of those yards as the Northgate Vikings' defense stopped them just shy for the 41-40 win.
It was an emotionally charged evening at Valhalla; the Vikings looked to overcome a tough week-one loss. They settled in early with a solid running game behind junior running back D.J. Reid. Locust Grove brought explosiveness and big-play ability to the table and took an early lead on a 43-yard touchdown pass.
The Vikings found their rushing attack and rhythm when Riley Lane and Reid each scored on TD runs to give Northgate a 17-13 halftime lead.
Lane added another long TD run in the second half from his flanker position that was negated by a Vikings penalty.
After the Vikings tied the game early in the fourth quarter on the second Dalton McGowan field goal of the night, this one from 46 yards, Locust Grove answered with another long explosive play, a 52-yard TD pass to take a 27-20 lead.
Facing a seven-point deficit and looking at the possibility of starting the season 0-2, the Vikings' offense embarked on a 14-play drive, all running plays featuring Reid and quarterback James Paige. The drive took a heavy physical toll on the Locust Grove defense, and when Paige scored with two minutes remaining in regulation, overtime sessions seemed inevitable.
Locust Grove went first and scored quickly on a 12-yard run, but Paige, who shows amazing poise, had an answer with a 1-yard equalizing TD run. The Vikings' offensive line was locked in.
Northgate had the second possession, and once again Paige scored from the one, his third TD of the evening. That set up the dramatic finish. After a 4-yard TD pass for Locust Grove, the Vikings' defense made the winning play when they stopped quarterback Justin Reynolds one-yard short. Ball game, Vikings' victory.
Often overlooked in overtime games are the work of the kicker. McGowan was perfect on both PATs.
Locust Grove's running back, Kavion George, had an awesome game, gaining 188 yards on the ground. But he was outdone by Reid, who unofficially had 219 yards, all of them hard earned and much needed.
The win brought a huge lift to the Vikings and their Head Coach Mike McDonald as they go into the bye week with the victory. Northgate will travel to Villa Rica for their first road contest of the season on Friday, Sept. 25.