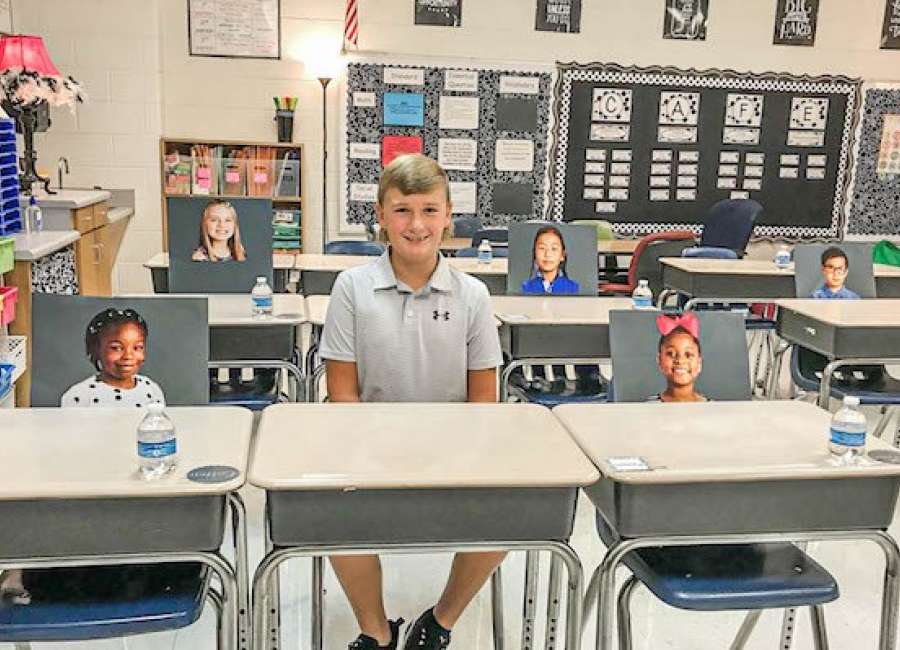 If some of the students in Keri Davis' fifth grade class at Newnan Crossing Elementary School look a little different this year, it's for a good reason.

They're made of cardboard.
One of Davis' students, fifth -grader Colton Goodwin, proposed a unique way of ensuring all of his classmates are physically represented in the classroom, even though some of them have opted to learn from home through the Empower virtual learning program.
"He said we should make cutouts of the students that are not returned to school face to face, so we can remember they are part of this class," Davis said. "I thought it was brilliant."
In an interview with Davis, Goodwin explained how his idea for "Colton's Cutouts" took shape:
What gave you the idea to have posters made with students' pictures on them?
"I was watching the Braves play the Mets during opening day with my grandpa. I noticed the pictures of people in the stands. I thought it was really funny. So when Mrs. Davis showed us how empty the classroom was, that idea popped into my head. We should have cardboard cutouts of the people who will not be able to come back to school."
Which students have their pictures in the room?
"Just the kids staying home (on Empower) should have their pictures in the classroom because the rest of us will be there."
How will having these pictures help to include them in our classroom?
"We need to feel like all our classmates are here at school. We want to include them in our conversations and discussions. They are humans, too. Their opinions matter. They are part of our group. They deserve to be there, too!"
Are you looking forward to coming back to school face to face?
"Yes!! I feel like I can learn more in the classroom than at home. At home I have all these things to do, but at school I'm not as distracted. I'm looking forward to science experiments, writing on the board and recess with my friends!"
Goodwin's idea has caught on and spread throughout the school, Davis said, and all Newnan Crossing classes are now making "Colton's Cutouts" for the students that will not be returning to the classroom in person.