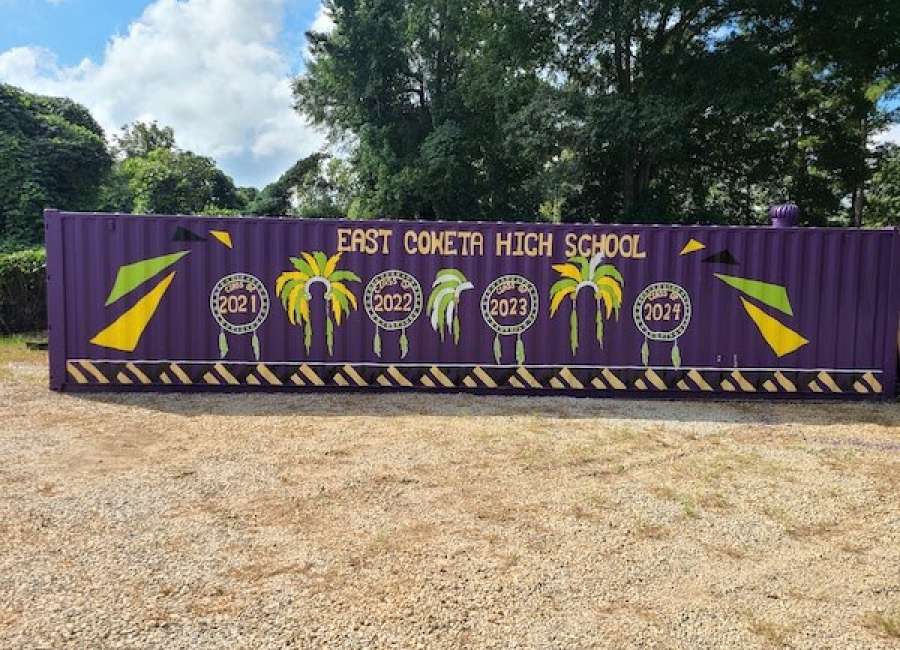 The Newnan-Coweta Art Association and the town of Sharpsburg have partnered on an East Coweta High School themed mural on a storage container located behind Town Hall.
"The Community Center and park are very popular," said Sharpsburg Mayor Blue Cole in a press release. "We already had the container – it was an eyesore – but we were excited to partner with the NCAA to beautify the park. Adding the East Coweta theme was a perfect finishing touch."
The mural features ECHS themed dreamcatchers with "Class of" designations, as well as Native American iconography. The other sides of the container will be set up for photography, including space for student art and improved landscaping.
President of the Newnan-Coweta Art Association Margo Merrifield and a team of three other painters – including Maryann Bonk, Tammy Troyer and Llana York – worked on the project for about three weeks.
The Newnan-Coweta Art Association Inc. encourages and aids artists to produce original works of art of every type and character. They assist in the display of such works in Coweta County, and foster education and instruction in the creation and appreciation of works of art.
The association supports the arts in Coweta schools through donations and scholarships to high school students pursuing art in college, according to the release.
Upcoming events in Sharpsburg include the Fall Book Sale, to be held on Oct. 17. Donations of gently used books are requested; clean out the closet and bookshelves! All funds raised will support activities at the Town Library.