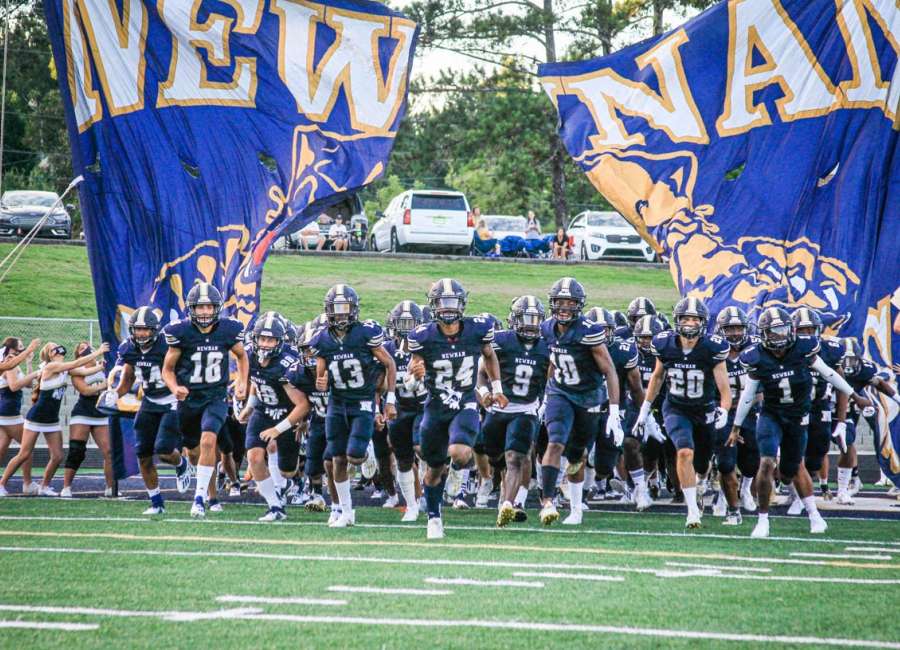 By Rob Grubbs

Any conversation about Newnan High School football always comes back to two terms: community and tradition.

Those concepts were put to the test two weeks ago when Head Coach Chip Walker and the Cougars had to shut down briefly for guidelines related to the pandemic. While everyone on their schedule was practicing, the Cougars were waiting.
Challenges sometimes can make some people bitter, but in this case, it made Newnan better. It reminded the team, the school and the coaches not to take things for granted.
"Our community and our parents were so good throughout the process," Walker said. "Our coaching staff did a great job along with our parents. They were so good and so supportive. There is a lot of things special about this place, but the community and the support that they give our young men is at the top."
That fanbase which has been coming to Drake Stadium for decades are in for an exciting 2020 season.
Walker is about to embark on his 4th season as leader at Newnan. He played high school football at Stephens County for his father, legendary coach Rodney Walker. After a college career at Tusculum, Walker went into coaching, first at Wofford and then on to Mary Persons, before following his dad to Sandy Creek. As the head coach there, he won three state championships. He has 143 career wins.
The Cougars are returning 15 players who have started at one time or another on offense and seven starters on defense.
OFFENSE – The Cougars offense operates under the Multiple-I, and a big part of that offense this year is three-year starting quarterback Michael Maginnis, who just committed to Samford.
Walker, a former quarterback himself, has high praise for his star student: "He is the best one I have ever been around; he is just so talented and so smart. He is like having a coach on the field; he handles everything, and nothing catches him by surprise. He knows the offense, and he knows how practice and games should run."
Sawyer Barnett is the back-up and will be ready when needed.
He's a football guy, and he's done a good job and he's going to need to get some reps, just in case something happens," Walker said.
The Cougar backfield is extremely deep. Bryson Moss, who has committed to Eastern Michigan, was the leading rusher as a freshman and sophomore but missed last season with an injury.
Aubrey Carter was the leading rusher last year as a sophomore, and then there is Nick Owens, who might be the most versatile guy in the group. Yates Kelleher will be blocking for that group from the fullback position.
The wide receiver position has a room full of top-performers. Josh Harris was the leading receiver from last year. Reid Brass may have had as good an offseason as anyone in the program. Quanard Arnold was Newnan's leading receiver after three games last year before missing the rest of the season with an injury. They also have Johnathan Clark who may be the fastest player on the team, and Aundre Carter, all of whom are playmakers.
"We probably have five or six guys that are going to be able to touch the ball and do something with it," Walker said.
The offensive line is solid and according to Walker, "probably going to be the best offensive line since we've been here." Carter Counts and Pichon Wimbley are slated at tackle, Sammy Williams who saw his season cut short last year by injury returns at guard along with newcomer Levi Hendron and Adam Rush is back for his third year starting at center. Jalen Rebels will add some depth to the group.
DEFENSE – The Cougars base defense is a 3-man front, and for the 2020 team, those three men are big. Brandon Tolvert is 6'1" and 300 pounds, with multiple Division-1 offers anchors the middle. Beside him are P.J. Owens, an offensive lineman last year who is at 280 pounds, and Michai Hill at a svelte 225 pounds and the best athlete of the group. Backups do not get any smaller — Antavius Simon is a 350-pound nose guard and Trayveon Kendrick will play some end. The opposing offensive line may need to bring a bulldozer to assist in moving those bodies around.
The linebacking corps is solid as well. Steven Carter, who is committed to West Point and is a three-year starter, anchors the middle. Walker compared him to their quarterback: "He's kind of like having Maginnis on defense. For a coach, he is a comfort blanket. That is kind of the way Michael is as well. Those guys, they played so much football and know what's going on, that you don't have to worry as much about it."
The outside guys are sophomore Ashton Heflin, who already has an offer from Boston College, and Tripp Slayton, a junior who played a lot last season. He can do a lot of things well; he even kicked a field goal last year when Walker needed him to.
Others getting some opportunities at linebacker include Danny Wheelous and Deon Arnold.
Walker had high praise for junior safety Jaylen Geter: "He reminds me a lot of Mike Hilton that played for me at Sandy Creek and spent a lot of time in the NFL. Such a good football player." Senior Corey Brooks and sophomore Demazes Dorsey are the other starters. The position is probably one of the deepest on the team with others who are ready to step up, including Jamarien McGruder and Desmond Keith.
The corners will be Denzel Boston and Derien Stepp, and Keith can play here as well.
SPECIAL TEAMS – The Cougars have two kickers that can be really good, Sam Williams and Ethan Devers, while Dalton Anderson will punt. Walker said that long snapper Reid Brass may be the best he has ever coached at that position. Boston and Owens will handle the return duties.
OVERALL OUTLOOK – Walker summed it up well: "This is a group we've been excited about for a long time. It's our fourth year, and we have got a group that has been with us. We have a good schedule in front of us, and we're just looking forward to getting a chance to play."
That schedule includes Region 2-AAAAA opponents East Coweta and McEachern, which will all be fighting for the top spot. Other games against North Paulding and Mary Persons will prepare the Cougars for a playoff run.
With the number of three-year starters coming back, a star quarterback leading the charge and a coach that understands the DNA of winning championships, this is going to be a special season at Drake Stadium. Let the hunt begin.