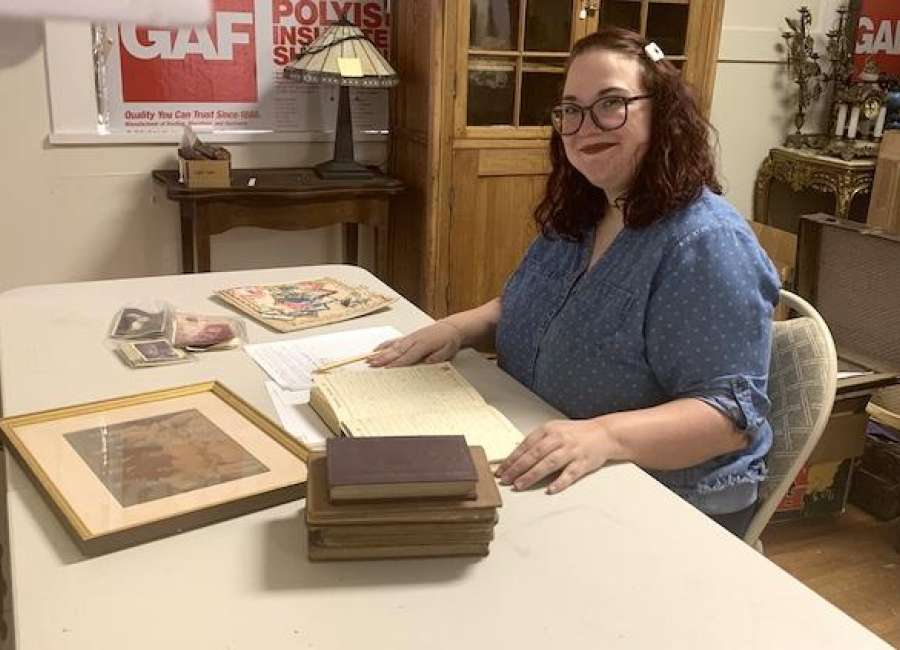 The latest donation to the Newnan-Coweta Historical Society from the Glover estate gives a personal, inside glimpse into the early lives of Dr. Howard Glover and Margaret Trapnell Glover.
In mid-August, Banks Glover contacted NCHS Board Secretary Dorothy Pope about donating the familial collection to the organization. The family had recently gone through a storage unit and invited NCHS to collect any remaining items that could be of interest and service.
Pope, along with NCHS Curator Noelle Hagen-Atwood, spent a morning looking through the boxes and gathering documents and other artifacts for acquisition, according to a press release from NCHS.
The new collection includes photos, books, letters, souvenirs, school notes and diaries along with some of Dr. Glover's medical instruments. The family archives give a special look into the lives of a family that impacted the community and landscape of Coweta County and documents their personal lives, careers and educational experiences.
Claire Nix, NCHS Volunteer, has been inspecting and organizing the collection for more details. She said that her favorite part of the collection has been "coming across Margaret's diary from 1927 when she was 16. In the first entry, she mentions Howard Glover taking her to a party and later talks of writing to him when he was away at school. They married in 1938. It is really sweet to see the roots of their devotion to one another."
Hagen-Atwood said that these types of familial collections bring special insight and knowledge to researchers and historical organizations.
"The most meaningful aspect of the Glover collection is getting a glimpse into this woman's life that turns her into a real person," Hagen-Atwood said. "So often we see pictures of people from Newnan or see their names listed here and there, but reading Margaret's diary and the sweet things she's saying about her husband-to-be or talking about the day her teacher accidentally wore her dress backwards really brings out a humanity we don't often get to see."
Going through a collection of this caliber can be difficult, Hagen-Atwood said.
"The difficulty of the process is just the details," Hagen-Atwood said. "There are so many letters and people mentioned, it can be difficult to keep track of everything. However, the exciting thing is not knowing what you'll find next while going through this collection."
The Glover family collection gives both local and outside researchers the opportunity to study a local family that made a meaningful impact on the local community. Margaret Trapnell Glover graduated from the Georgia State College for Women in 1932 where she served as Editor-in-Chief of the Colonnade, the college annual.
She married Dr. Howard Glover in 1938 and spent her life raising their four children. Dr. Howard Glover served as a medical practitioner in Newnan for more than 55 years. The couple was married 72 years before Dr. Glover's passing in 2010 at the age of 101. Margaret passed 8 years later at the age of 107.
Those interested in viewing the new Glover Family Collection or conducting research using aspects of the collection can call NCHS offices at 770-251-0207 to schedule an appointment. NCHS currently has plans to use parts of the Glover family collection in a permanent exhibit tentatively planned to open in 2021.