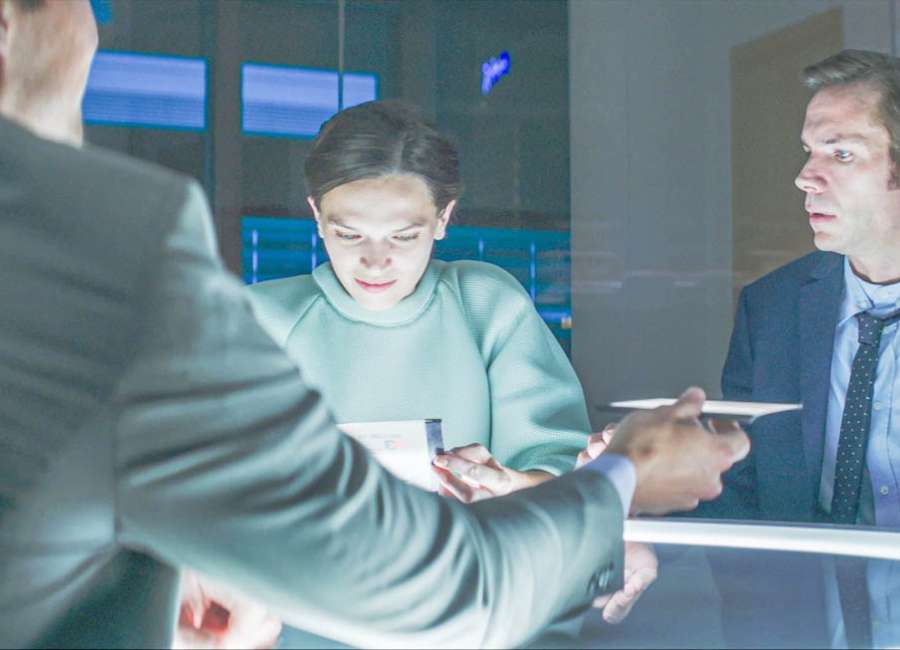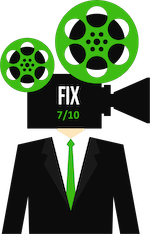 Review by Jonathan W. Hickman
To give "LX 2048" an intellectual lift, writer/director Guy Moshe channels a little Anton Chekhov sifted through a socially relevant science fiction lens. The film is a talk-heavy, dramatic thriller that offers rewards to patient viewers looking for entertaining but challenging material.
Adam Bird (James D'Arcy) is a technology broker in the somewhat near future. The Earth has warmed up so much that most people don't go out in the daytime. But outfitted in an orange hazmat suit, Adam braves the ultra-bright sun every morning driving to his job in his Mercedes convertible. It's a top-down, rock and roll, very thick shades commute.
At work, he's the only one in the building and forced to conduct business meetings virtually. Sound familiar? Wearing a high-tech visor and sitting alone in a conference room, Adam becomes irate that his superiors aren't appreciative of his sacrifices. As he rages, they ask him if he's been taking his medication.
Earlier in the day, Adam visits his doctor; his heart is failing. Only a particular drug can help him. But to get the drug, his wife will need to order it in her name. Drugs and medical care in the future are rationed.
During his meeting with his doctor, we learn that the peaceful acting physician is a clone. The uncanny, laboratory, organic creations make up the bulk of the dayshift. Besides not sharing their fully human counterparts' emotional instability, clones are more resistant to the sun's destructive rays. But do they bother even to go outside?
After the sad news about his health, Adam returns to an empty abode. He phones his wife in hopes of convincing his estranged partner to help him with the medication. Adam's separated. Months earlier, she found out that he's been having a torrid, virtual affair. In the future, where the depressed population spends most of their time indoors and living virtually, such affairs are common, but his wife's not having it.
Now living all alone, Adam's come off his meds, a futuristic form of lithium, and has begun to act erratically. Despite his irrational fears, his business instincts may be intact, and he pushes his company to smartly invest in a new chip technology that will give those implanted with the device the ability to join the virtual world without glasses. It's this focus that may present new dangers for Adam.
Moshe's script is densely populated with complex science fiction ideas and concepts. But, at its core, the story is chiefly interested in the effect that technology, climate change, and pharmaceutical dependence have on relationships. The idea of trading in, trading up, and jacking into the system hangs over everything. The planet may be heating up and falling apart, but escape is available in a pill, a pair of virtual reality goggles, and the ultimate, a chip inserted into your brain.
As good as "LX 2048" looks, and the production design is awfully handsome, it wouldn't have worked without a game cast that makes you believe in the fantastic world that Moshe and his team have created. D'Arcy, the British actor that bears a striking resemblance to Anthony Perkins (see him in "Hitchcock"), is effective as the tortured Adam. D'Arcy is required to take a lot of abuse here and gets ever more unhinged as things spiral downward.
Delroy Lindo, who's presence is always welcomed (he's fantastic in Spike Lee's "Da 5 Bloods") seems oddly miscast as a tech guru named Donald Stein. But the slick and physically imposing Lindo makes his extended appearance in this film work, playing off D'Arcy well.
The success of "LX 2048" depends almost entirely on the characters' back and forth jibes and philosophical debates. And Lindo and D'Arcy engage in some of the trickiest discussions in the film. I encourage viewers to pay very close attention to their verbal gymnastics because the subtext offers much insight.
An impressively mounted, ambitiously written, and finely acted film, "LX 2048" is science fiction introspectively concerned with the human toll of technological isolation. It's a very current theme that ought to hit home.
A RottenTomatoes.com Tomatometer-approved critic, Jonathan W. Hickman is also an entertainment lawyer, college professor, novelist, and filmmaker. He's a member of the Atlanta Film Critics Circle, The Southeastern Film Critics Association, and the Georgia Film Critics Association. For more information about Jonathan visit: FilmProductionLaw.com or DailyFIlmFix.com